This bread has all the goodness of Apple Fritters but is a "quick bread" which means you can bake it instead of frying. Cut apples are surrounded with cinnamon and brown sugar to almost caramelize in the oven and create a soft texture that will melt in your mouth!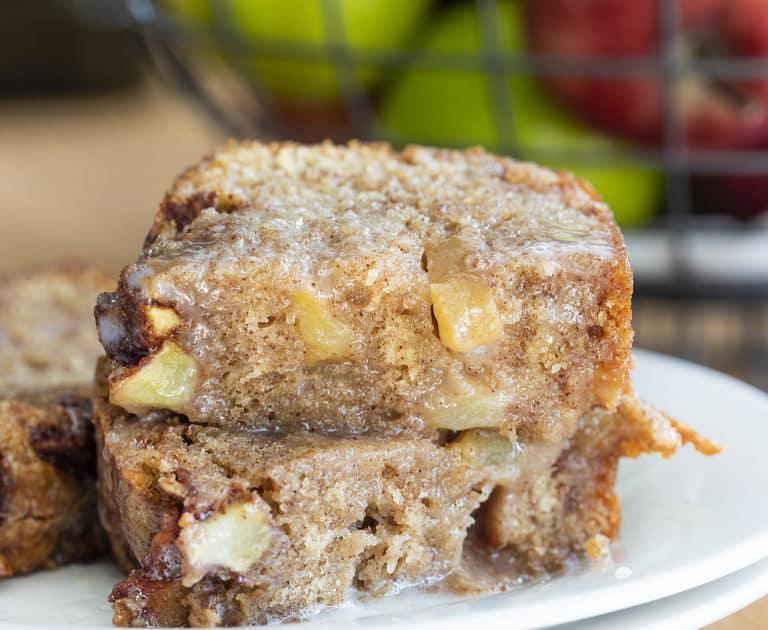 What is in Apple Fritter Bread?
The ingredients are pretty basic and chances are you already have them in your pantry!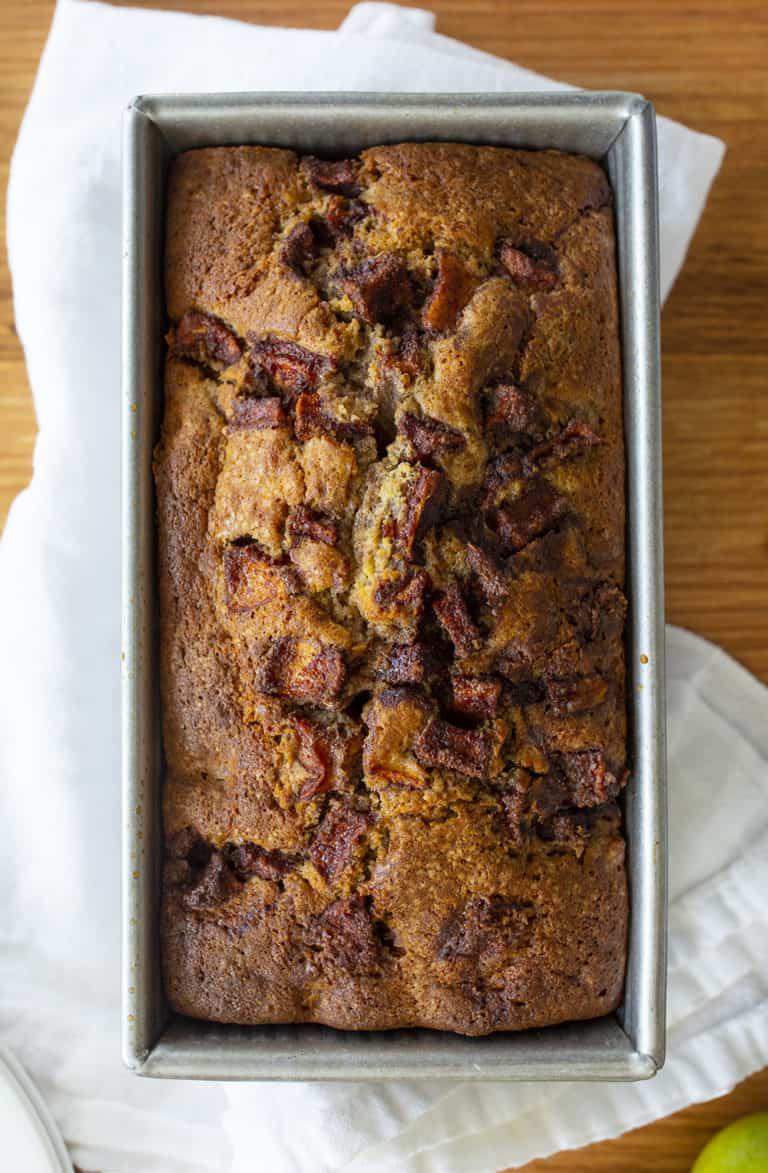 How to Prepare This Bread
Start by heating your oven to 350°F. This bread takes anywhere from 60-80 minutes, so you want to make sure your oven is prepared!
Peel, core, and dice your apples. I like roughly a 1×1 inch size, but you can certainly chop them a bit bigger if you prefer. Add brown sugar and cinnamon to a bowl and stir well. Add apples right to that and stir to coat each piece. Set this aside while you prepare the rest of your ingredients. (They should be shiny and gooey by the time you are ready to incorporate them… the apple pieces will release their juices while they sit.)
Using a hand-help mixer or a stand mixer, cream together the granulated sugar and butter. This is a standard creaming method for quick bread, but you do want to make sure they are creamed well so you can incorporate air into the butter and sugar.
Add in the flour, baking powder, and salt and mix until just combined. Overmixing can mean a flat, dense bread. Baking powder is important in this recipe so you will want to make sure it is fresh. A quick way to test your baking powder is to place it in a cup of hot water. It should start bubbling right away.
Add in 3/4 of the apple mixture and stir it into the batter by hand.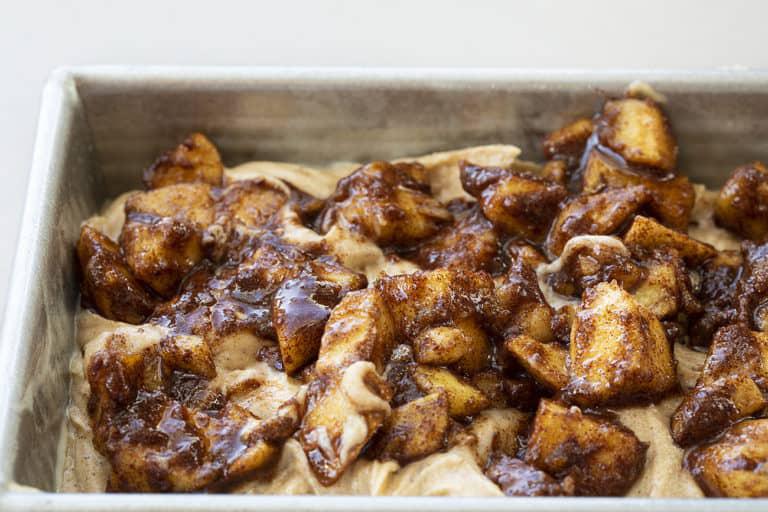 Pour the batter into your prepared 9×5 loaf pan and then place the remaining apples on top, focusing on the sides. The more apples piled in the middle the harder it is for the dough to rise as it should.
Bake for about 70 minutes. After 60 minutes my bread was at 190°F, which is normally considered "done", but when I removed the thermometer the there was bet batter. So back into the oven it went for about 10 minutes. The bread was then perfect! Place the bread on a wire cooling rack so that air can circulate around the bread and help with even cooling.
While the bread is cooling prepare the glaze. It is a very simple Old Fashioned glaze that is simply confectioners sugar and milk. Depending on the humidity, temperature, and climate of your kitchen you may need more or less milk. I always start with 1 cup confectioners sugar and 1 teaspoon milk and add more as needed.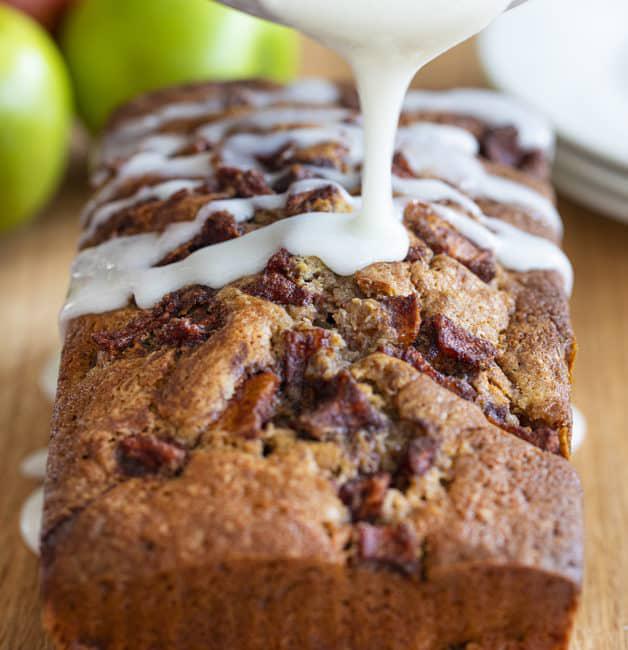 Carefully remove bread from pan (it should pop right out) and place it on your serving platter. Drizzle the glaze over top. The glaze should soak into the warm bread so I usually drizzle a couple of times.
Cut and serve and be prepared for ooh's and aahs!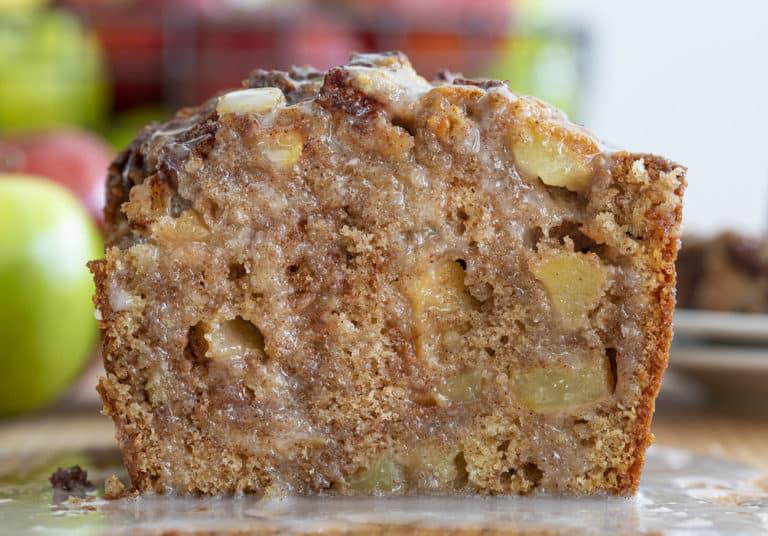 How Long Does Apple Fritter Bread Last?
Freshly baked apple fritter bread will keep well for about 1 week in the refrigerator. To maximize the shelf life of apple bread, cover with foil or plastic wrap and place in a plastic bag to prevent drying out. I like to cover with a piece of parchment paper and then place it in a sealable plastic bag. Freshly baked apple bread will last for about 1 to 2 days at normal room temperature. (We are lucky if a loaf lasts longer than a day!)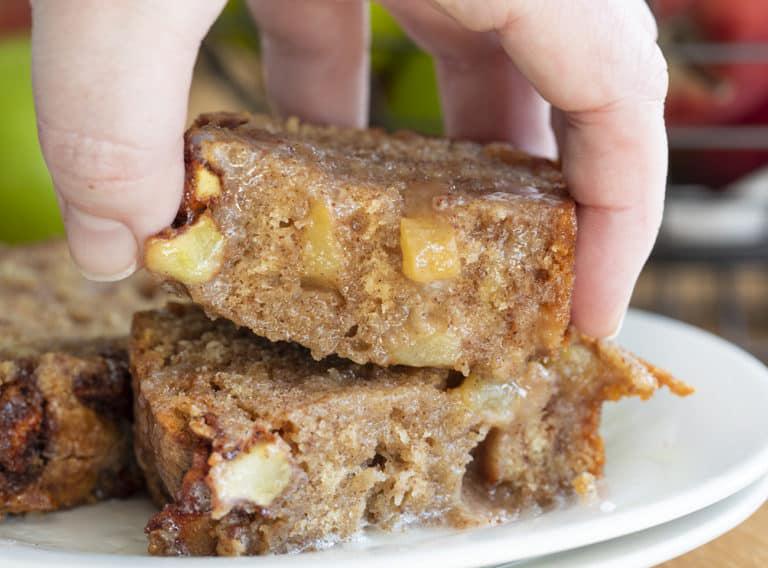 Can You Freeze this Bread?
Yes! You will want to make sure you allow it to cool completely. Just wrap the apple fritter bread tightly with aluminum foil or plastic freezer wrap and place in a heavy-duty freezer bag. If you prefer not to use foil directly on your bread, wrap tightly with parchment paper, then place that into a sealable plastic bag. Be sure to label it with the date. Bread is typically good for three to six months in the freezer, but the flavor will start to dull after about 1 month. To thaw bread, take it out of the freezer and set it on the counter. Allow it to reach room temperature before you take it out of its packaging. It will re-absorb some of its moisture this way.
INGREDIENTS
APPLE BREAD
1/2 cup brown sugar, packed
1 tablespoon cinnamon
3 small apples, peeled, cored, and diced small
2/3 cup granulated sugar
1/2 cup unsalted butter room temperature
2 large eggs
2 teaspoons vanilla extract
1/2 cup whole milk room temperature
1 1/2 cups all-purpose flour
2 teaspoons baking powder
1/2 teaspoon kosher salt
GLAZE
1 cup confectioners sugar, sifted
2-3 tablespoons milk, depending on the desired consistency
INSTRUCTIONS
APPLE BREAD
Heat oven to 350°F.
In a medium bowl, combine brown sugar and cinnamon and stir to combine.
Add in chopped apples and stir to make sure each piece is coated in the brown sugar mixture. Set aside.
In the bowl of a stand mixer or using a hand-held mixer, combine granulated sugar and butter until lighter in color and fluffier. (About 2-3 minutes.)
Add in eggs, vanilla, and milk and mix on medium until fully incorporated.
Add in flour, baking powder, and salt and mix until just incorporated, scraping the sides of the bowl as needed.
Remove bowl from stand mixer and stir in the 3/4 of the coated apples by hand. (Reserve about 1/2 cup to pour on top.)
Pour into a 9x5in loaf pan that has been sprayed with non-stick spray or prepared with the butter & flour method.
Place remaining apples on top. Tap pan on the counter to settle.
Place in the preheated oven for 60-80 minutes, or the internal temperature of the bread is 200°F. If you insert a toothpick it should be removed with crumbs but no wet batter.
GLAZE
Mix confectioners sugar and milk, 1 tablespoon at a time, in a small bowl until you reach desired consistency. I prefer it on the thicker side.
When the bread is done, remove from oven and cool on wire cooling rack until you can safely remove from pan. Set warm bread on plate or serving platter and pour glaze over top. Be sure to save a bit of the glaze for individual pieces.