This Taco Salad will be the perfect addition to taco night! It is loaded with seasoned ground beef, lettuce, tomatoes, corn, cheese, red peppers, and nacho cheese Doritos for the finishing touch.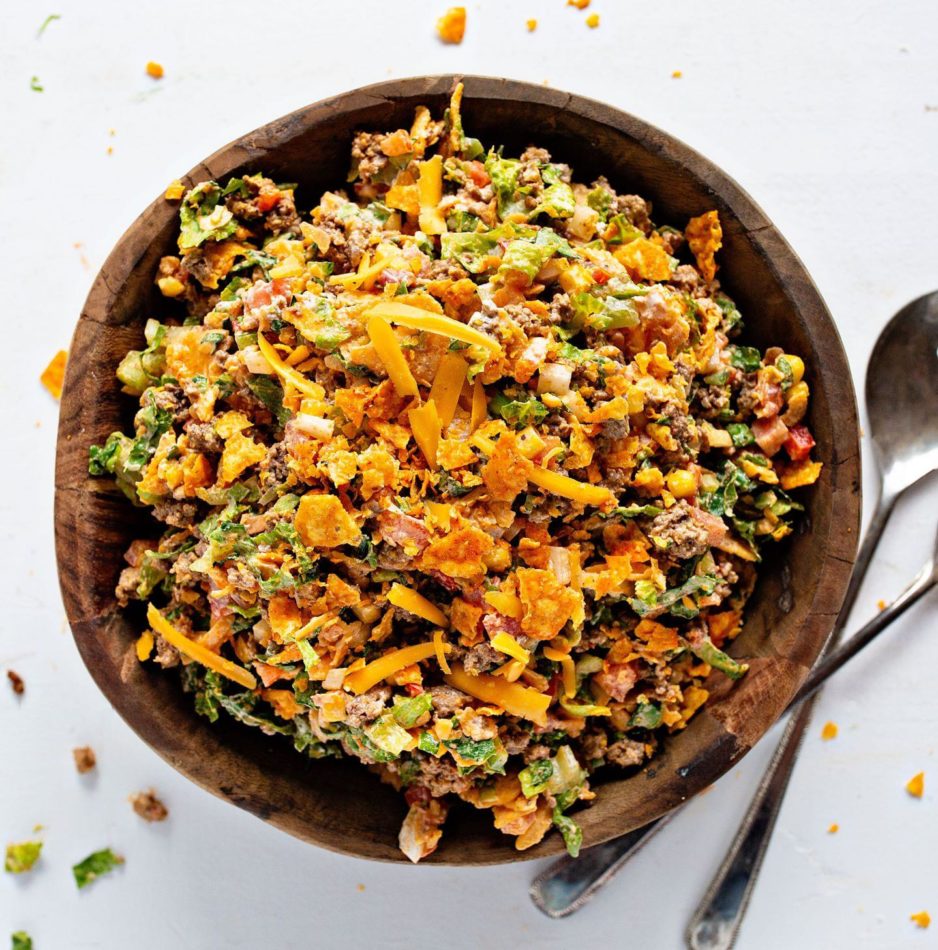 Taco Salad
When it comes to taco salad, this recipe is a keeper. My grandma used to make this when I was little, so I have carried the tradition on to my kids. They love it so much they ask for it all of the time! The beautiful thing is, I can put in any variety of taco ingredients and no one seems to notice. It comes out perfect every single time.
One thing that my grandma did was add Dorito's to hers. She would put the chips and cheese in the microwave and then add the other ingredients on top. We adored her simple adaptation and looked forward to Dorito taco salad night every time we would visit her for the summer! It is so easy to pull together and it is a great way to use up all of the veggies in the fridge before they go bad!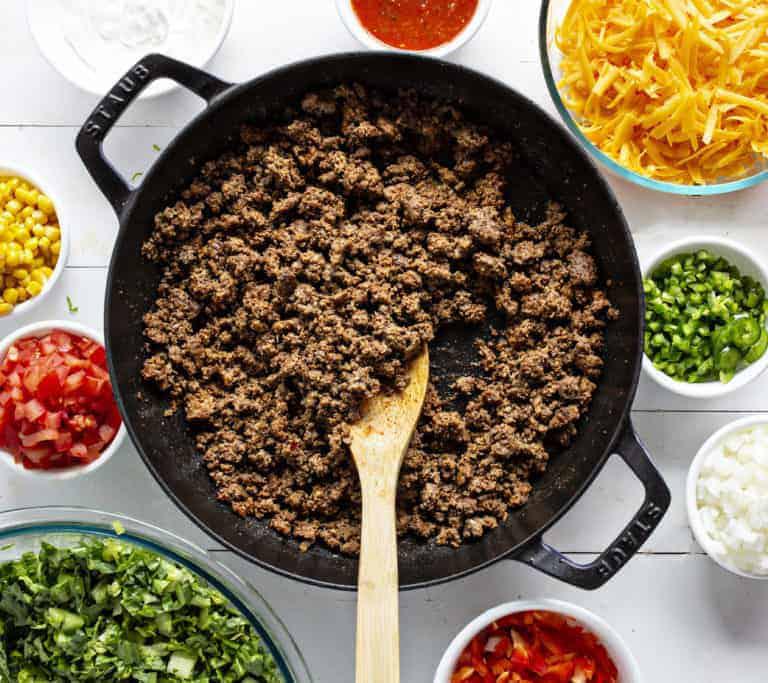 Taco Salad Recipe
To make this salad you will need some basic taco fixings, plus a few more that you might not think of:
Ground Beef – I typically go with meat that has a higher fat content (80/20) this will soak up the taco seasoning. If you use leaner meat you can add water to get the same effect. You will want some sort of liquid in the mid though.
Taco Seasoning – you can go with store-bought or make your own. This recipe for taco seasoning will last 3-6 months!
Romaine Lettuce
Jalapeno Peppers
Roma Tomatoes
Red Pepper
Yellow Onion
Cheddar Cheese
Corn Kernels
Salsa
Sour Cream
Nacho Cheese Doritos
As I am sure you already know, taco toppings options are endless. While I put the basics on my taco salad, there are plenty of ideas for how you can spice things up. Other toppings that I have used in the past are:
Black Olives
Black Beans
Pickled Jalapenos
Refried Beans
Green Pepper
Scallions
Cilantro
Green Chilis
Taco Sauce
French Dressing (this is how my husband's family ate it growing up! No sour cream and salsa, just add French (Catalina) dressing at the end.)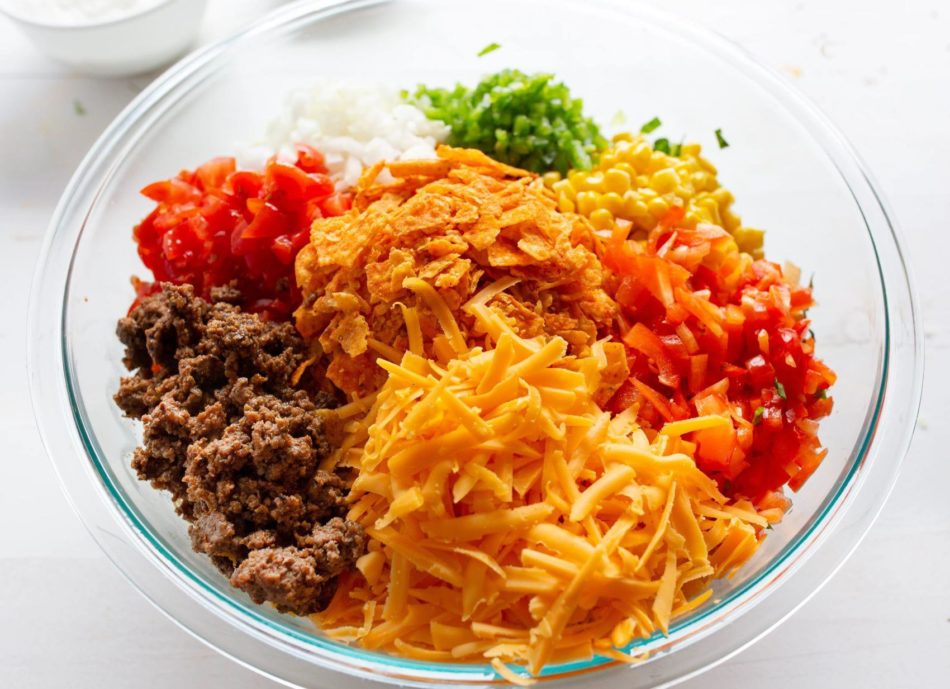 Dorito Taco Salad
I know I already mentioned it, but it's worth repeating. This is the one time I buy Doritos in my house… for this salad. I always use nacho cheese but you could substitute any number of flavors. I have used Cool Ranch and Flaming Hot and both came out spectacular! If you don't have Doritos, you can make this with regular taco shells or plain tortilla chips too.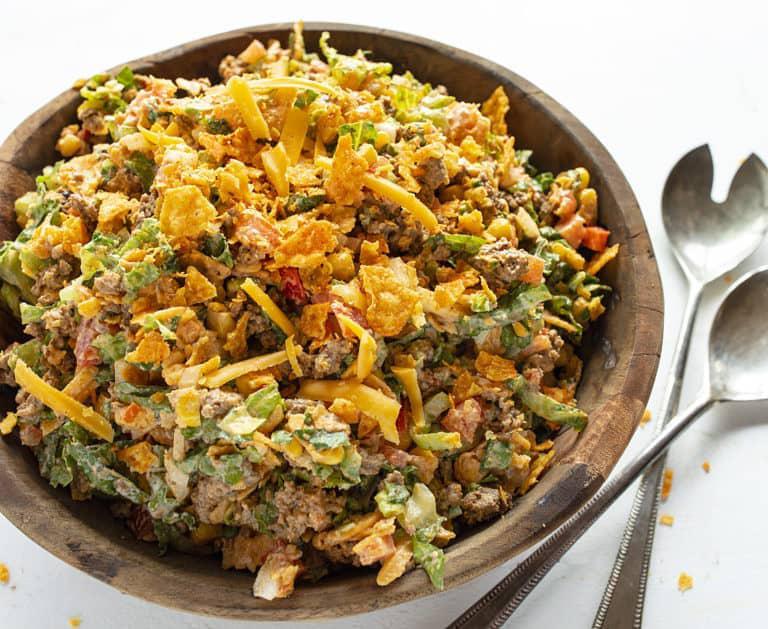 How to Pull This Salad Together
The hardest part about making this Dorito Taco Salad is selecting and chopping the veggies. Here are some tips for getting the most out of your taco fixings!
Romaine Lettuce – Look for bright green colors, no browning or yellowing on the outside.
Jalapeno Peppers – Look for smooth flesh, no wrinkle or white marks.
Roma Tomatoes – Fresh Roma tomatoes should be bright red in color and firm to the touch.
Red Pepper – Red peppers are best when they are thick-walled and juicy, so they should feel heavy for their size. Avoid peppers with soft or sunken areas, slashes, or black spots
Yellow Onion – Choose firm dry onions with shiny, tissue-thin skins. The top and bottom should be tight and dry. If they look too dry or discolored or have soft, wet spots, they aren't fresh.
Once you have the best veggies, you can move on to mixing the salad. Start out with a large, heavy-bottom frying pan or skillet and brown the ground beef until no pink remains. Add in the taco seasoning and let it simmer. Add a few tablespoons of water if the mixture seems too dry. While the meat is cooking, chop up your veggies.
Add everything into a large bowl and toss! Your taco salad is ready to serve!
INGREDIENTS
TACO MEAT
2 pounds ground beef
4 tablespoons taco seasoning
TACO SALAD
3 heads romaine lettuce, diced
2 medium jalapeño peppers, diced
2 medium roma tomatoes, diced
1 small red pepper, diced
1 cup corn kernels
1 small yellow onion, diced
8 ounces cheddar cheese, grated
1/2 cup salsa
1/2 cup sour cream
1 bag (9.75 ounces) Doritos, slightly crushed
INSTRUCTIONS
TACO MEAT
In a large skillet, cook ground beef until no longer pink.
Add taco seasoning, and stir to combine.
TACO SALAD
In a large bowl combine lettuce, jalapeño pepper, red pepper, tomato, corn, onion, cheese, taco meat, sour cream, cheese, and Doritos. Toss to combine.