White Bean Chicken Chili makes a delicious meal full of spicy chili flavor, chicken, and white beans. This recipe is a simple and delicious take on chili that even your kids will love!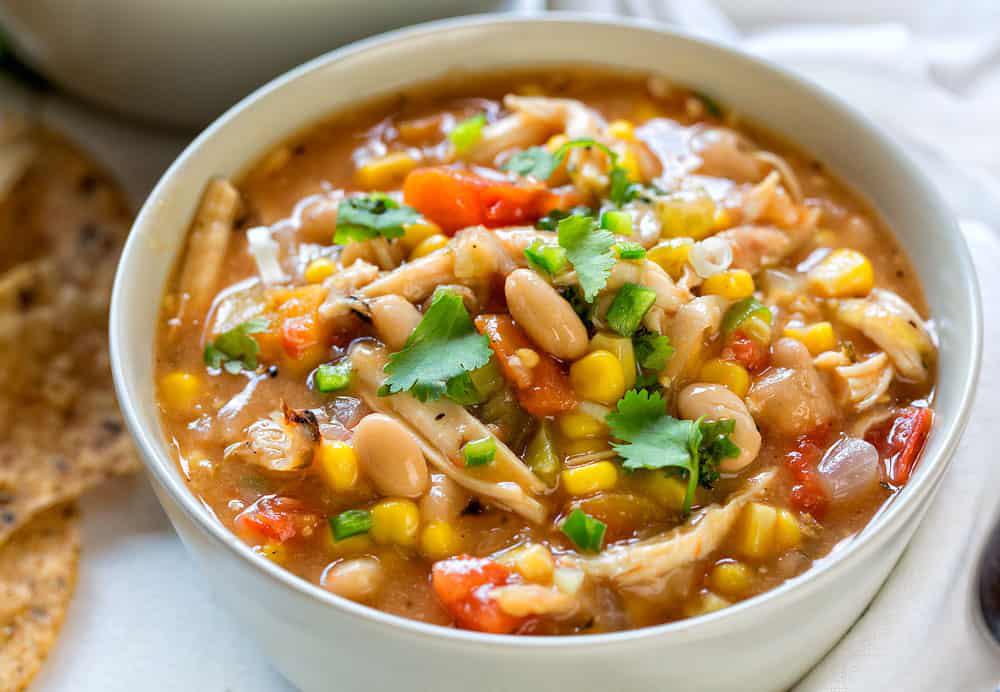 Nothing says fall like chili. We make all different variations throughout the year, but as soon as that fall breeze starts to surface, this is the one I crave. It is so simple, and my kids devour it. I feel good about it because it is made with things that are high in protein and, let's be honest, with 5 growing children, foods that are high in protein are a must. Does anyone else here "Mooooom, I'm huuuuuungry" in their sleep? No? OK, maybe it is just me.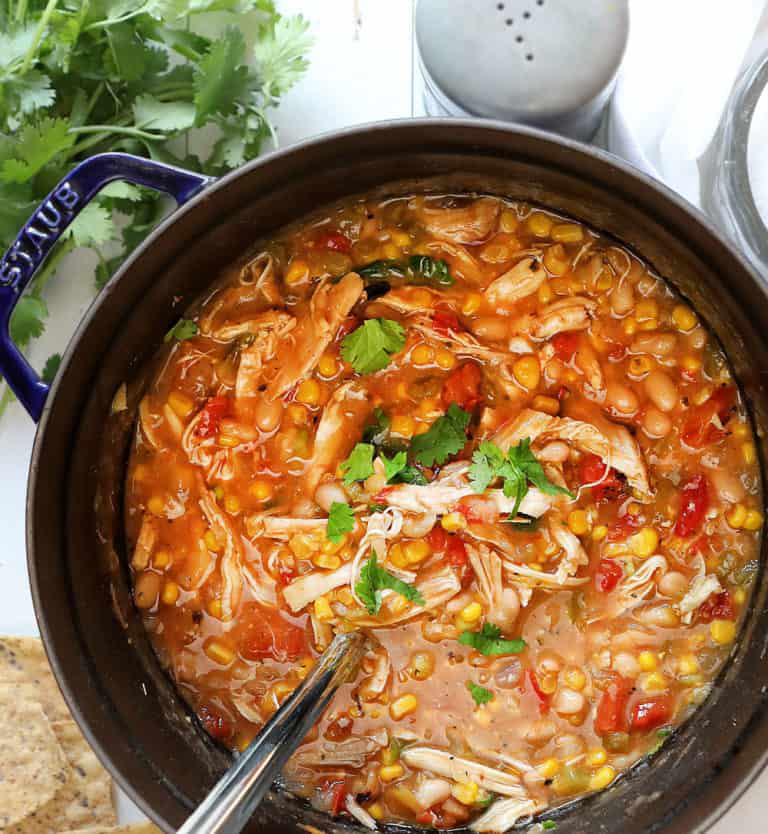 This White Bean Chicken Chili Recipe is one of those that you can throw into a large dutch oven and let simmer. Like most of us, it gets better with age. The longer this chili recipe has to cook, the better the flavors meld together. Speaking of flavors, have I mentioned how easy this is to put together. You will be amazed! This chili has everything, it is high in protein, high in flavor, your family will love it, and you can eat a bowl guilt free because it is good for you!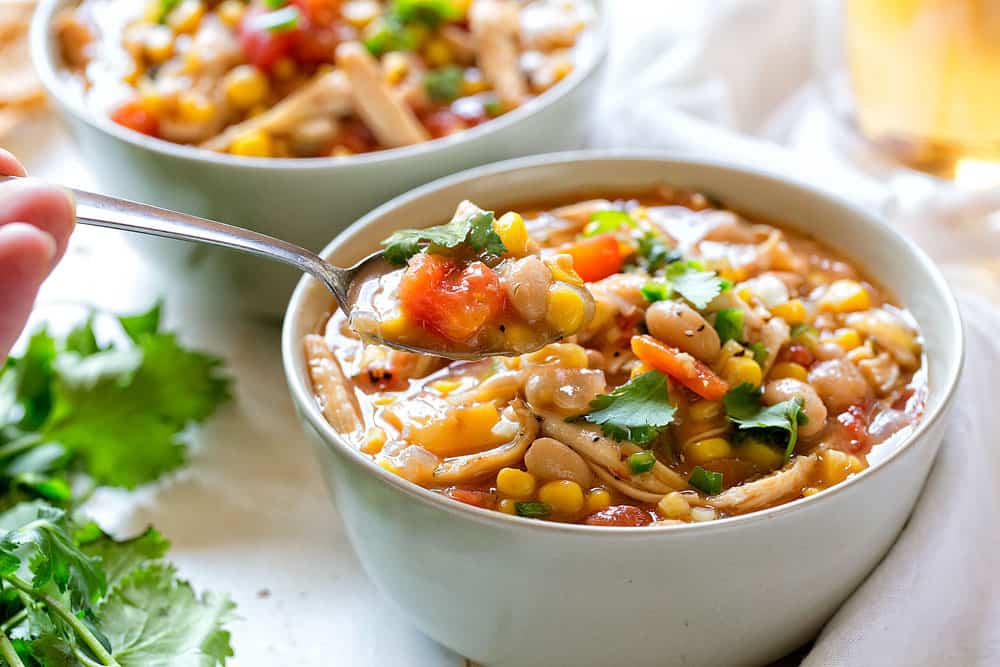 TIPS TRICKS AND VARIATIONS
CAN I MAKE SLOW COOKER WHITE BEAN CHICKEN CHILI?
Yes. Yes, you can. In fact, sometimes I prefer to make this white bean chicken chili recipe in a crockpot. The longer it sits, the better the flavor gets. Yes, you could have this meal and love the flavor without the extra cooking time. If you have the time, though, I would certainly recommend letting it sit. To make this in a crock pot you will basically follow the instructions above but use a slow cooker instead of a dutch oven. Put it on low for 2-4 hours, or if your slow cooker has a warm setting, on warm for 4-6.
WHAT KIND OF BEANS DO YOU USE IN THIS WHITE BEAN CHICKEN CHILI RECIPE?
If you are looking for a recipe for white bean chicken chili, I suggest that you use Great Northern Beans. They have the smooth texture that you are looking for in a recipe like this. You could also use a navy bean or a Cannellini bean but the texture will be a little different. I have heard people say that they sometimes have a hard time finding the great northern bean. I am not sure why even in my small town I am able to find it in the canned goods section.
WHAT DO YOU SERVE WITH WHITE BEAN CHICKEN CHILI?
I like to serve any soup I make with my no-yeast Breadsticks. They make the perfect compliment to most soups or saucy dishes and they are so easy to whip up! No rising time, means you pop them in the oven and serve them hot. I like to add a little extra garlic powder when serving them with my soups. The extra flavor gives it a special kick!
Another option would be to compliment the White Bean Chicken Chili with some amazing Country Homestyle Corn Bread. Whenever I think chili, I think of a good cornbread. This one is my absolute favorite!
Finally, if you are craving some cheese, you could try pairing it with Country Garlic Cheese Bread. It is ooey, gooey, and garlicky, and it doesn't get much better than that!
OTHER VARIATIONS
Add avocado for another layer of creamy texture.
Skip the canned beans! The process takes a bit longer because you typically have to soak them for hours before you can use them. Make sure to carefully research how to prepare great northern, navy, or cannellini beans before you try this.
Throw a dollop of sour cream and cheese on the top!
Store bought Rotisserie Chicken makes another easy variation on this dinner. Or you can use our slow cooker rotisserie chicken recipe (just skip the potatoes).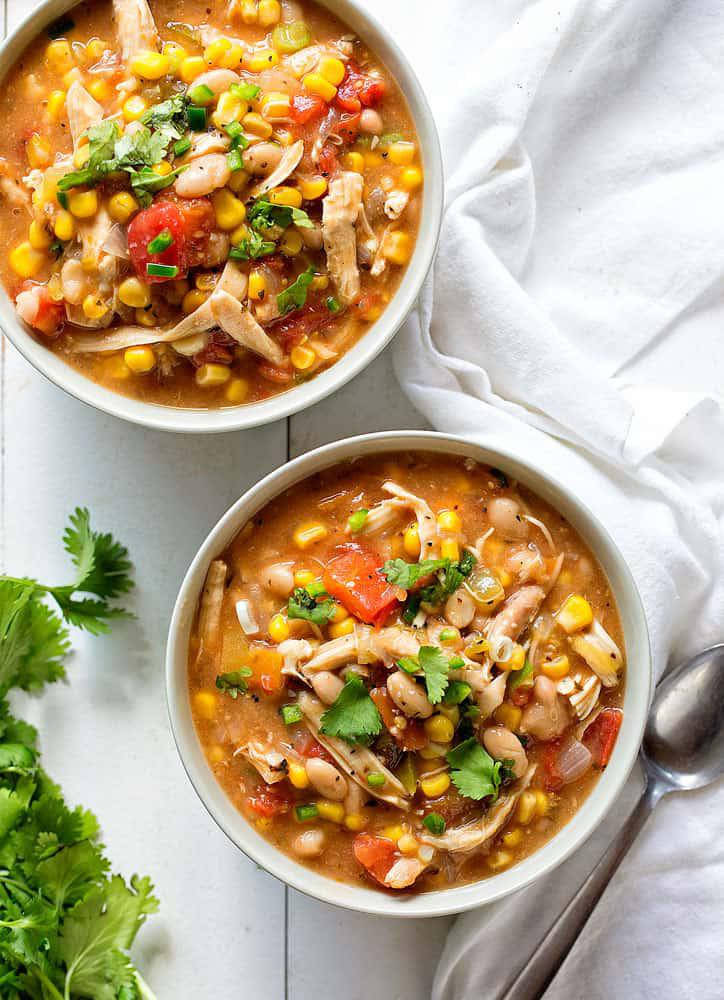 Ingredients
2 tablespoons vegetable oil
1 onion chopped
2 cloves garlic minced
1 14.5 ounce can chicken broth
1 18.75 ounce jar Salsa Verde
1 15.25 ounce can corn, drained
1 16 ounce can diced fire roasted tomatoes, drained
1/2 teaspoon dried oregano
1 pound shredded chicken 2 heaping cups
1 15 ounce can white beans, drained
1 jalapeno diced for garnish
cilantro for garnish
Instructions
Heat oil over medium heat in a dutch oven or large pot and add onion. Cook for about 5 minutes or until translucent.
Add chopped garlic and cook until fragrant, 3-4 minutes.
Stir in broth, salsa verde, corn, tomatoes, and oregano.
Bring to a boil, then simmer for 10 minutes.
Add shredded chicken and beans; simmer 5 minutes.
Season with salt and pepper to taste.
Garnish with chopped jalapeno and cilantro.