Skillet Beef Nachos are a great way to bring the fun to any occasion! Layers upon layers of warm tortilla chips loaded with flavorful, seasoned ground beef, gooey cheese, and loads of fresh veggies, this dish is bound to make anyone's day just a little brighter.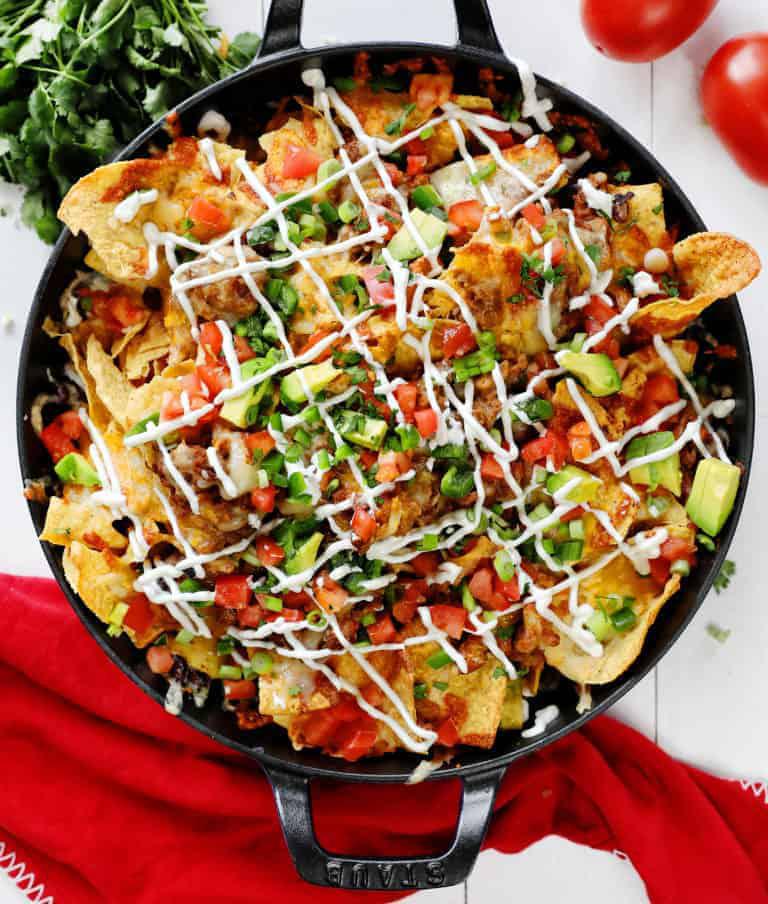 Beef Nachos Recipe
I don't know about you, but I love ground beef nachos! We make them often and usually utilize whatever ingredients we have on hand. I love the skillet method for these nachos because not only does the skillet hold in every bit of topping that may fall off, it holds its heat longer than a sheet pan and keep your nachos warm and perfect. You can also you a lined baking sheet. We do that occasionally, especially if we need to double the recipe. Just wrap a cookie sheet in tin foil and follow the rest of the instructions exactly the same way.
Tips for Easy Assembly
Dice all of your ingredients ahead of time.
Have salsa, more sour cream, and plates and napkins ready because once they are done folks will want to dig in!
If you have picky eaters, the topping can go on the side in small dishes. People can pile on the ingredients they like and skip the ones they don't.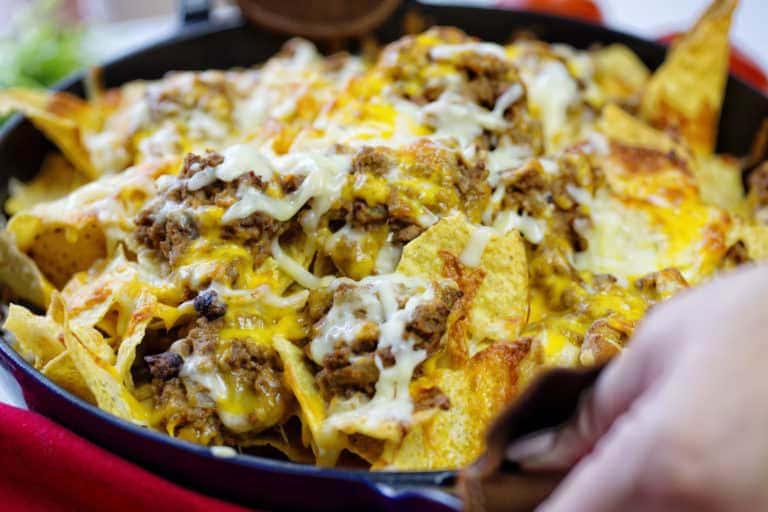 Ground Beef Nachos Ingredients
The variations for this dish are endless, but this recipe happens to be one that we come back to again and again. I opted for a Homemade Taco Seasoning, but you can certainly use store bought.
Chips– look for a sturdy chip, one that won't easily break under the weight of all these amazing ingredients. I also prefer a salted chip and am obsessed with Black Bean Tortilla Chips in this dish.
Cheese– I love the color variation between the cheddar and Monterey Jack, not to mention how well they melt and taste. You can absolutely use your favorite cheeses here! Feel free to try a spicy cheese or a higher-end cheese like gruyere.
Ground Beef – This recipe calls for precooked ground beef. We use the same skillet as the nachos to cook this up ahead of time. Go for a higher fat content in your hamburger. This will nicely soak in the taco seasonings.
Black Beans– soggy chips are a no-no for nachos, so I make sure to drain and rinse off my black beans in this recipe.
Onion– You can cook this right in with your ground beef if you want. Just add to your skillet first with a little butter or oil. Cook for about 3 minutes and then add in the uncooked ground beef.
Taco Seasoning – We use our own homemade taco seasoning. You can also mix this (or a package of the store bought kind) right in with the cooked hamburger. Once you combine everything, remove it from the skillet and wipe out the pan before piling on your nacho layers!
Jalapeno– The amount of jalapeno may vary depending on how hot they are or what season it is. During the winter months I tend to use a lot more jalapeno because they are store bought and not as flavorful, but in the summer I can get away with 1 jalapeno because they are fresh from the garden and SO GOOD. Do you know how to tell when your jalapeno is spicy? The older the pepper, the spicier it is. If you see little white lines on the outside flesh of the jalapeno, you can predict that it will likely have a bit more kick than the smooth looking peppers.
Tomato– I had to scale back for you here because I can't get enough tomato on my nachos. Sometimes I will cover the entire skillet so all you can see if red! I like to use a variety of tomato depending on what is in season and enjoy a good Roma as they have fewer seeds. You can also use cherry tomatoes and just dice into quarters.
Cilantro– You love it or hate it right? We love it. A finely diced sprinkle of cilantro can put a dish over the top with flavor!
Sour Cream- Add the sour cream to a squeeze bottle and drizzle over the nachos. This is a great way to ensure every chip gets some as well as it looks pretty! If you don't have a squeeze bottle, you can put your sour cream into a plastic baggie and cut the tip of the corner off, like a piping bag!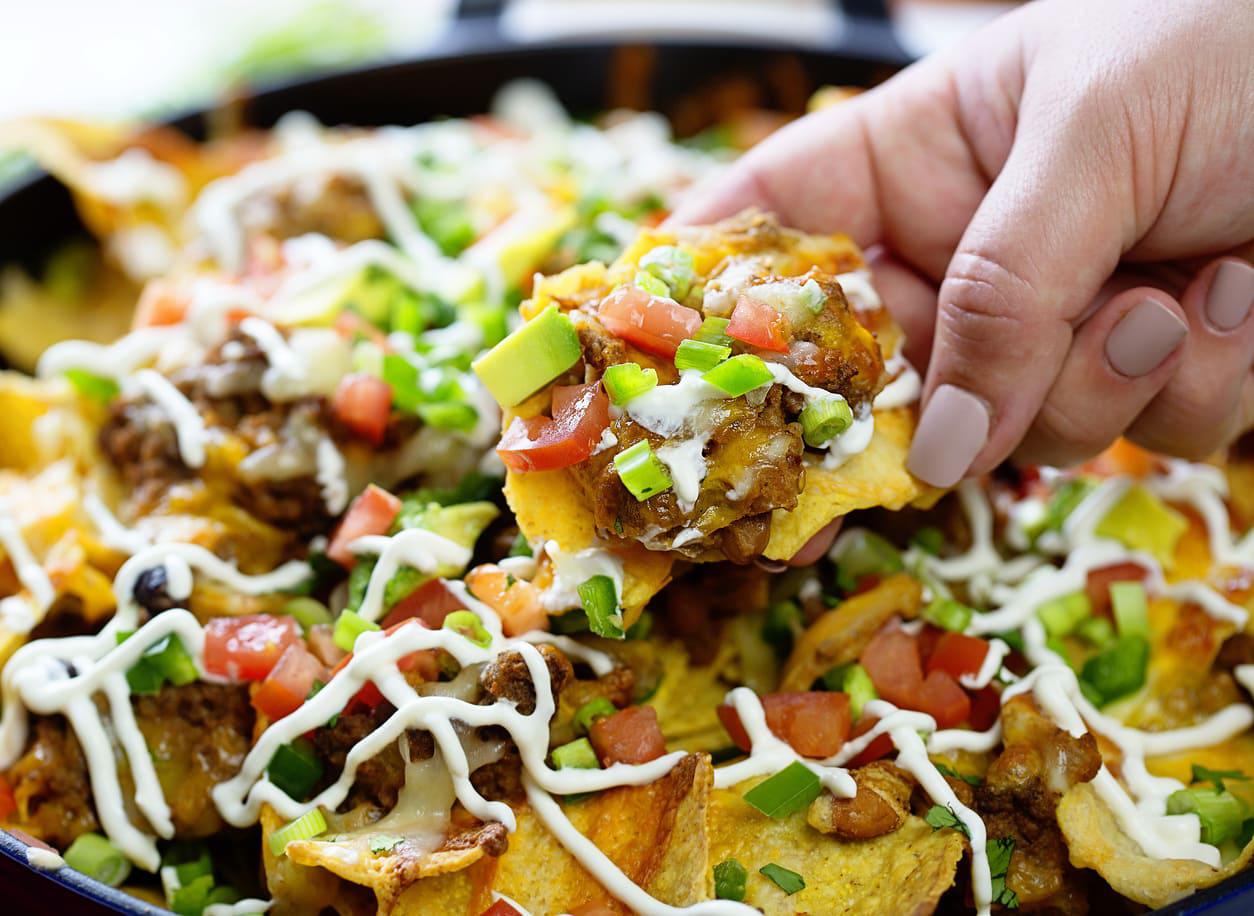 Optional Ingredients for Beef Nachos
Corn
Garlic
Olives
Guacamole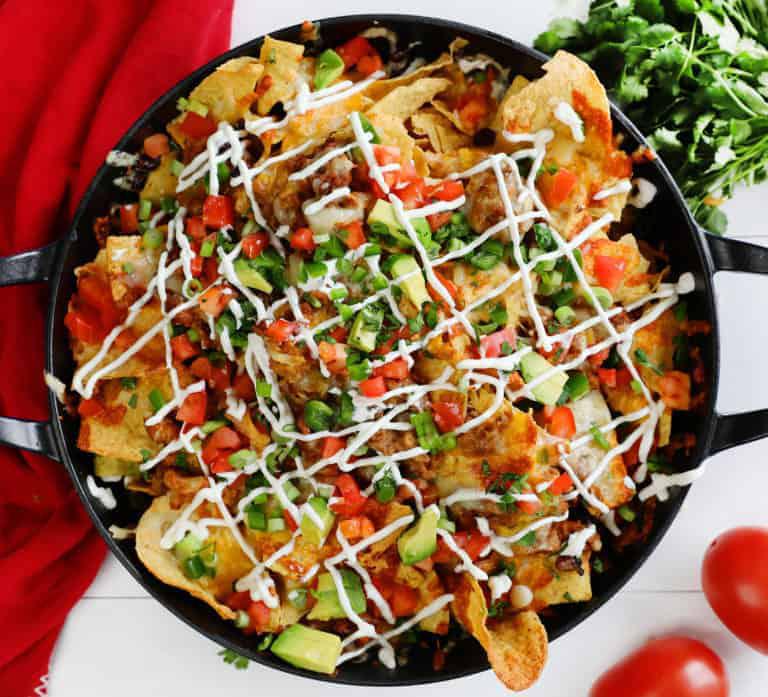 Ingredients
NACHOS
1 pound (453 g) ground beef, cooked
1 small onion, diced and cooked
1 tablespoon taco seasoning
15 ounces refried beans
1 large bag tortilla chips
2 cups (113 g) mild cheddar cheese, shredded
2 cups (113 g) monterey jack cheese, shredded
1/2 cup (86 g) black beans, drained
TOPPING
1/2 avocado, diced
1 large tomato, diced
1/4 cup scallions, sliced
1/4 cup cilantro, chopped
1/2 cup jalapeños, diced
sour cream, for drizzling
Instructions
Preheat oven to 425º F.
In a medium bowl, combine cooked hamburger, cooked onion, refried beans and taco seasoning. Mix well.
Add 1/3 the tortilla chips and top with beef-bean mixture, 1/3 of the cheese, 1/3 of the black beans. Repeat two more layers.
Bake until cheese is melty, 10 minutes.
Top with tomato, avocado, green onions and cilantro. Drizzle with sour cream.