Minnesota Crab Louie is a creamy dressing that is loaded with imitation crab meat and shrimp, all with a spicy kick from the added chili garlic sauce.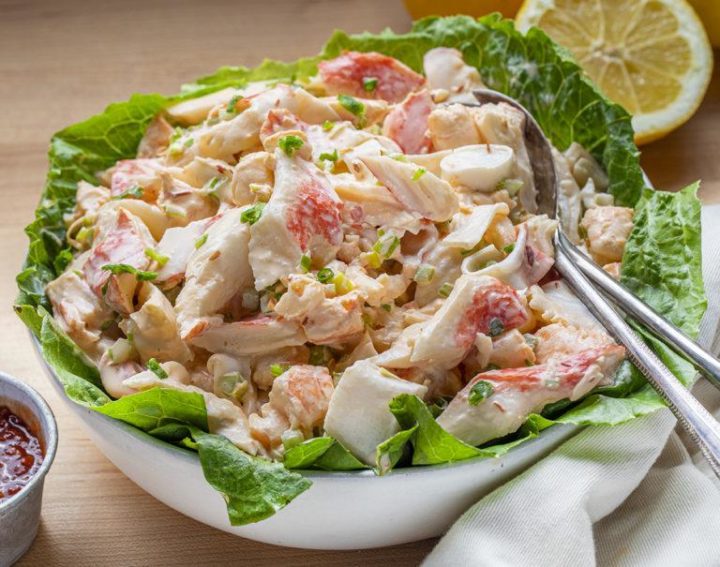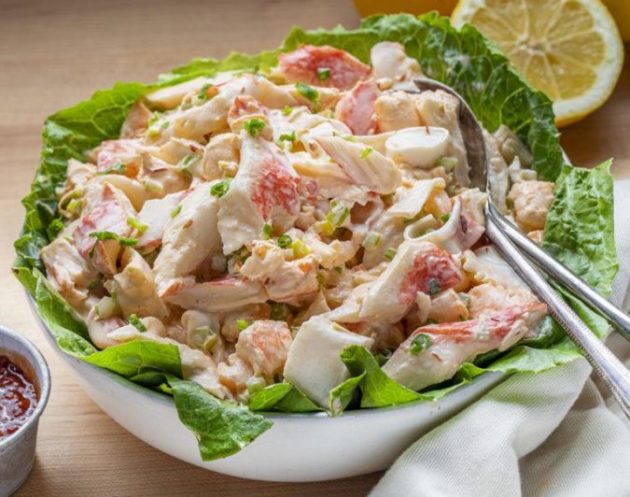 CRAB LOUIE
Crab Louie, also known as Crab Louis, is traditionally a salad that was served on a bed of lettuce with Dungeness crab and a hard-boiled egg, topped with a creamy pinkish dressing. In this recipe, I used imitation crab and shrimp right in the dressing itself, which could be called Seafood Louie. The dressing has been compared to Thousand Island dressing, but it is a bit smoother and has a little more bite to it.
MINNESOTA CRAB LOUIE RECIPE
Just like many recipes, there are lots of variations to Crab Louie recipes. There are two parts to this recipe–the seafood mixture and the Louie dressing.
Seafood Mixture Ingredients (full recipe below)
Imitation crabmeat
Shrimp
Celery
Green onions
Green bell pepper
Lemon juice
Louie Dressing Ingredients
Mayonnaise
Chili garlic sauce
Whipping cream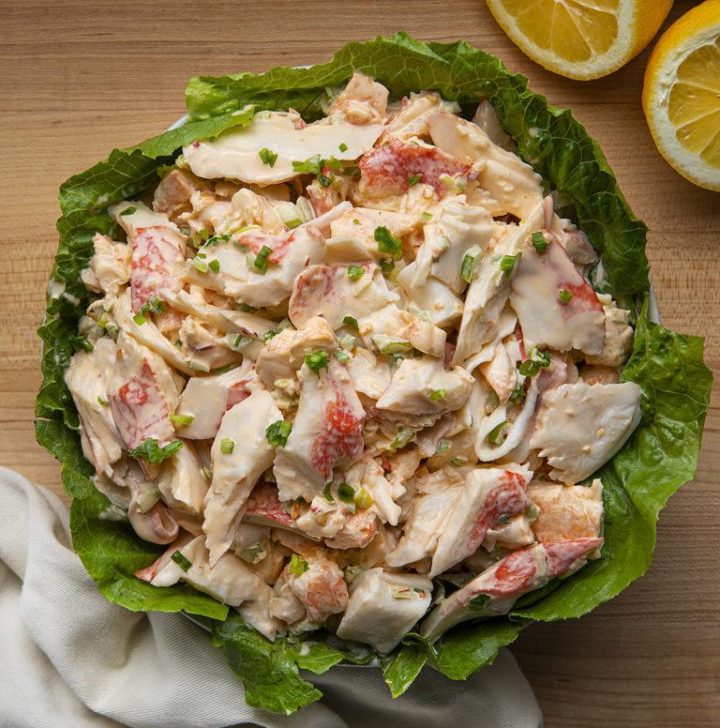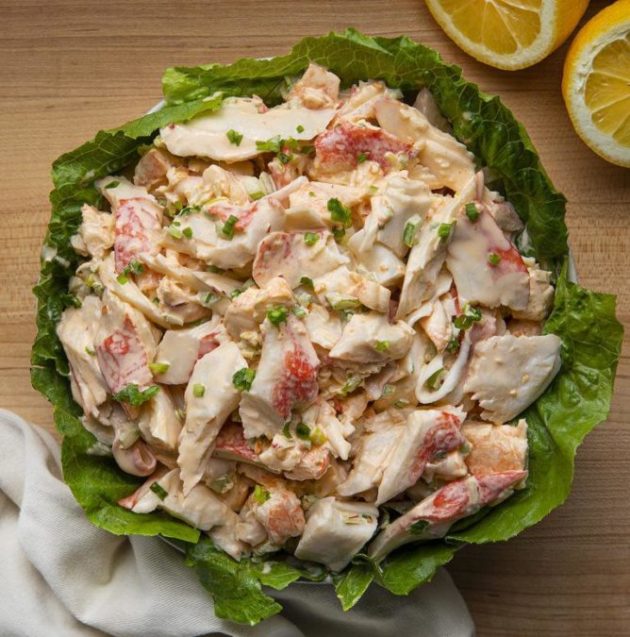 WHAT IS IMITATION CRAB?
Imitation crab is not really crab at all, but a combination of whitefish paste and fillers, called 'surimi'. It is still technically seafood, but it has a lot more added salt and preservatives than fresh crab. Imitation crab is definitely less expensive, so it is used a lot in recipes like this Crab Louie or California rolls. Look for canned lump crabmeat for more authentic crabmeat, but still pre-cooked.
FROZEN VS. FRESH SHRIMP
I used frozen shrimp that had already been peeled, deveined, and cooked. I did have to remove the tails from the shrimp, but if you buy the smaller shrimps, they will usually already have the tails removed. In addition, with the larger shrimp I used, I decided to chop it up into smaller pieces. With the small shrimp, just put them in whole. In either case, let the shrimp thaw before using it in the recipe.
If you are buying fresh shrimp, it definitely needs to be cooked ahead of time. Heat up olive oil in a skillet over medium-high heat. Add the shrimp and cook it until it is opaque and a pinkish color (as compared to the limp gray before cooking). This takes just a few minutes.
It is up to you if you decide to devein the shrimp. You need to peel it, of course, but deveining is actually based on looks, not any other reason. To peel the shrimp, start underneath. To devein, make a slit (not too deep) along the back of the shrimp, pulling out the black vein with the tip of a knife. It's really not as intimidating as it would seem. So, if already peeled and deveined shrimp are not an option for you, don't skip on the recipe–try the fresh stuff!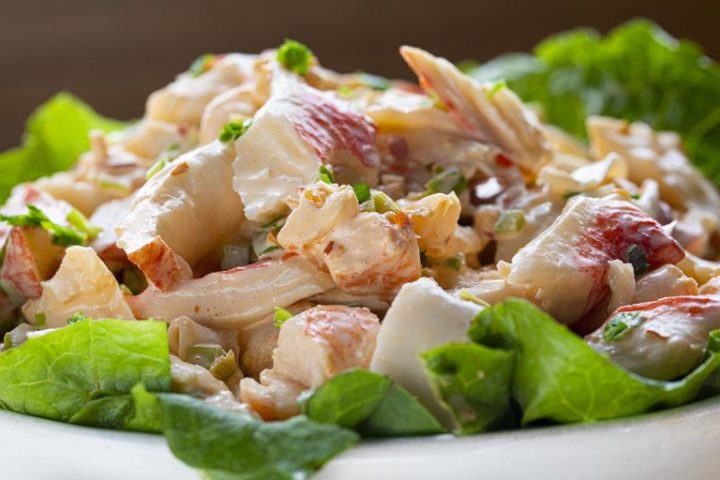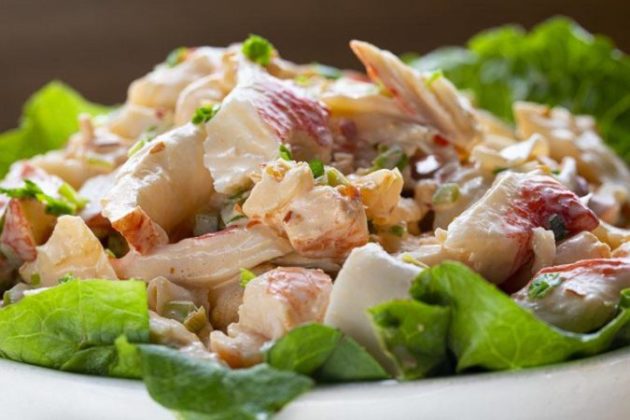 HOW TO MAKE MINNESOTA CRAB LOUIE
To make Crab Louie, begin by combining the crab meat, shrimp, celery, green onions, diced bell pepper, and lemon juice. Set that aside as you make the dressing. To make the dressing, simply combine the mayonnaise, chili sauce, and whipping cream. Pour this into the seafood mixture and toss to coat. Store in an airtight container in the refrigerator up to a day in advance.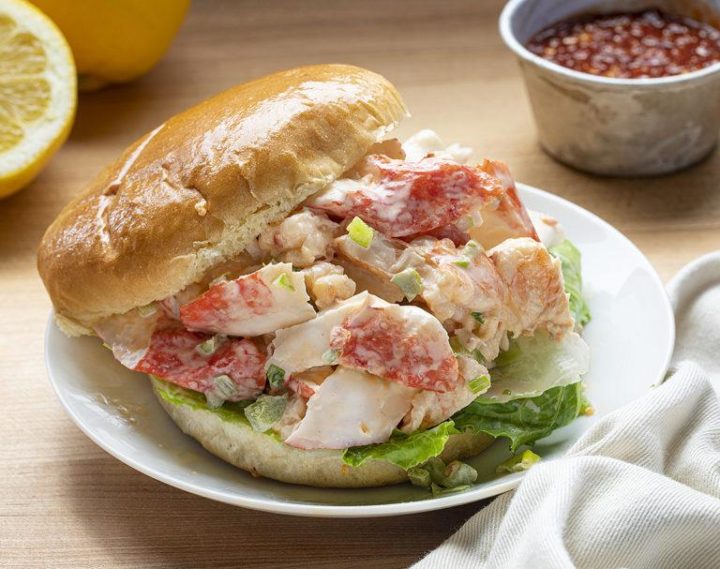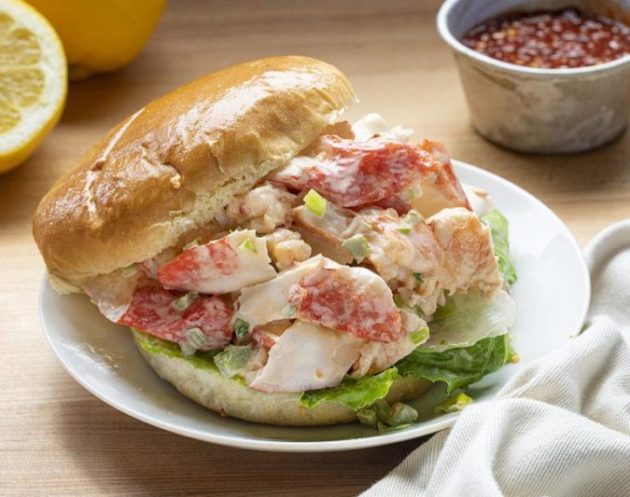 HOW TO SERVE CRAB LOUIE
The more traditional Crab Louie is lettuce, the creamy crab dressing, topped with tomato, a hard-boiled egg, and asparagus. You could also add avocado to the salad or even serve this in individual salad cups for a unique display and delicious appetizer. I actually enjoyed this Minnesota Crab Louie with a cracker for another way to enjoy the spicy dressing.
I would compare this recipe to a chicken salad or tuna salad recipe where it can be served in many ways, from on a roll, crackers, or lettuce salad.
Ingredients
Seafood Mixture
3 cups imitation crabmeat
1 bag (16 ounces) frozen shrimp, thawed, deveined, shells removed, and cut into pieces
1/2 cup celery, diced
1/4 cup green onions, minced
1/4 cup green bell pepper, diced
2 tablespoons lemon juice
Louis Dressing
1 cup mayonnaise
1/4 cup chili garlic sauce
1/2 cup whipping cream
Instructions
Seafood Mixture
In a large bowl, combine crab meat, shrimp, celery, green onions, diced bell pepper, and lemon juice. Set aside.
Louie Dressing
In a medium bowl, combine the mayonnaise, chili sauce, and heavy whipping cream. Mix to incorporate all ingredients.
Pour into bowl with the seafood mixture and toss to coat.