Buffalo Chicken Nachos are the perfect addition to your appetizer rotation on game day! This amazing twist on the traditional nacho platter will make your mouth water and your taste buds rejoice! Make sure to try my homemade buffalo sauce and Cheesy Bacon Chicken Dip!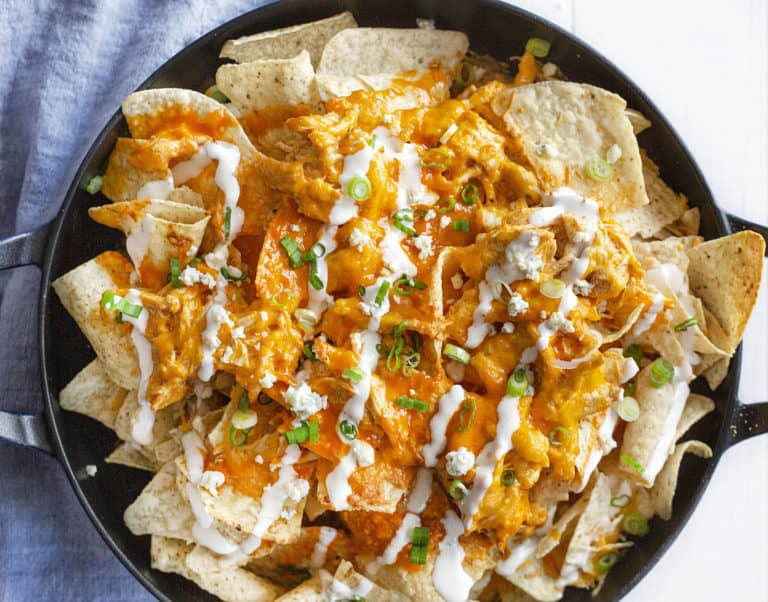 Buffalo Chicken Nachos
Buffalo Chicken Nachos take you to a whole new place, different than what traditional nachos do. With layers upon layers of cheesy, chickeny ?, tortilla chips, smothered in buffalo and ranch sauce and topped with blue cheese crumbles (you can skip that if blue cheese is not your thing). These nachos are no joke! We cook and serve them right in the skillet, for the perfect crunch every time. This also saves on some of that unnecessary clean up too.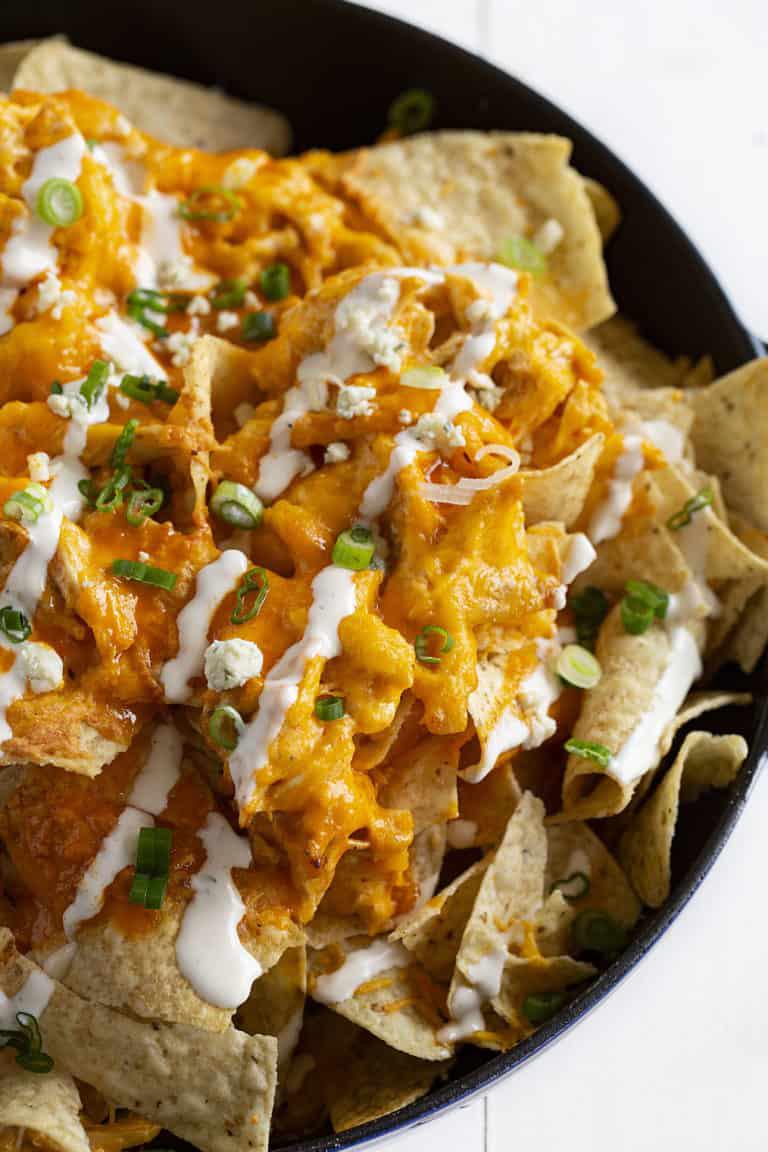 Buffalo Chicken Nachos Recipe
Simple ingredients come together in this buffalo chicken nachos recipe for a total game day win (even if your team is loosing). Here is what you will need:
Salted Tortilla Chips – you can skip the salted chips if you want, but I love the flavor.
Rotisserie Chicken – pulled off the bone and shredded.
Buffalo Sauce – you can buy this at the store or make it yourself with this easy buffalo sauce recipe.
Ranch Dressing – here is a homemade ranch dressing recipe too!
Cheddar Cheese – thickly shredded.
Blue Cheese Crumbles – the debate is open on this one. Some people love blue cheese and some hate it. You can take it or leave it at your house, no judgment here.
Green Onions – added at the end for garnish, these are also optional.
Some additional toppings you might consider:
Jalapenos
Diced Tomatoes
Diced Celery
Black Olives
Ranch Dressing (drizzled on top)
Buffalo Sauce (drizzled on top)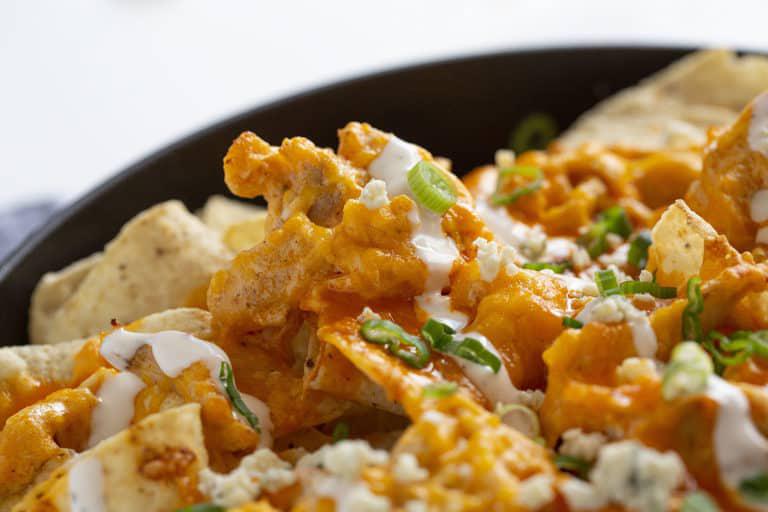 How to Make Buffalo Chicken Nachos
One of the reasons I love this buffalo chicken nachos recipe, outside of how insanely good it tastes, is how simple this is to prepare. Once you have your ingredients it is basically just a layering technique that makes them so great.
First, mix together the shredded rotisserie chicken, the buffalo sauce, and the ranch dressing. If you have extra, this is great for drizzling over the top at the end!
Next, in a large cast iron skillet (12 inches or more), add a layer of tortilla chips. Add a few dollops of the chicken mixture (about 1/3 of the total mixture), add a layer of shredded cheddar cheese and a layer of blue cheese. Repeat this three times, making sure to spread out the chicken mixture throughout the skillet, covering all of the chips. I like to make sure that my last layer of cheese is the thickest.
Finally, pop it into the oven for 5-7 minutes or until the cheese is hot and bubbly.
Once it is cooked through, you can start to add all of your toppings. I love to top with a hearty drizzle of ranch dressing and buffalo sauce and a final layer of the blue cheese. We usually add some green onions at this point too. Get creative with your own toppings! Or, set them out in small bowls so your guests can choose how they want to decorate their own plate of nachos.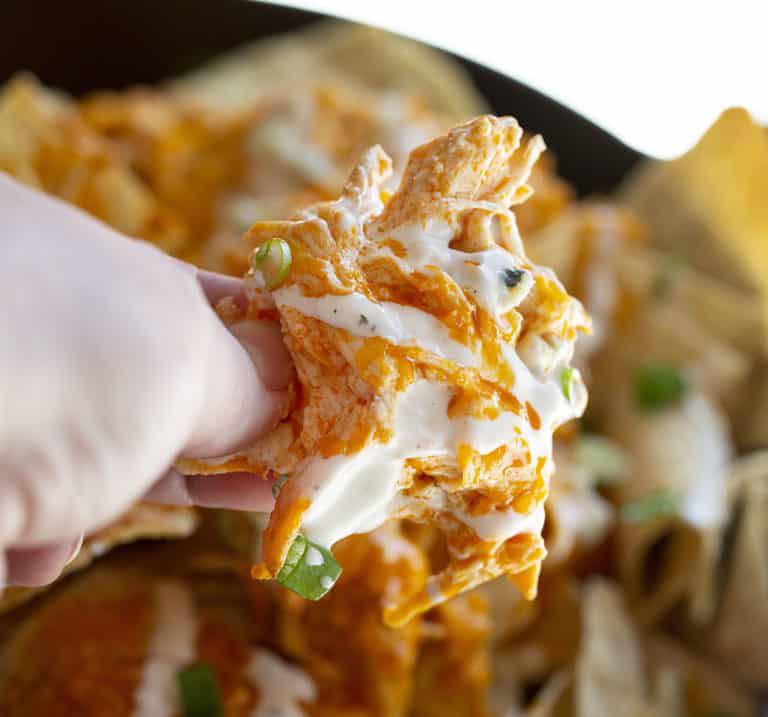 Ingredients
3 cups (325 g) rotisserie chicken, shredded
½ cup buffalo sauce
½ cup (122.5 g) ranch dressing
1½ cup (169.5 g) shredded cheddar cheese
¼ cup (37.5 g) blue cheese crumbles
1 bag tortilla chips
2 tablespoons green onion, chopped
Instructions
Preheat oven to 425°F.
In a medium bowl, mix together chicken, buffalo sauce, and ranch dressing.
In a large skillet, add 1/3 of each the chips, the chicken, the shredded cheddar, and the blue cheese in layers. Starting with a layer of tortilla chips, a layer of chicken, a layer of the cheddar cheese, and a layer of blue cheese. Repeat x3
Place Nachos in the preheated oven and cook for 5-7 minutes or until the cheese is hot and bubbly.
Optional: Top with chopped green onions and drizzle with buffalo sauce and ranch dressing.