Forget about the packaged onion dip mix and make your own, from scratch! This classic, retro dip gets an upgrade with my homemade recipe, and you may find yourself skipping the onion soup mix for good! In fact, I even have a recipe for Homemade Onion Soup Mix when you need some for your next recipe!
French Onion Dip
French Onion Dip is the classic dip that most remember from their childhood. At least, I do! There weren't many varieties of dips around at the time, so it is no wonder that it was, and still is, so popular. I have always known it as French Onion Dip, but it is often called California Dip. It is believed that a French cook in Los Angelas put instant onion soup with some sour cream and the recipe was printed in the local newspaper back in the 1950s, and that combination obviously worked! Yes, I could simply buy the onion soup mix and add some sour cream, but if you know me, I always prefer the homemade versions of dressings and dips, like my Homemade Ranch Dressing, and this is no exception.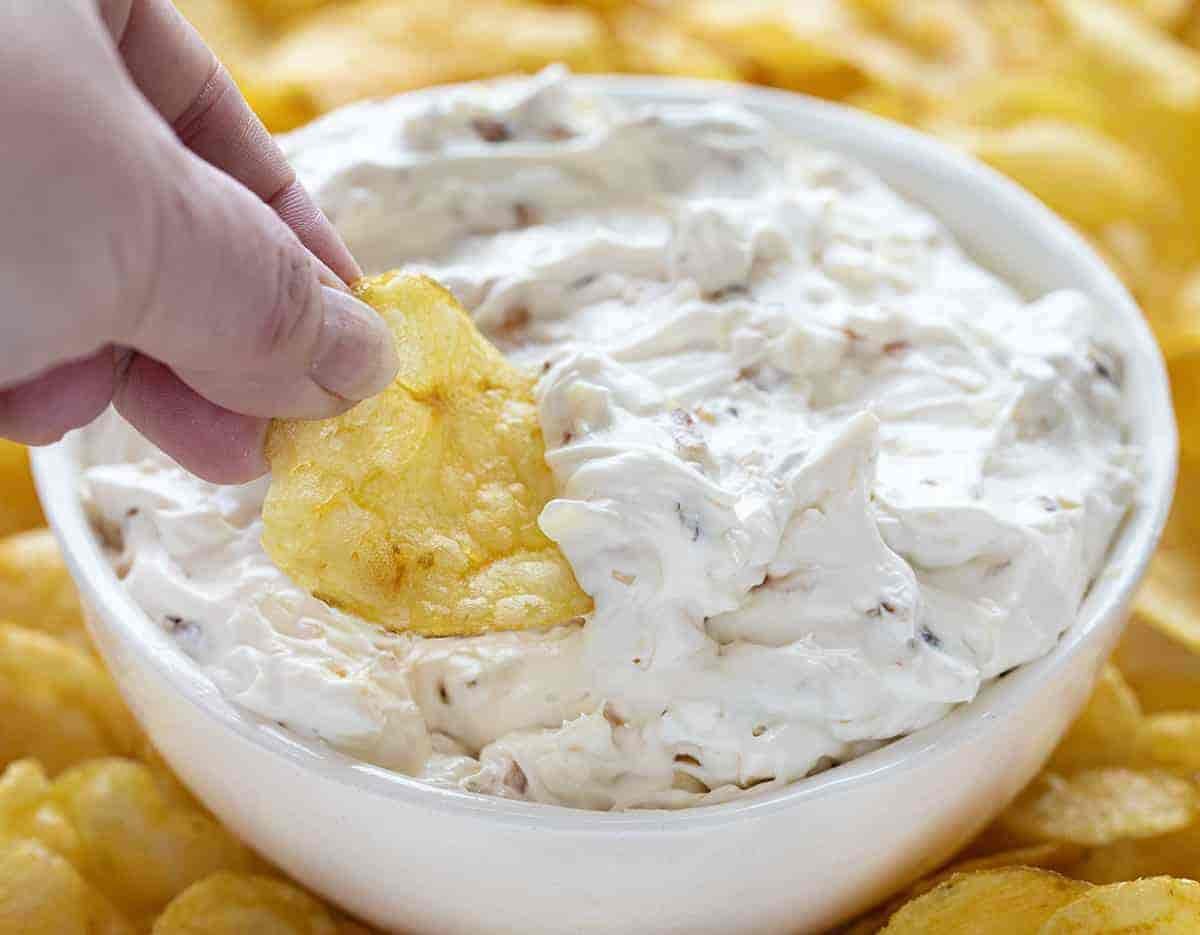 French Onion Dip Recipe
French Onion Dip does not have to be super challenging to make. However, one trick to make it stand out is to use authentic Swiss Gruyere Cheese! Trust me on this one. It's the best all-around cheese for baking because of its firmness and anti-stringiness if that is even a word. It is now, I guess. It also has a nutty flavor that is delicious! If you can't find Gruyere, you can use a French Comte cheese. Regular old Swiss cheese you find in masses at the grocery store may be substituted, but beware! The texture is different, and it may not give you that dip that stands out from the crowd.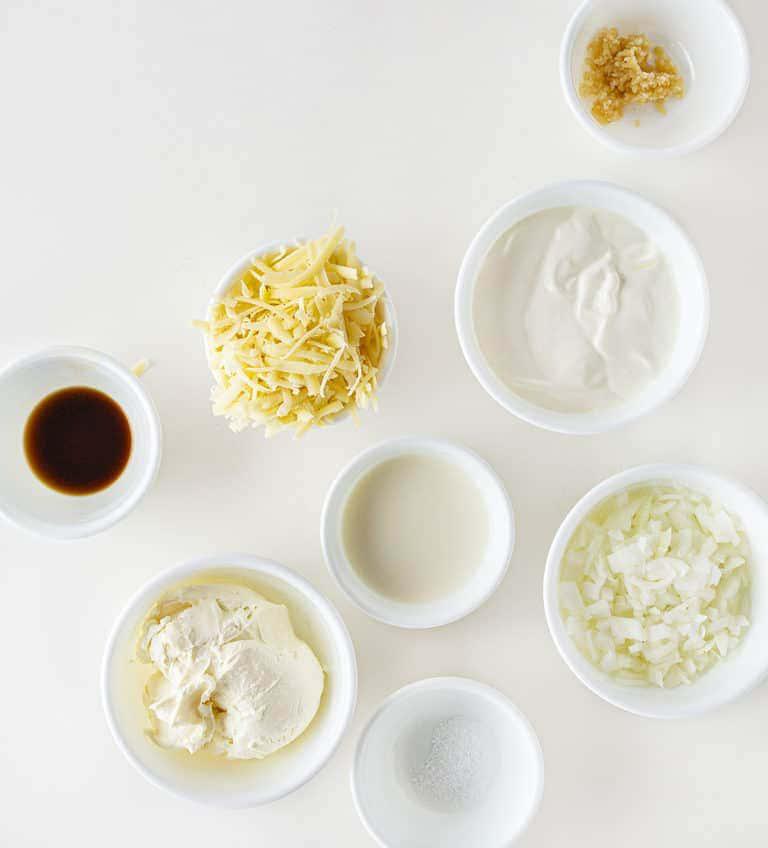 Besides the Gruyere cheese, here are the other ingredients you need for the French Onion Dip. And they all work together beautifully!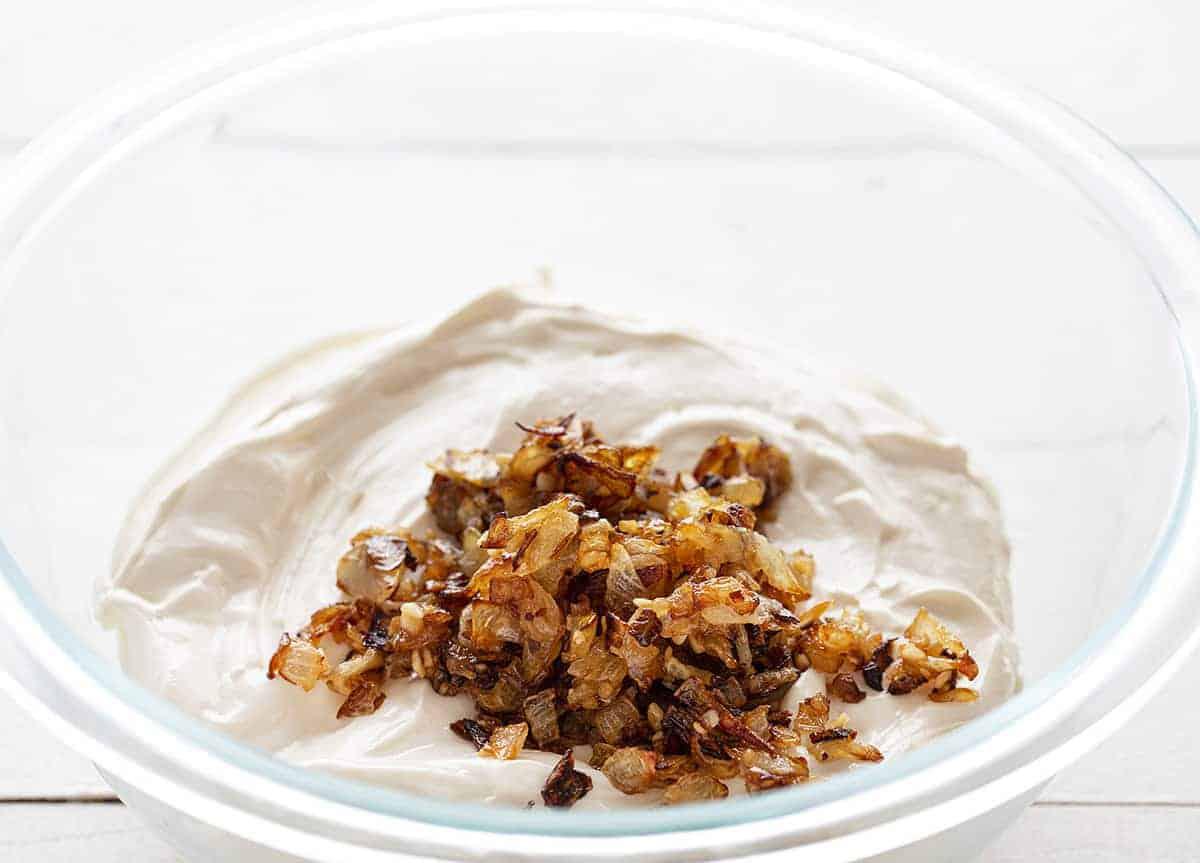 How to Make French Onion Dip
Besides the Gruyere cheese being so important, caramelizing the onion is also an important part of the French Onion Dip. Vidalia onions work great in this recipe. They are sweet, and the flavor really pops as you caramelize them. In this case, you just need one onion.
Chop the onion and cook it in the oil for 15-20 minutes.
Next, add the garlic and cook for about 30 seconds.
Remove the onion from the heat to let it cool as you mix the other ingredients.
While the onions are cooling, combine room temperature cream cheese, sour cream, salt, and Worcestershire sauce in a medium bowl. Use a hand mixer to get a creamy mixture.
Here is where you add the all-important onion and Swiss Gruyere cheese. Have I mentioned how important this particular cheese is for this recipe??? After everything is combined, add about a tablespoon of milk at a time until you get the consistency of the dip you want.
Use this dip for your traditional potato chips, of course. But, give it a shot on your next slice of pizza, mashed potatoes, or even a burger! If you must get your veggies in, use this dip to help them go down a bit easier, and tastier!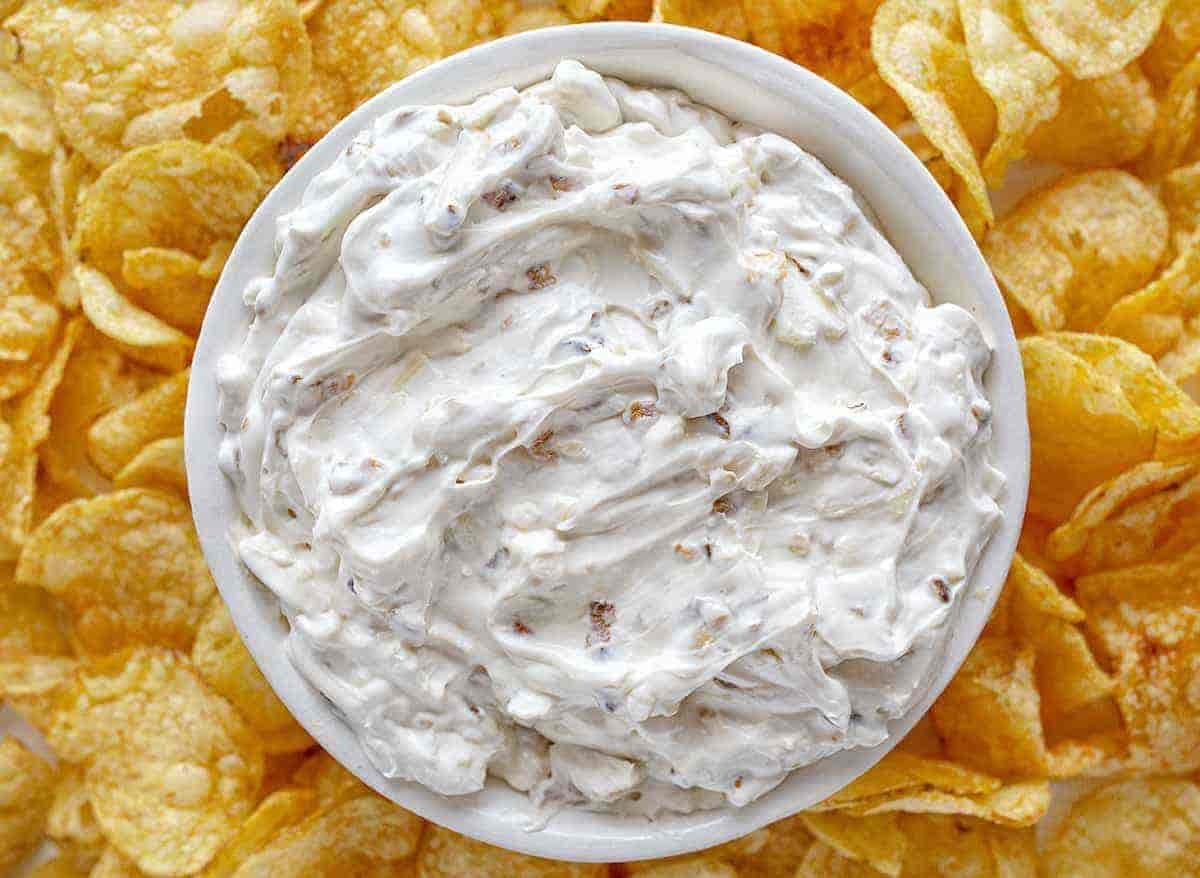 Ingredients
2 tablespoons canola oil
1 onion, chopped
2 cloves garlic, minced
1/4 cup milk
1 cup sour cream
8 ounce of cream cheese
1 teaspoon salt, or more to taste
1 1/2 teaspoon Worcestershire sauce
1/2 cup gruyere cheese, finely shredded
1 bag plain potato chips
Instructions
Cook onion in oil until very soft and tender and slightly browned. Roughly 10-15 minutes.
Add garlic and cook for about 30 seconds.
Set aside to let cool.
Combine room temperature cream cheese, sour cream, salt, and Worcestershire sauce in a medium bowl and beat with a hand mixer until creamy.
Add onion mixture and cheese and stir to combine the dish.
Add milk a tablespoon at a time until you reach your desired consistency.
Serve cold with potato chips.