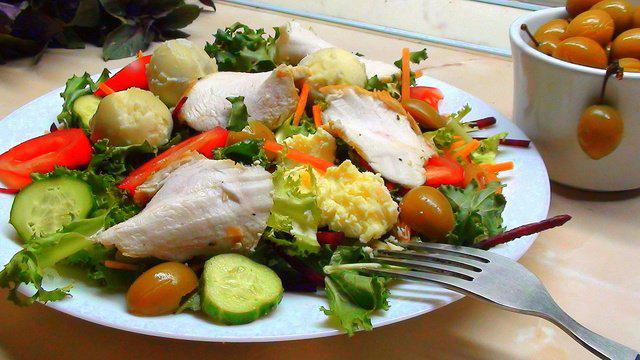 Ingredients
salad mix
young beets and carrots 1 pc.
tomatoes 1-2 pcs.
cucumber 1-2 pcs.
olives 7-10 pcs.
2 boiled egg yolks per serving
olive oil 2-3 tbsp.
chicken breast 1 pc.
for the marinade of the chicken breast:
olive oil 6 tbsp.
2 to 3 tablespoons wine vinegar
young garlic 2 cloves
ground black pepper, salt, herbs
for the olive sauce:
50 gr. olive oil
100 g. olives (pitted)
mayonnaise 100 g
Instructions
To marinate the breast we need time, so it is better to prepare it in advance, for example, the day before. Cut the filet from the bone, sprinkle with salt and ground pepper.
Fry in olive oil (2 tablespoons) for 5 minutes on each side, until crispy.
Prepare the marinade: chop the garlic coarsely enough and crush the pieces with a flat knife, add the wine vinegar and olive oil (4 tablespoons), add the Provencal herbs.
Put hot breasts in the marinade, pour oil, in which they roasted. Leave at room temperature until they have cooled a little, and then put them in the refrigerator for 12 hours, periodically turning the meat in the marinade.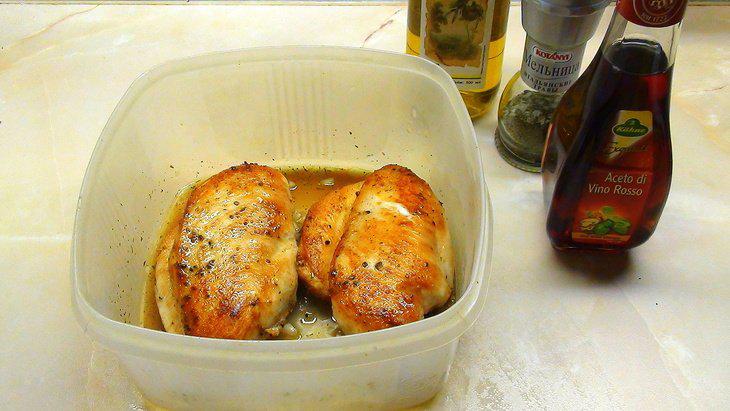 Cut the carrots and beets into thin slices, mix with the salad leaves, dress with olive oil, salt and pepper to taste. Spread out on a wide plate. Put olives and slices of tomatoes and cucumbers on the top.
Put boiled egg yolks in the salad.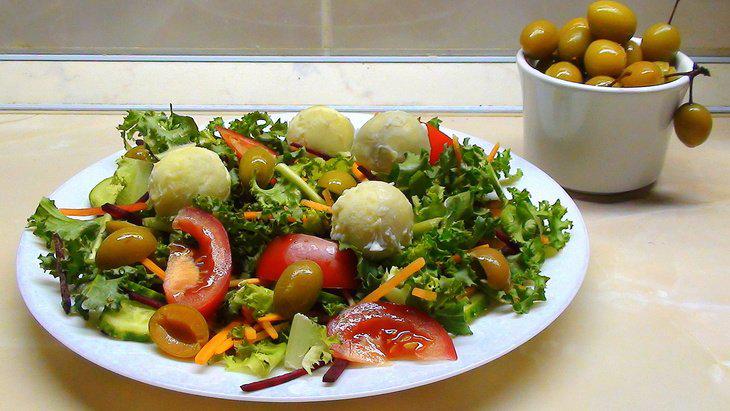 Cut the marinated chicken breast into thin slices and arrange on top of the salad. Garnish the top with olive sauce.
For sauce: whip olives in a blender with oil and mayonnaise.
Bon appetit to you and your family!