When thinking about breakfast, french toast is one of those recipes that we absolutely love. If you love making huge platters of it when having guests for the weekend or Little Buddy has friends who spent the night, then this recipe is the perfect choice for you.
This easy recipe should be your go-to for basic French toast, designed for when you wake up in the morning and have a craving for French toast but haven't planned for it in advance.
It uses only staples like bread, milk, and eggs, and butter. The key to why it's so delicious and custardy is that the ratio of egg, milk, and sugar strikes the ideal balance—neither too wet and soggy nor too firm and eggy.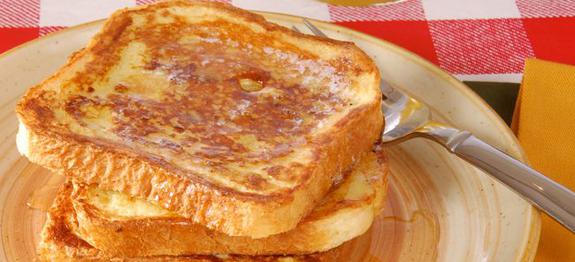 Ingredients
6 pieces of sliced bread, cut diagonally, edges removed
2 cups of milk
2 eggs, beaten well a dash of salt
Butter or oil to grease frying pan.
Instructions
Dip each triangle of toast into the egg-and-milk mixture'
Heat frying pan over low fire, and brush some butter or oil evenly on it.
Put toasts on the pan and fry until golden brown on both sides.
Sprinkle sugar on toasts, if desired.