Burgundy Mushrooms are the perfect complement to any steak or beef roast you have on the menu. But, I happen to think that the mushrooms are so delicious that I usually take a second helping to enjoy just as they are!
BURGUNDY MUSHROOMS
There is just something special about a side of sauteed button mushrooms that come with a steak. I always look for that option on a menu when I go out to eat. After being disappointed a few times about what a restaurant considers sauteed mushrooms, I am so glad I have this homemade recipe to make my own! I don't even need a steak or cut of beef to go with them–I could easily eat the entire batch. With their rich flavor and beautiful color, Burgundy Mushrooms will be a staple at every steak dinner you have from now on.
BURGUNDY MUSHROOMS RECIPE
Be ready for the best mushrooms you have ever made! Seriously, even the people who do not like mushrooms may change their tune about them after you serve this tasty side dish.
Ingredients:
Onion–I prefer to use a yellow onion for this recipe because of the nice balance of sweet and sharp. They will actually get a little sweeter the longer they are cooked.
Butter
Garlic–No need to mince the garlic cloves–just make sure they are peeled.
White button mushrooms–I chose white button mushrooms because they are usually available year-round, and they have a nice light flavor.
Burgundy wine–I used burgundy wine, but any red wine would work (like cabernet or merlot).
Boiling water
Worcestershire sauce
Dill weed
Black pepper
Beef bouillon
Salt, to taste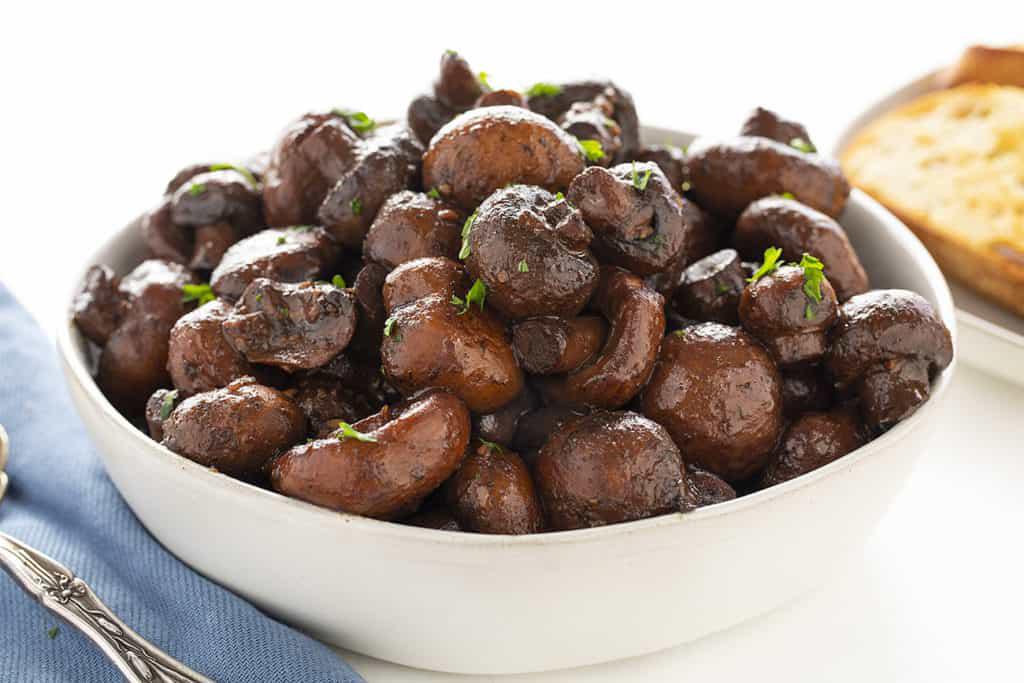 HOW TO MAKE BURGUNDY MUSHROOMS
The time it takes to make Burgundy Mushrooms is definitely worth it! It's not a lot of work, but just some patience. You will actually be boiling these mushrooms. First, get out your Dutch oven for this recipe. I have mentioned using a Dutch oven in the past, and it's worth it to add one to your collection of cookware. It is ideal for soups and stews because it is heavy and thick enough to retain heat. It is also oven-proof, but you will not need to put this dish in the oven. If you do not have a Dutch oven, choose a heavy, deep pot to use.
To make the mushrooms, follow these simple steps:
In your large Dutch oven (or pot), melt the butter.
Add the onion and saute for about 5 minutes. The onion will become somewhat translucent.
Add the garlic and cook for 1 more minute.
After washing the mushrooms, add them to the Dutch oven.
Pour in the wine, water, Worcestershire sauce, dill, pepper, and beef bouillon cubes. Stir to combine.
Bring everything to a boil before simmering, covered, for about 1 1/2 hours.
Uncover the Dutch oven and let the mushrooms cook for another 1 1/2 hours.
Add salt to taste, and serve.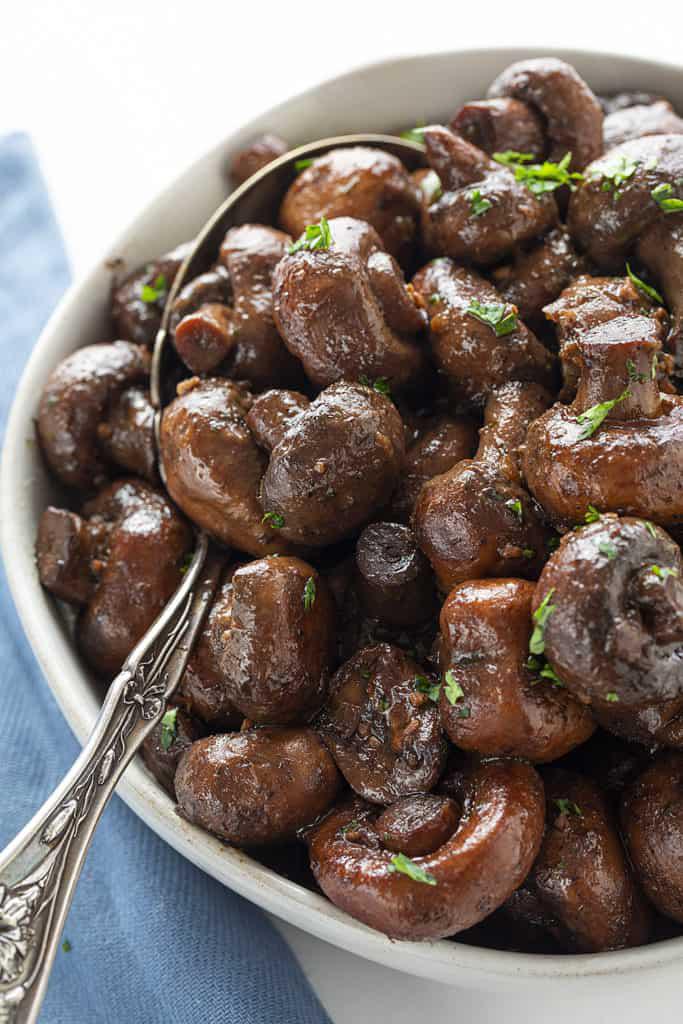 CAN I REHEAT BURGUNDY MUSHROOMS?
There is some debate on the idea of reheating mushrooms. If you are at all hesitant about that, you may want to adjust the recipe for the amount you need since it does make a large batch. However, some Burgundy Mushroom recipes claim the flavor is best the next day after the wine sauce has been allowed to soak into the mushrooms. Anyway, if you do have leftovers, refrigerate them in an airtight container to eat the next day (within 24 hours). You can certainly freeze them if you are making them well ahead of time. Reheat the mushrooms on the stovetop.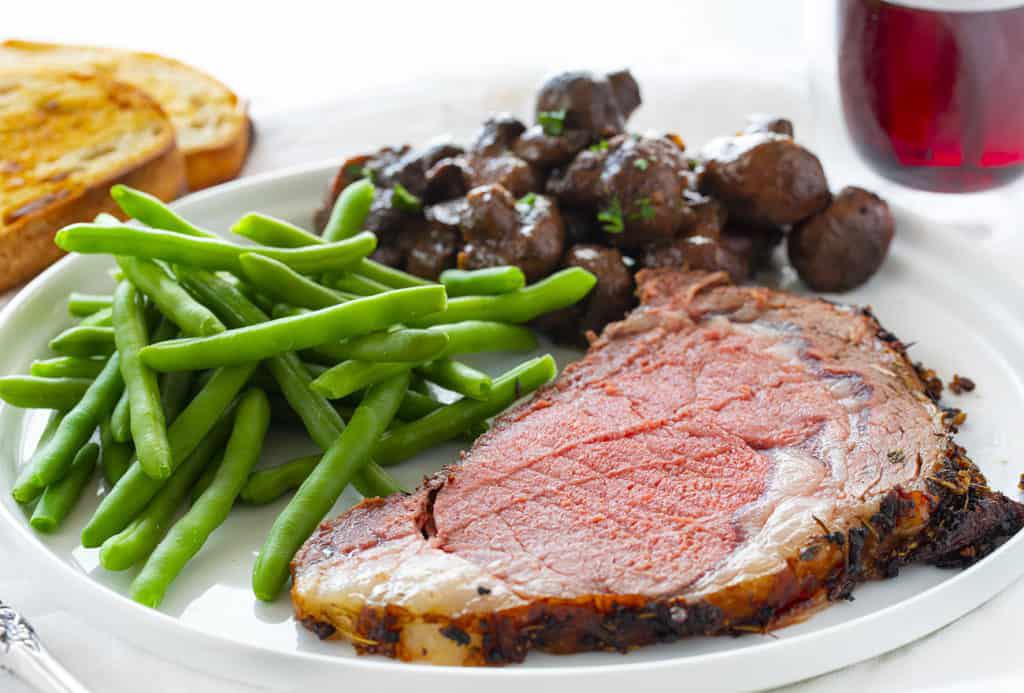 Ingredients
½ cup onion, diced
1 cup (2 sticks) butter
4 cloves garlic, peeled
4 pounds white button mushrooms
1 liter Burgundy wine, or another dry red wine
1 cup boiling water
2 teaspoons Worcestershire sauce
1 teaspoon dill weed
1 teaspoon freshly ground black pepper
4 cubes beef bouillon, dissolved in hot water
1 pinch salt, to taste
Instructions
In a large Dutch oven, melt butter.
Add diced onion and sauté until translucent (about 5 minutes).
Add garlic. Cook 1 more minute.
Thoroughly wash the mushrooms and add them to the Dutch oven.
Add the wine, water, Worcestershire sauce, dill, pepper, and beef bouillon cubes. Stir to combine.
Bring everything to a boil and then simmer for 1 1/2 hours.
Remove the lid, and then continue cooking, uncovered, for another 1 1/2 hours.
Add salt to taste at the end of the cooking process.