Browse our collection of perfect pork belly recipes, including steamed pork buns (Hirata buns), caramelized pork belly and fennel rubbed pork belly.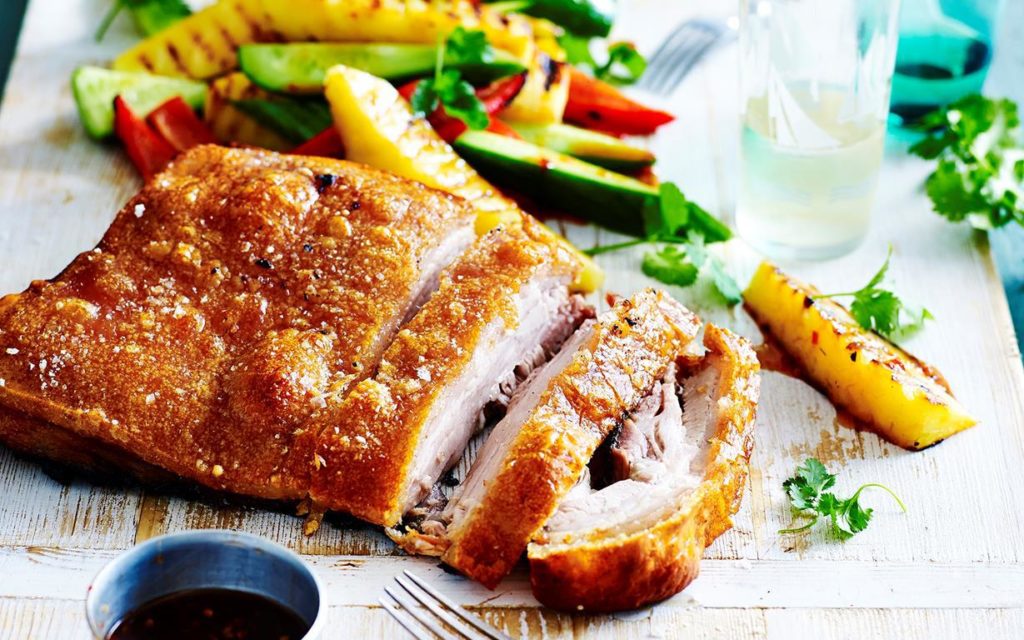 1. Crispy Pork Belly
Directions: Preheat oven to 200 degrees F (95 degrees C). Season pork belly all over with smoked paprika, salt, and black pepper. Wrap pork in parchment paper; wrap a second time in aluminum foil, and a third time in another sheet of aluminum foil. Place pork packet in a baking dish.
Roast in the preheated oven until tender for 6 hours. Let cool in wrappings to room temperature; place cooled packet in refrigerator and chill for 8 hours or overnight. Unwrap chilled meat. Save any rendered fat that falls away when unwrapping pork. Cut meat into 6 equal-size portions. Cut 1/8-inch by 1/8-inch slashes in the fat-side of the pork. Season with salt.
Heat 2 tablespoons reserved pork fat in a skillet over medium heat. Place pork belly, fat side down, in hot fat; cook until well-browned on all sides and heated through, 5 to 10 minutes. Transfer pork belly to a plate, drizzle with olive oil and season with pepper.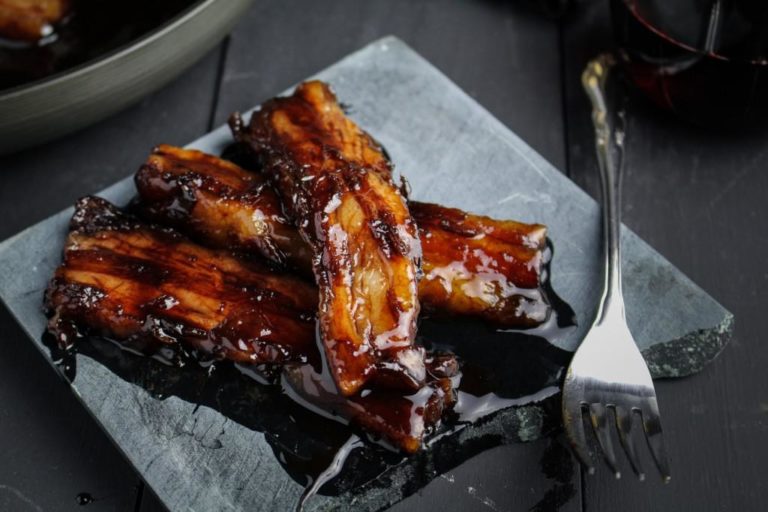 2. Caramel Pork Belly
Directions: Preheat oven to 200 degrees F (95 degrees C). Lay a large sheet of aluminum foil on a flat work surface. Lay 1/2 the green parts of the green onions down in the center of the foil. Place pork belly, fattiest-side down, on top of the green onions and top pork belly with remaining 1/2 the green parts of the green onions; sprinkle with salt. Fold aluminum foil tightly around pork and green onions. Wrap pork belly again in another sheet of aluminum foil. Place wrapped pork, seam-side up, in a loaf pan.
Cook pork belly in preheated oven for 5 1/2 hours. Turn off the oven heat and let cool in the oven for 2 hours. Remove from oven and chill in the refrigerator for 8 hours to overnight. Remove pork from foil and discard green onions. Cut pork into 8 pieces. Cook bacon in a skillet over medium heat until crisp all over, 2 to 4 minutes per side. Whisk brown sugar, rice vinegar, fish sauce, ginger juice, and soy sauce together in a bowl.
Remove most of the fat from the skillet and discard. Add 1 tablespoon of the brown sugar glaze and increase heat to medium-high. Cook until pork is glazed on all sides and pieces are caramelized, about 10 minutes. Make a well in the center of the skillet and add chopped white parts of the green onion, garlic, and peppers. Saute until fragrant, about 1 minute. Pour water and remaining brown sugar glaze into skillet; simmer until sauce thickens, 3 to 5 minutes.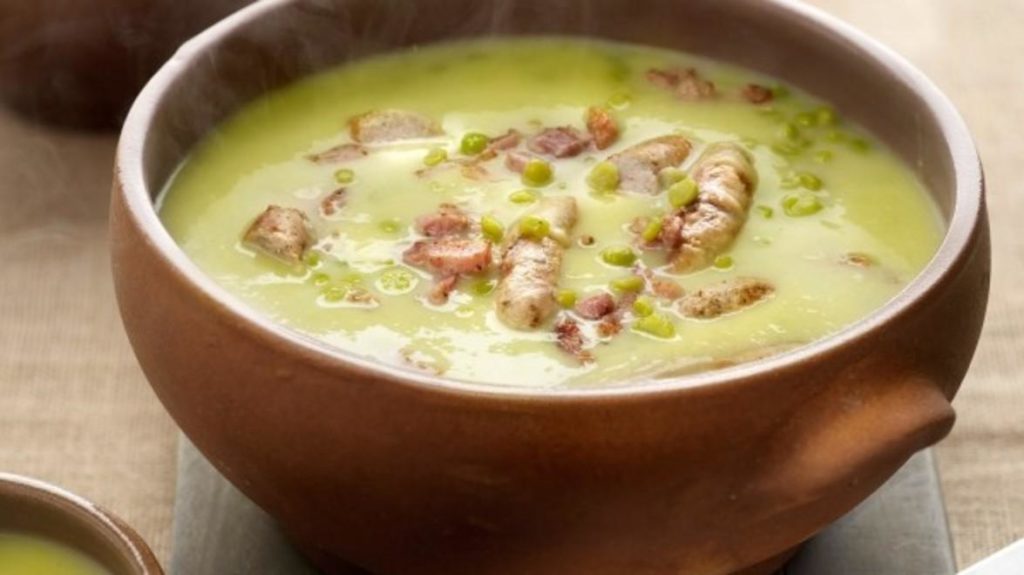 3. Split Pea Soup with Pork Belly
Directions: Cook and stir onion and pork belly in a large pot over medium heat until pork is browned and onion is translucent, 10 to 15 minutes. Add water, vegetable broth, white wine, split peas, thyme, celery seed, bay leaves, salt, and pepper; stir to combine. Bring to a boil, reduce heat, cover, and simmer until flavors have combined, about 2 hours, stirring occasionally. Remove bay leaves before serving.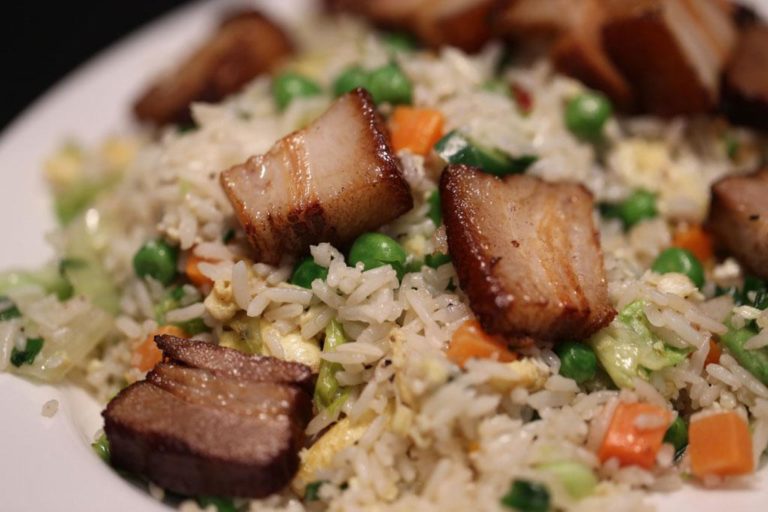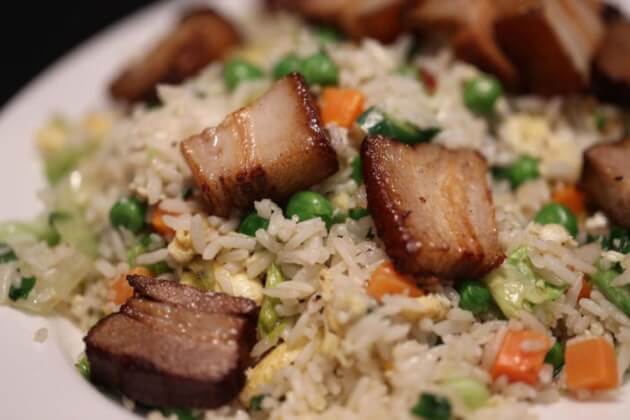 4. Chinese-Style Pork Belly with Fried Rice
Directions: Preheat oven to 275 degrees F (135 degrees C). Combine pork belly strips, water, dark soy sauce, honey, garlic, and ginger in a Dutch oven over low heat; bring to a gentle simmer, about 10 minutes. Cover and transfer to the oven.
Bake in the preheated oven, stirring occasionally, until pork belly is soft and tender, about 2 hours. Sprinkle spring onions and cashew nuts on top. Cover and let stand until spring onions soften, about 5 minutes. Bring water, rice, and salt to a boil in a large saucepan. Reduce heat to medium-low, cover, and simmer until rice is tender, 20 to 25 minutes. Drain in a colander and rinse with tap water.
Heat olive oil in a wok over medium-high heat until smoking. Cook and stir rice until coated with oil and heated through, 1 to 2 minutes. Stir in green peas, egg, and 1 tablespoon soy sauce; cook until egg is set and peas are heated through, about 3 minutes. Serve pork belly over rice.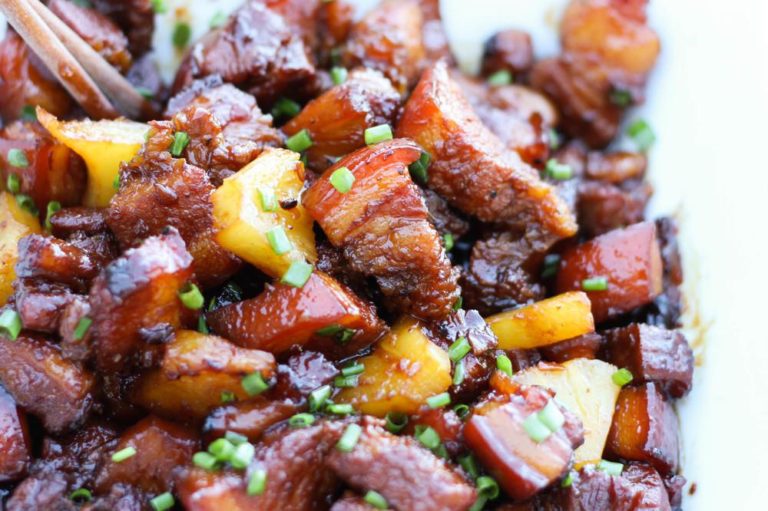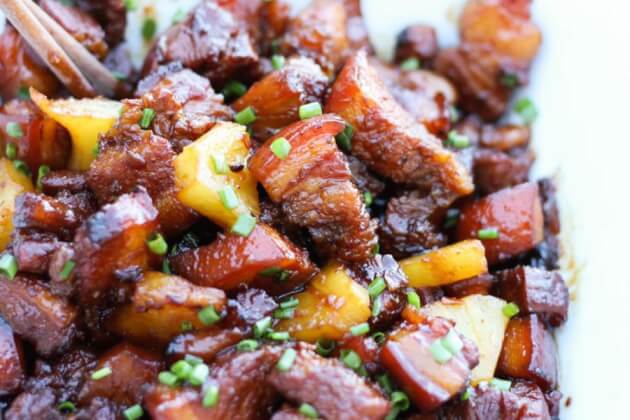 5. Caramelized Pork Belly (Thit Kho)
Directions: Slice pork belly into 1-inch pieces layered with skin, fat, and meat. Heat sugar in a large wok or pot over medium heat until it melts and caramelizes into a light brown syrup, about 5 minutes. Add pork and increase heat to high. Cook and stir to render some of the pork fat, 3 to 5 minutes.
Stir shallots and garlic into the wok. Add fish sauce and black pepper; stir to evenly coat pork. Pour in coconut water and bring to a boil. Add eggs, reduce heat to low, and simmer, covered, until pork is tender, about 1 hour. Remove wok from the heat and let stand, about 10 minutes. Skim the fat from the surface of the dish.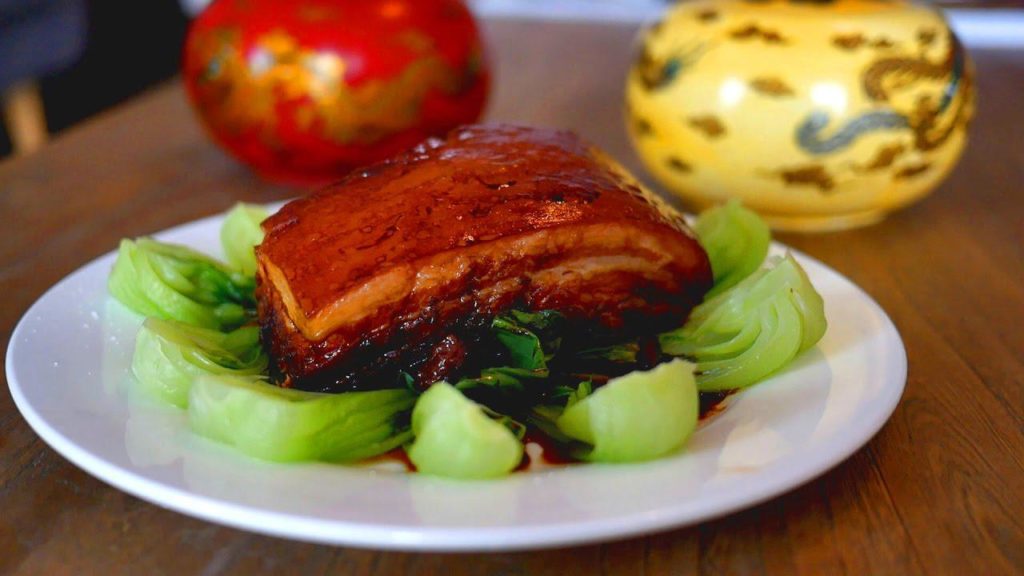 6. Dong Po (Chinese Pork Belly)
Directions: Slice the pork belly into 2-inch wide strips. Bring a large pot of water to a boil, and stir in the pork slices; reduce heat to a simmer, and cook the meat for 10 minutes. Remove from the water, and blot dry with paper towels.
Heat the vegetable oil over medium-high heat in a large wok, and brown the pork strips well on all sides. Pork will splatter – use a splatter shield for this step.
While pork is browning, mix together the light soy sauce, dark soy sauce, rice wine, rock sugar, ginger, and spring onions in a large soup pot or stockpot. Bring the mixture to a boil, stirring to dissolve the sugar. Reduce heat to a gentle simmer, and lay the pork strips into the liquid. Cover, and simmer until the meat is very tender, 1 1/2 to 2 hours. Add water as needed to keep the liquid from going completely dry.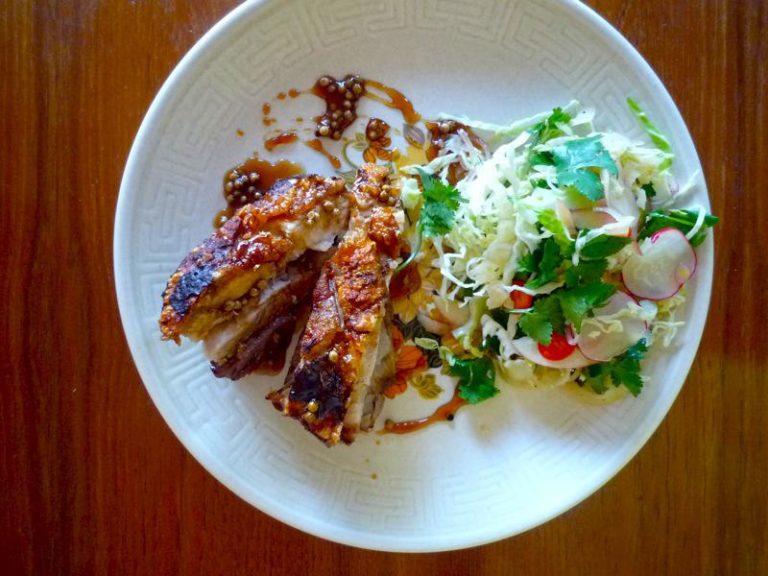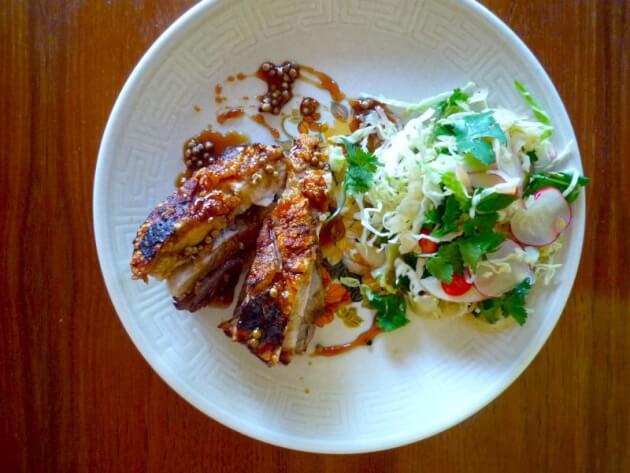 7. Fennel Rubbed Pork Belly
Directions: Heat the oven to 220c/fan 200c/gas 7. Score the skin of the pork belly. Put in the sink skin-side up and pour over a kettleful of boiling water. Lift out. Mix 4the crushed cloves of garlic, the finely chopped leaves from rosemary and the fennel seeds with a little olive oil and salt and rub all over the pork skin.
Lay the thickly sliced onions in a roasting tin and pour in the white wine. Put the pork on top and roast for 30 minutes. Turn down the oven to 160c/fan 140c/gas 3 and continue cooking for 3 hours.
Lift the pork off the onion and let it rest under foil and a tea towel. Pour off most of the fat from the pan, then stir in the flour and cook it for a couple of minutes on the hob. Add the chicken stock and bubble everything together to make a gravy, strain into a jug and serve with the pork.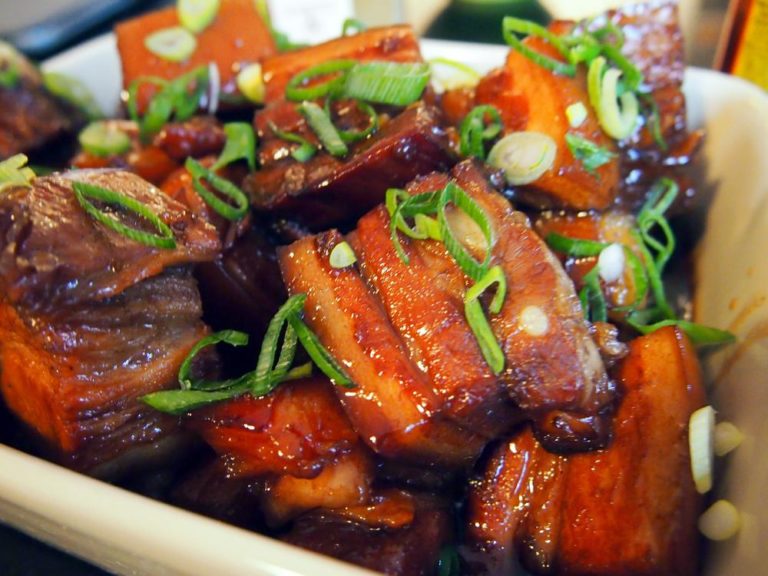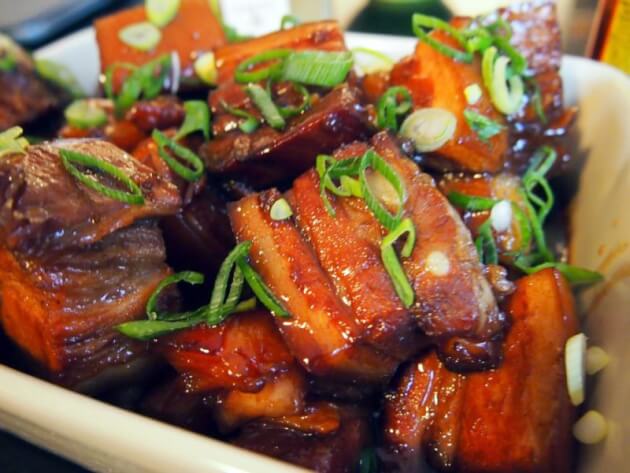 8. Twice-Cooked Chinese Pork
Directions: Heat a pan of water until boiling. Drop in the pork pieces, bring back to a simmer and cook for 10 minutes, then drain well and leave to cool a little.
Heat a large, deep frying pan or casserole and add the oil. Stir in the sugar and cook, stirring, for a few minutes until the sugar has melted.
Add the garlic, ginger and spring onions and cook for 2-3 minutes, then add the spices and blanched pork and cook everything together until the pork takes on some colour.
Add the wine, soy sauces and just enough stock to almost cover the pork. Put the lid on and simmer gently for 3 hours. Take off the lid for the last half-hour or so and raise the heat so the liquid starts to evaporate. Keep cooking, turning the pork until the sauce is reduced, glossy and coating the pork. Serve with the greens and rice.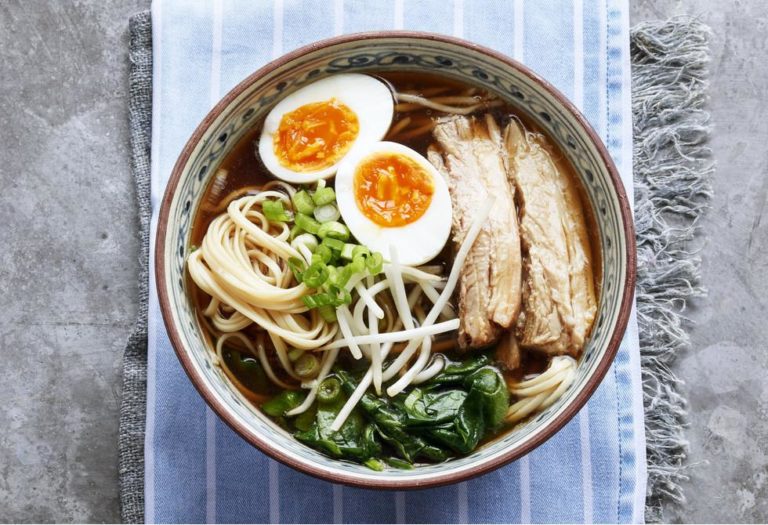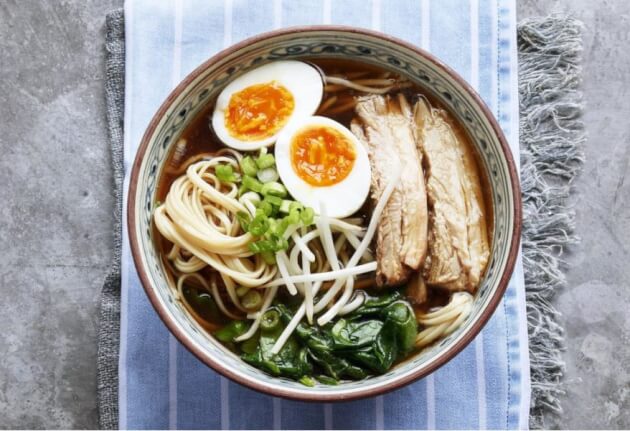 9. Spicy Pork Ramen
Directions: Heat the oven to 160C/fan 140C/gas 3. To make the pork belly, put the pork in a small baking dish it will fit snugly. Mix the soy, mirin and 200ml water, and pour this over the pork belly.Add a little more water, if needed, to just cover the meat.
Cover tightly with foil and bake for 3 hours. Pour away the cooking liquid. Cool the pork for 30 minutes, then wrap it in clingfilm and weight down with a heavy chopping board. Chill overnight, or for at least 6 hours to set the shape.
To make the broth, put the spring onions, ginger, chilli and garlic on a chopping board and bruise them all with a rolling pin. Put it into a pan, add the chicken stock and simmer gently for 15 minutes. Strain out all the solids and discard them. Slice the pork into neat slices and reheat it in the broth, adding a splash of soy and sesame oil for flavour.
Cook the ramen following the packet instructions, and drain and divide the noodles between 4 warmed bowls.Add a handful of spinach to each bowl, then pour over the simmering broth. Top with a few slices of pork, egg halves, beansprouts and spring onion.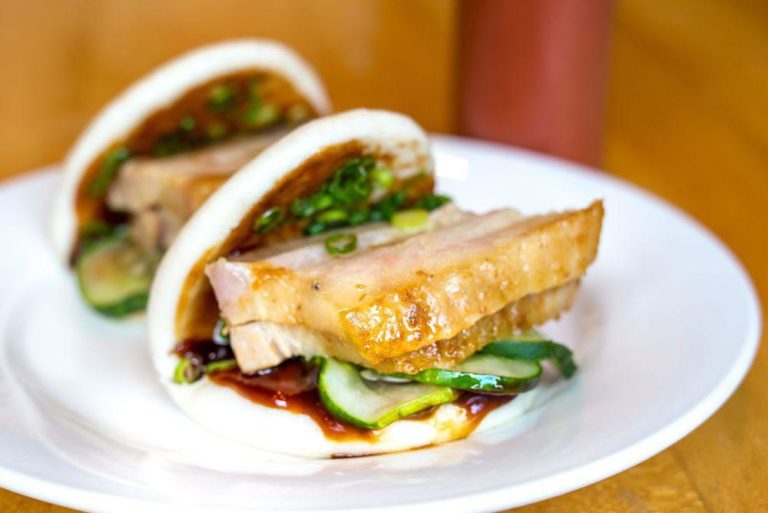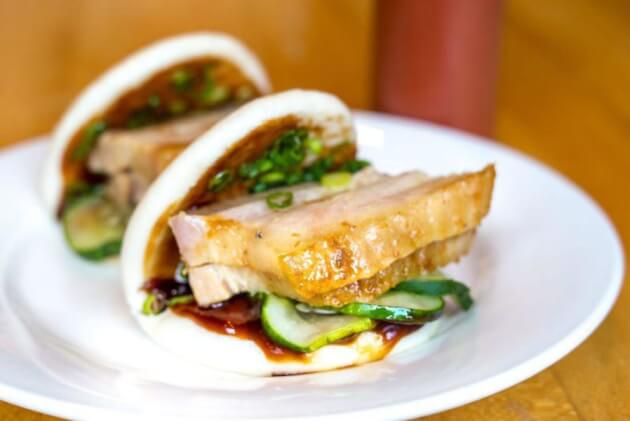 10. Steamed Pork Buns (Hirata Buns)
Directions: Mix the sugar and yeast with 250ml warm water and leave until the mixture starts to froth a little. Put the flour in a large bowl with a large pinch of salt and add 2 tbsp oil and the yeast mixture. Mix to a rough dough with a wooden spoon and then tip onto a floured surface and knead until you have a smooth, soft dough. Knead in more flour if you need to. Tip into an oiled bowl, turning the dough until it is coated in oil, cover and leave to rise until doubled in size. Punch the air out of the risen dough.
Tip it onto a floured surface, flatten it out with your hands and sprinkle with the baking powder. Fold the dough over and knead until the baking powder is incorporated and the dough soft. Cover and leave to rise for 30 minutes. To make the pork filling put the meat in a dish in one layer. Mix the marinade ingredients and pour over the meat. Leave for 2-3 hours or overnight. Heat the oven to 200C/fan 180C/gas 6. Sit a rack on top of a roasting tin in which you've poured a splash of water. Lift the pieces of pork from the marinade put them on the rack.
Roast the pork for 1 hour, turning and basting 2 to 3 times with the leftover marinade. To finish the buns, cut outsquares of baking paper. Divide the doughinto 12 pieces. Roll out each piece of dough into an oval about 12 x 6cm (use a little more flour if the dough is sticky). Put on a piece of baking paper, brush one side with oil and fold gently in half using the paper (you want to be able to open them once they are cooked).
Put a large steamer over a medium heat and steam the buns a few at a time for 6-8 minutes or until puffed and cooked through (open carefully and check the middle is cooked through). Don't let them touch or they will stick. Cut the pork into pieces and stuff into the buns with some cucumber, spring onion and a squirt of chilli sauce. Best made and eaten straight away.