By far the best Cream Cheese Pound Cake I have ever eaten or shared! This pound cake recipe will surely become a classic in your home.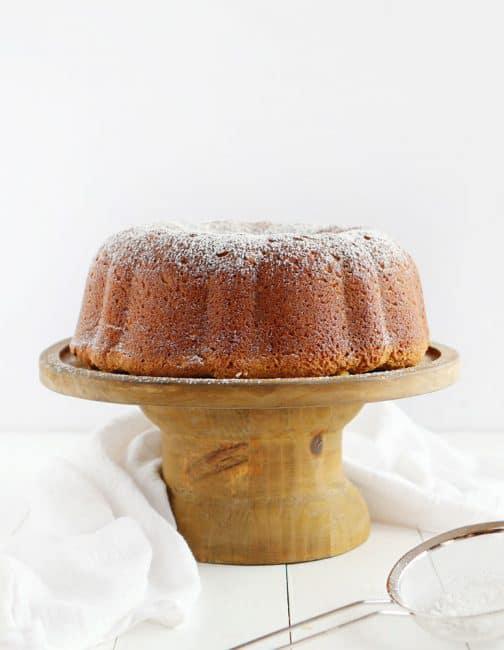 Cream Cheese Pound Cake
It's worth mentioning again just how amazing this cake is. Everything about it from the golden crust to the delicate yet dense cake crumb is absolute perfection. The flavor is so outstanding that you do not need any frosting or glaze on this cake. I did dust mine with confectioners sugar but that is only because I can't help myself.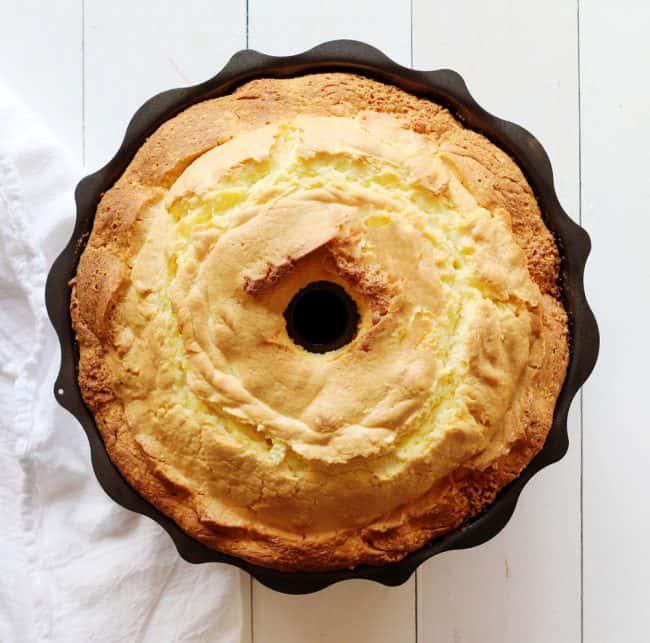 Pound Cake Recipe
I can't stress enough that this cake needs to be made with room temperature ingredients. This will ensure easier mixing and helps achieve that perfect crumb. Make sure each ingredient is incorporated before moving on to the next! Be gentle with your batter. If you want to remove it from the stand mixer right after adding the flour and mix by hand that is just fine but make sure your flour is doubled sifted and that there are no lumps.
As far as baking temperature and time, that is something you will want to keep a close eye on. If you happen to have any hot spots in your oven you may want to turn the cake halfway through baking. The crust should be golden, not burnt. This means that 325°F is the highest you should go, but the length of baking might be longer.
It took me listening to my grandma talk about a "true" pound cake for me to understand that a dark golden crust was the GOAL. I had always believed that the outside should not be dark at all, but this is not the case! There is an amazing flavor is those beautiful crust edges and something that a real pound cake definitely needs.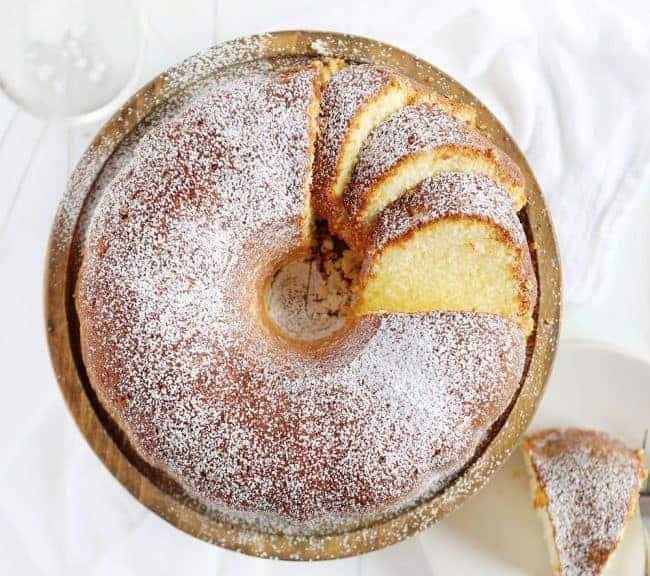 I don't recommend using low-fat cream cheese or low-fat buttermilk in this cream cheese pound cake recipe. It is a beautifully decadent cake and not worth it to potentially change the flavor and texture.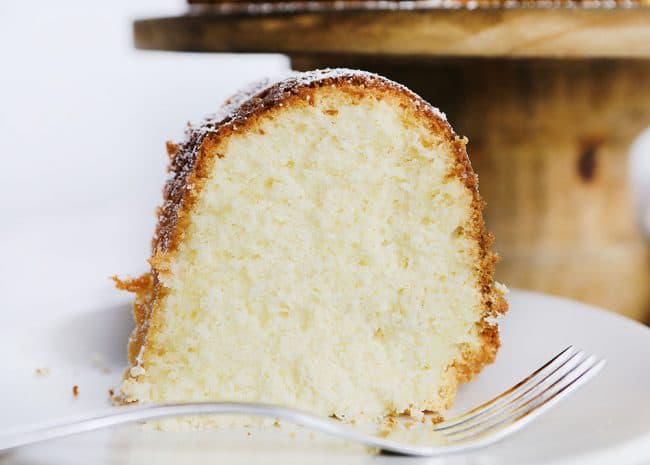 Variations for Cream Cheese Pound Cake
If you would prefer to make this in loaf pans, simply divide the batter between 2 pans and bake for 1 hour to 1 hour and 30 minutes. Start checking at the 1-hour mark. You want an inserted toothpick to be removed with a couple of crumbs, but no wet batter.
This pound cake recipe can be served as is but also pairs lovely with fresh fruit. You can also try adding lemon extract to the batter (1 teaspoon should do) and then add lemon zest on top.
I love to bake this cream cheese pound cake a day before serving, it just gets better! To store it, wrap in plastic for up to three days at room temperature or freeze in an airtight container for up to three months.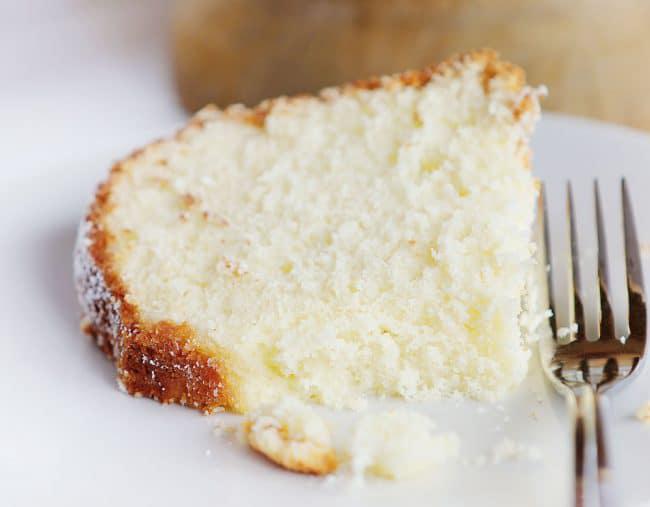 INGREDIENTS
1 package (8-ounce) cream cheese, room temperature
1¼ cups (2½ sticks or 284g) salted butter, room temperature
3 cups (600g) granulated sugar
6 large eggs, room temperature
2 teaspoons vanilla extract
3 cups (375g) cake flour
¼ cup (60g) buttermilk, room temperature
confectioners' sugar, for dusting
INSTRUCTIONS
Preheat oven to 325°F. Prepare a large bundt pan with butter and flour or by spraying with non-stick spray. (My 10-inch bundt pan is 3 inches deep. There should be at least 1½ inches between the height of the batter and the top edge of the pan.)
In the bowl of a stand mixer fitted with the paddle attachment, combine cream cheese and butter until smooth (about 3 minutes).
Gradually add the sugar and mix until light and fluffy.
Add the eggs, one at a time, mixing well after each addition, followed by the vanilla.
Slowly add the cake flour and mix until combined.
Remove bowl from stand mixer and pour in the buttermilk. Mix by hand until just incorporated. Use a rubber spatula to scrape the sides of the bowl to get every last bit of ingredient incorporated.
Pour batter into prepared bundt pan. Bake for 1 hour to 1 hour and 20 minutes. Check for doneness at 1 hour. (The cake is done when a toothpick inserted into the center of the cake comes out with a few crumbs, but no wet batter.) The crust will be a dark golden brown around the edges and lighter in the center.
Allow cake to cool to room temperature. Dust with confectioners' sugar before serving.