Savory meat rolls are a dish that will adorn any festive table. Their taste is simply finger-licking good. When I use them to embellish my festive spread, these rolls disappear in no time. Give them a try, and you're sure to fall in love too.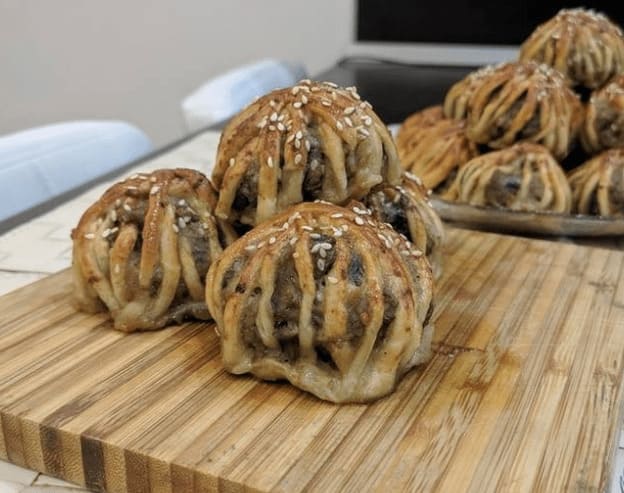 Experience a culinary masterpiece that marries both exquisite taste and visual beauty with our Savory Meat Rolls. This dish isn't just a recipe; it's an artful creation that elevates any celebratory table. Picture the scene: these delectable rolls, golden and tempting, gracing your gathering with their presence.
The taste? Utterly irresistible, a blend of seasoned meat, sautéed mushrooms, and aromatic herbs, all embraced within a flaky, golden-brown pastry. As you bite into each roll, the harmonious flavors dance on your palate, leaving you craving for more. It's a culinary masterpiece that's as much a feast for your eyes as it is for your taste buds. The scent of these savory treats baking in the oven is enough to draw anyone to the table with anticipation. So, embrace the joy of indulgence and artistry, and let the enticing aroma and flavor-rich bites of our Savory Meat Rolls transport you to a world of culinary delight.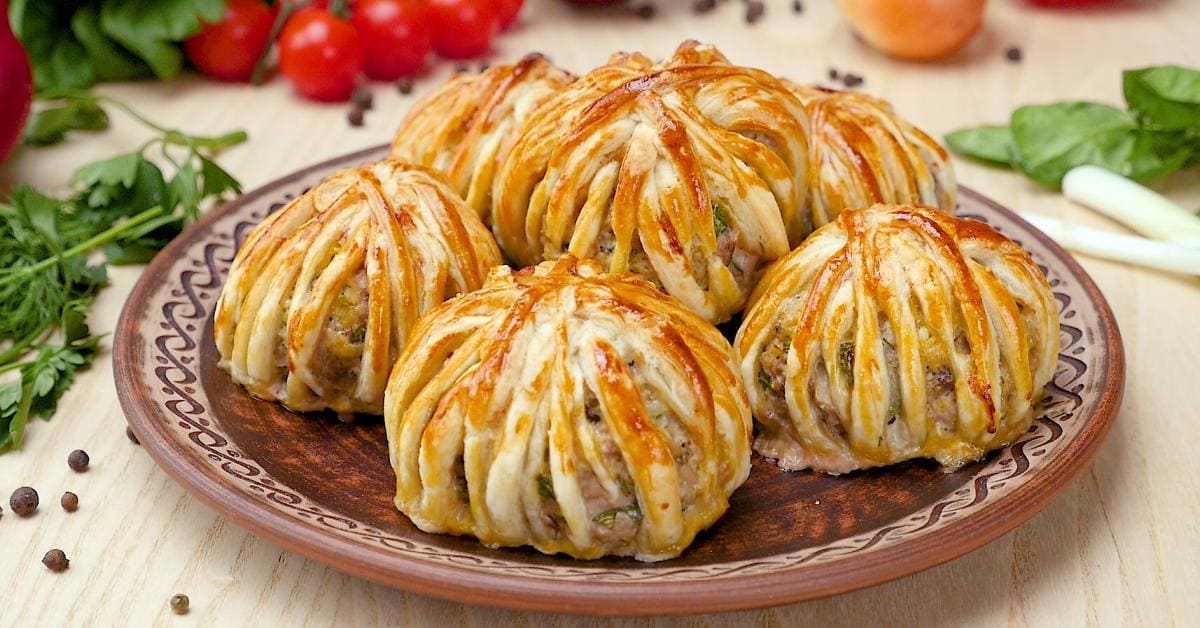 Ingredients:
Ground meat – 1.1 lb (500 g)
Onions – 2 heads
Mushrooms – 10.6 oz (300 g)
Salt, pepper – to taste
Puff pastry – 1.1 lb (500 g)
Egg – 1
Provencal herbs mix – to taste
Fresh herbs – a handful
Savory Meat Rolls: Step-by-Step Recipe
You can make meatballs from any type of ground meat. We will use a mixture of meats, as it turns out juicier. You can also use chicken, beef, or pork.
Start by seasoning the ground meat with salt, pepper to taste, and add Provencal herbs mix.
Peel and finely chop the onions.
Slice the mushrooms into small pieces and sauté them with the onions in vegetable oil until fully cooked. Season with salt and pepper to taste.
Add the cooked mushroom mixture to the seasoned ground meat, along with the chopped fresh herbs.
Cut the puff pastry into thin strips.
Shape the ground meat mixture into meatballs and wrap them in the pastry, forming rolls.
Brush the top of the rolls with beaten egg and bake in the oven at 375 degrees Fahrenheit (190 degrees Celsius) for about 45 minutes.
Bake until golden brown and cooked through.