Best Ever Pumpkin Bread is a moist and flavorful bread full of pumpkin flavor that is as easy to make as it is delicious!
The fall season means pumpkin spice season, at least to a lot of people! This bread will satisfy your pumpkin spice craving, and it is so easy to make. This pumpkin bread has a fairly dense crumb and would be delicious paired with a cup of coffee or as a snack any time of the day.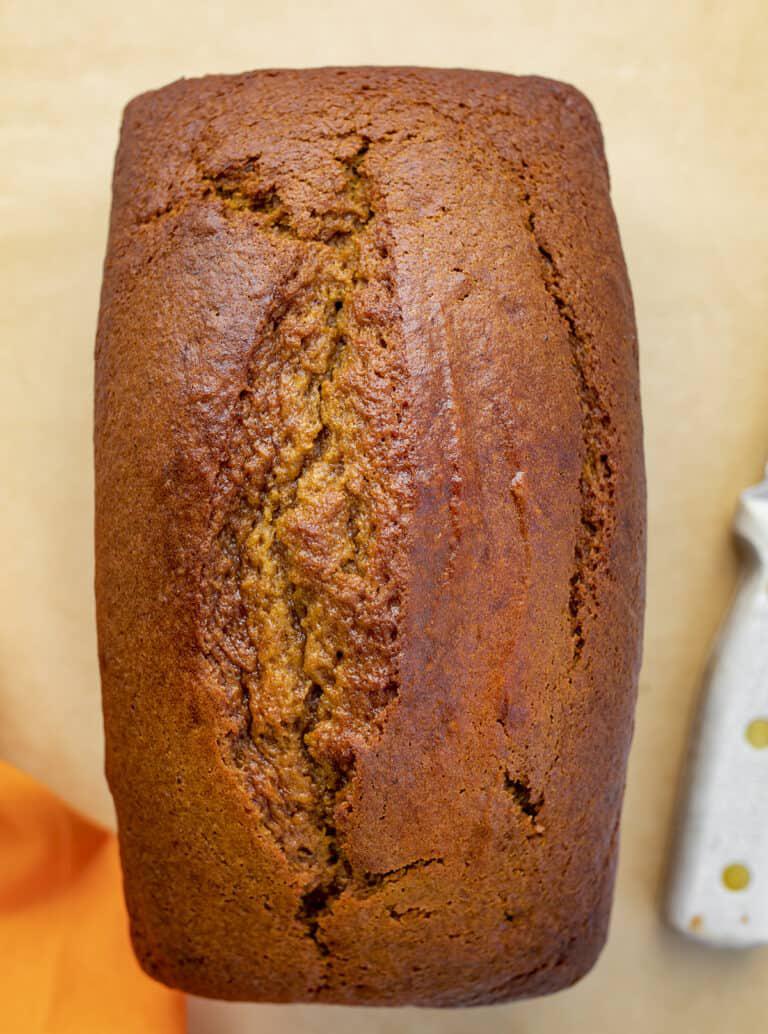 Pumpkin Bread Ingredients
With a few simple ingredients and spices, you can have this loaf of bread baked and ready to slice and share.
Pumpkin Puree: Make sure you are using a pumpkin puree, not pumpkin pie filling.
Orange Juice: The orange juice in the bread adds a bright and refreshing flavor. You could substitute water for the orange juice in a pinch, but that would affect the flavor.
Molasses: Adding molasses to the bread gives the bread a chewier texture and makes it moist.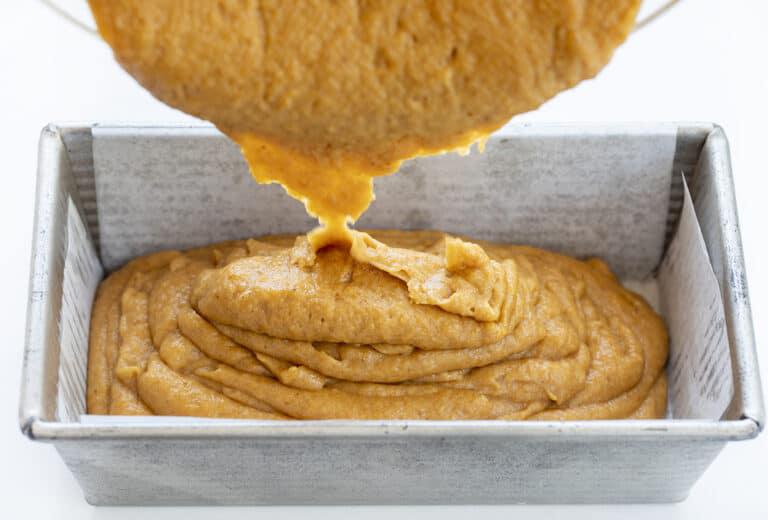 How to Make Pumpkin Bread
All you need are two mixing bowls and a loaf pan to get this bread made. First, whisk together the flour, baking powder, baking soda, salt, and spices. Next, in a separate bowl, combine the remaining ingredients, from the sugar to the orange juice, with a handheld mixer.
Add the flour mixture to the wet ingredients and mix on low just until combined. Pour the batter into a prepared loaf pan and bake the bread for about 80 minutes. Yes, it takes a while to bake, but your work is done.
The bread is done baking when an inserted toothpick is removed with a few crumbs, but no wet batter. Remove the loaf from the oven and let it cool to room temperature before cutting and serving.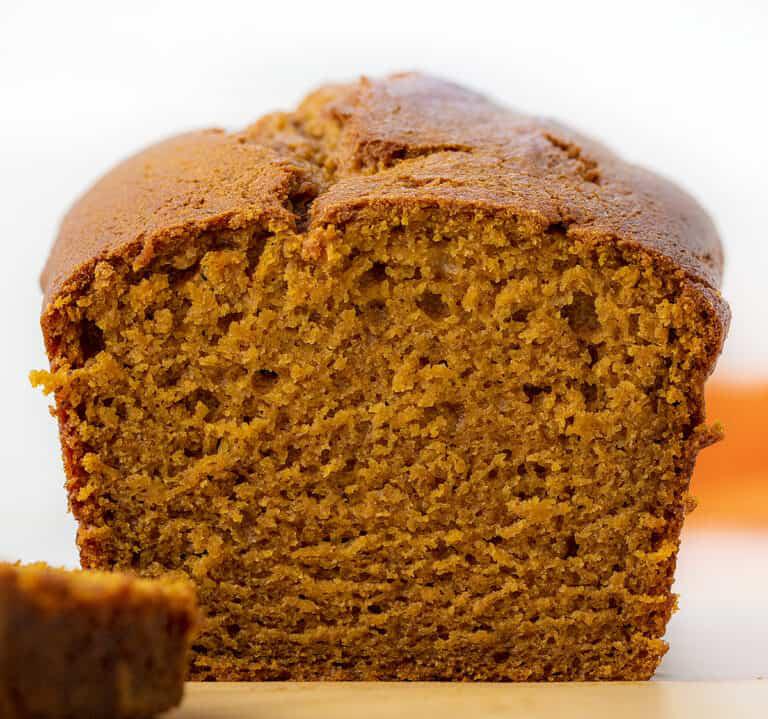 How to Freeze Pumpkin Bread
You will want to make sure you allow it to cool completely. Just wrap the bread tightly with aluminum foil or plastic freezer wrap and place it in a heavy-duty freezer bag. If you prefer not to use foil directly on your bread, wrap tightly with parchment paper, then place that into a sealable plastic bag. Be sure to label it with the date.
Bread is typically good for two to three months in the freezer, but it will still be safe to eat beyond that point. To thaw bread, take it out of the freezer and set it on the counter. Allow it to reach room temperature before you take it out of its packaging.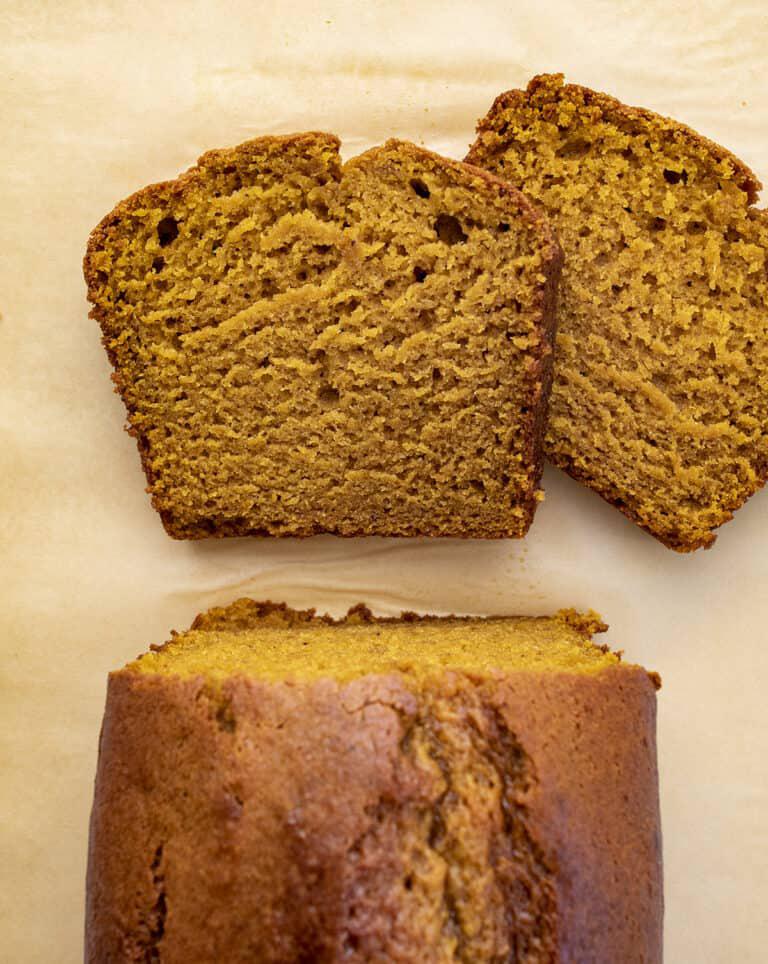 INGREDIENTS
1¾ cups (219g) all-purpose flour
¼ teaspoon baking powder
1 teaspoon baking soda
½ teaspoon kosher salt
½ teaspoon cinnamon
½ teaspoon nutmeg
¼ teaspoon ginger
¼ teaspoon ground cloves
1½ cups (300g) granulated sugar
½ cup (109g) vegetable oil
2 large eggs, room temperature
1 teaspoon vanilla extract
1 tablespoon molasses
1 can (15 ounces) pumpkin puree
⅓ cup orange juice
INSTRUCTIONS
Preheat oven to 350°F. Spray a 9×5-inch loaf pan with cooking spray or line with parchment paper.
In a medium bowl, add flour, baking powder, baking soda, salt, cinnamon, nutmeg, ginger, and cloves. Combine with a whisk and set aside.
In a large bowl, combine the sugar, oil, eggs, vanilla, molasses, pumpkin puree, and orange juice with a hand mixer on medium-low.
Add the dry ingredients to the wet ingredient. Mix on low to medium-low just until the ingredients are combined.
Pour batter into the loaf pan and bake for 80 minutes, or until a toothpick comes out with crumbs, but no wet batter. Cool and serve.