Jalapeno Popper Cheesy Fries give a little more substance to the jalapeno popper appetizer by layering all the goodness on a pile of steak fries. If you love jalapeno flavored appetizers like I do, be sure to check out my Bacon Jalapeno Poppers and Jalapeno Popper Dip!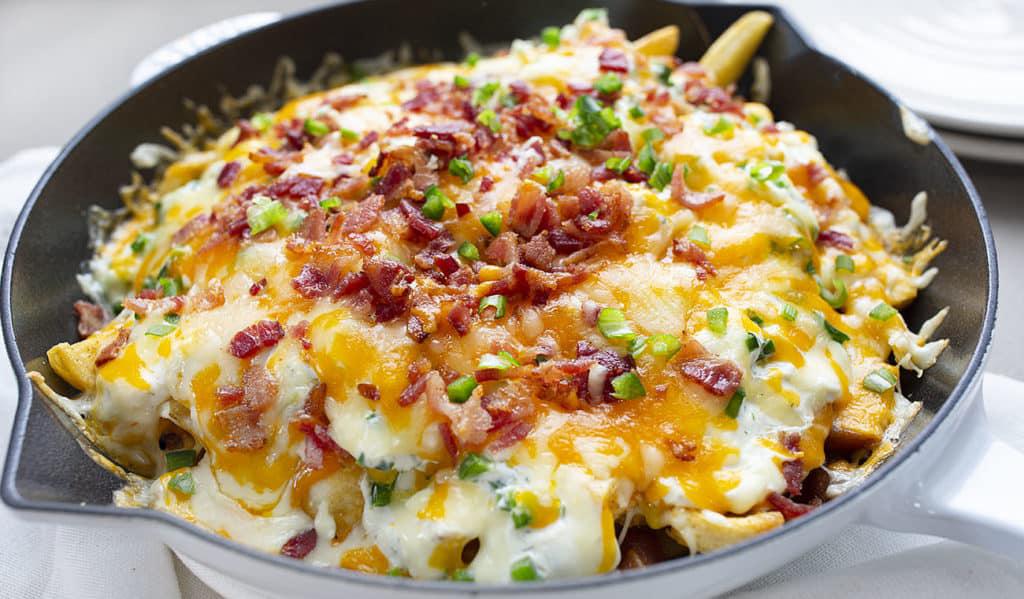 Loaded with all the rich flavor and spicy kick you would expect from a jalapeno popper, Jalapeno Popper Cheesy Fries have the added bonus of all that richness sitting on top of a bed of steak fries. With the added potatoes, this appetizer becomes more of a meal, really. I used a bag of frozen steak fries, but this recipe would be amazing over my Roasted Potato Wedges. If you have the time, I would definitely give those a shot next time (or this time)!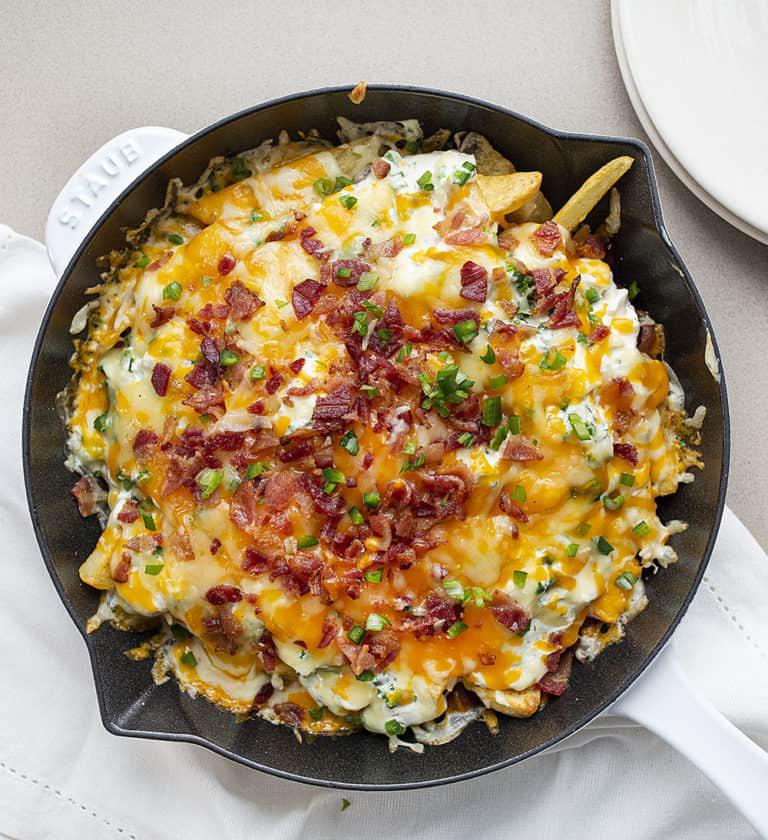 JALAPENO POPPER CHEESY FRIES RECIPE
As I mentioned, you could use frozen steak fries or my Roasted Potato Wedges for this recipe. I even have a dry ranch seasoning mix that you could easily make and use.
Ingredients (full recipe below)
Steak fries, or roasted potato wedges
Shredded cheddar cheese
Shredded mozzarella cheese
Sour cream
Cream cheese
Jalapeno peppers
Bacon
Green onion
HOW TO MAKE JALAPENO POPPER CHEESY FRIES
Once you have decided if you are using frozen steak fries or making your own roasted potatoes, it's about layering the potatoes with the rich and spicy kick you would expect from a recipe named Jalapeno Popper Cheesy Fries. There are a couple of things you can do ahead of time. Baking the bacon and dicing the jalapeno peppers could be done to save some time. Yes, I did say bake the bacon. To bake bacon, lay the slices on a foil-lined baking sheet and bake them for 18-20 minutes at 415°F. It's easy clean-up and hassle-free! Once the bacon has cooled, crumble it up and save it until you are ready to use it.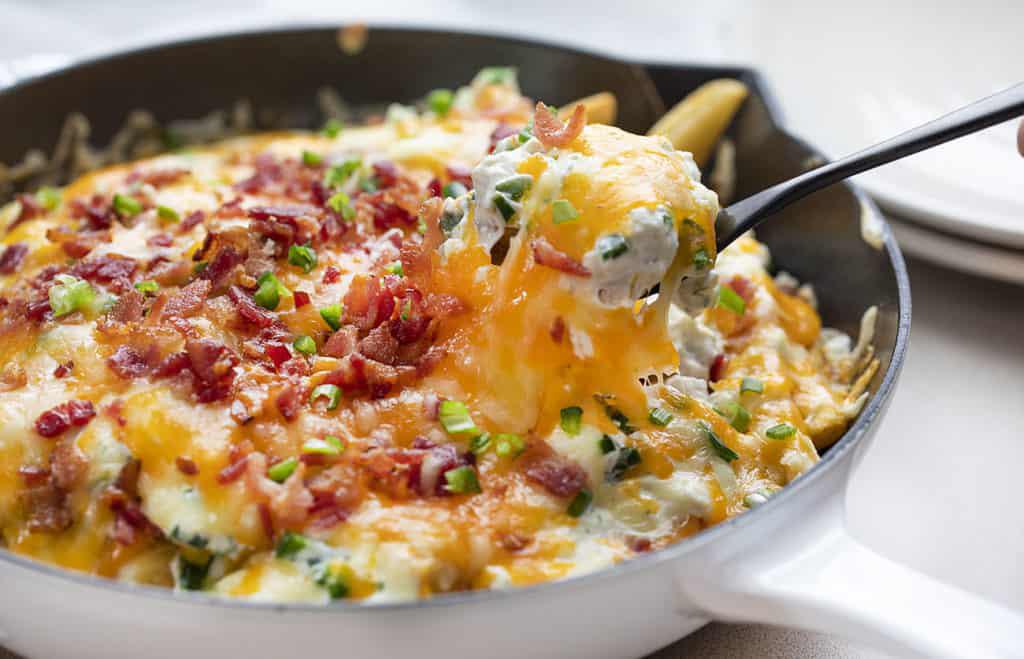 HOW TO PROPERLY CUT JALAPENO PEPPERS
Knowing how to seed and slice a jalapeno properly will make your life a whole lot easier. After cleaning and removing the jalapeno seeds, the rest is a short mixture of chopping and mixing. It really doesn't take long at all! However, removing the seeds from a jalapeno is a touchy business, literally speaking. Hopefully, this isn't your first rodeo with cutting a jalapeno, but if so, take my advice from here on out. Some people think that the seeds hold all of the heat, others think the membrane is the culprit.
If you have ever cut into a jalapeno all willy-nilly you may have experienced the accidental eye or nose contact. Trust me, you do not want to experience this. To avoid this accidental tragedy I suggest wearing gloves or holding the jalapeno with a paper towel while you cut. Make a lengthwise cut, exposing the membranes that hold the seeds in place. Then take a spoon and scrape out the membrane, working from the bottom to the top of the pepper. Scoop the seed directly into the compost. Finally, WASH YOUR HANDS! Like really get in there and wash them with soap. Gloves for the win!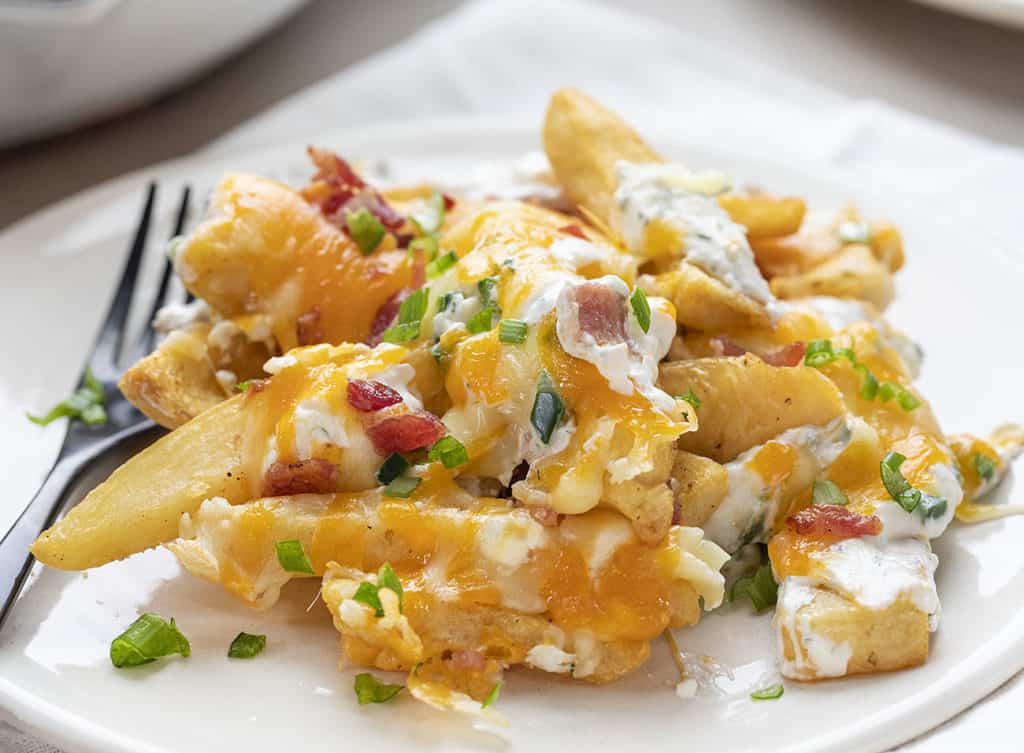 BAKING THE JALAPENO POPPER CHEESY FRIES
Once the bacon has been baked and crumbled and the jalapeno peppers seeded and diced, it's time to layer up the richness you expect from a jalapeno popper dish. Be sure to get the oven temperature to 400°F and put the cooked fries into an oven-safe skillet. The first layer going on the fries is a 1/2 cup of the mozzarella cheese and 1/2 cup of the cheddar cheese. Then, combine the sour cream, cream cheese, ranch seasoning, and most of the jalapeno peppers (saving some for the topping). Spread the cream cheese mixture over the shredded cheeses, followed by topping it all off with the rest of the shredded cheese and bacon crumbles. Bake this for about 10 minutes. Add those extra jalapeno peppers and some green onions for more of a kick and a crunch. Dig in and enjoy! Make sure you grab some for yourself before your guests eat them all!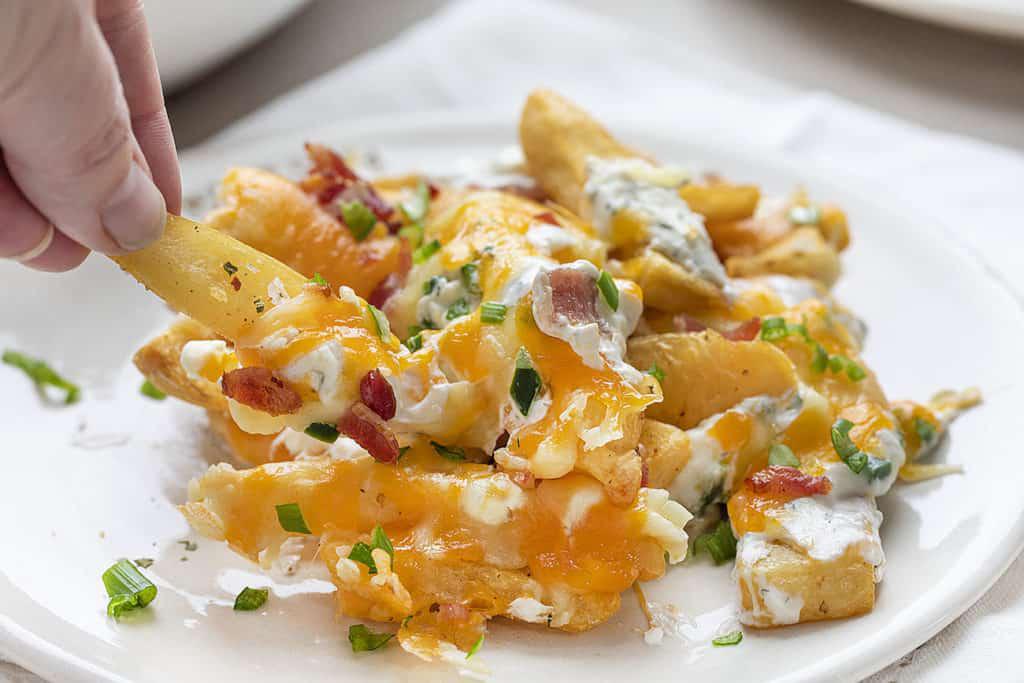 Ingredients
1 bag (28 ounces) steak fries, cooked per package instructions
1 cup cheddar cheese, shredded and divided
1 cup mozzarella cheese, shredded and divided
4 ounces sour cream
4 ounces cream cheese, room temperature
1 tablespoon dry ranch seasoning mix
2 medium jalapeno peppers, seeded and diced (some reserved for topping)
3-4 slices bacon, cooked and crumbled
2 tablespoons green onion, diced for garnish
Instructions
Preheat the oven to 450°F.
Cook steak fries according to package instructions.
Remove fries from the oven and transfer them to an oven-safe skillet.
Top the fries with 1/2 cup of cheddar cheese and 1/2 cup of mozzarella cheese.
Reduce the oven to 400°F.
In a medium bowl, combine the sour cream, cream cheese, ranch seasoning, and most of the jalapeno peppers (reserving some for the topping).
Spread the sour cream mixture on top of the shredded cheeses.
Top with the remaining halves of mozzarella and cheddar cheeses, along with the crumbled bacon.
Bake for 10 minutes. Top with reserved jalapenos and green onion.