Amazingly rich and decadent, this Chocolate Zucchini Cake is what all chocolate cakes should strive to be. It is so easy to make and no one will notice the zucchini in the cake, but they will be happy it's there as soon as they take a bite and see how moist this cake is!
I have received some backlash for putting zucchini in a cake, but I happen to love zucchini. In bread, in cookies, on my dinner plate, and yes, even in my cakes. If you are not a fan of zucchini, don't leave just yet. (Now, if you don't like chocolate you can go?.) If you do love chocolate, you are still in the safe zone. The zucchini blends right into the cake and adds so much moisture, you won't even know its there.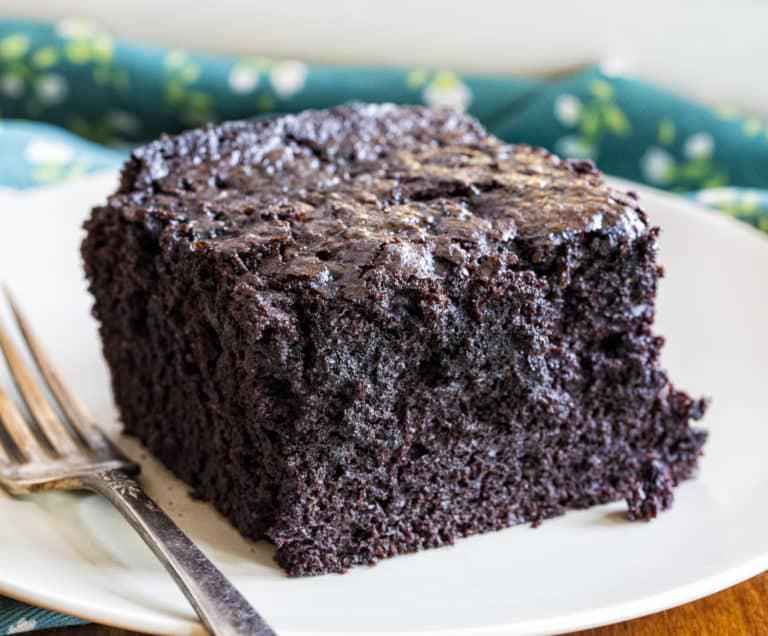 Chocolate Zucchini Cake Recipe
Again, do not let the zucchini make you question if you should make this cake. If you want a moist cake that is full of chocolate flavor, get out the ingredients to get this baked!
Ingredients (full recipe below)
Granulated sugar
Eggs–room temperature
Vanilla extract
Vegetable oil
All-purpose flour
Unsweetened cocoa powder
Baking soda
Baking powder
Zucchini–grated, but not drained
Baking with Zucchini
You would never know there's zucchini in this chocolate cake. I know some people aren't anxious to eat desserts with zucchini in it, but this is a must-try. There is no noticeable flavor and it adds something fantastic to the final product. There are a couple of tricks to making the most of your zucchini in your recipe:
Use the fine side of your grater. Coarser pieces will have a slightly more noticeable flavor and texture in a finished cake or bread recipe. (Farm kids tend to want that!)
Some recipes ask that the zucchini is pressed well with a clean towel to soak up excess moisture or to prevent whatever your baking from getting too soggy. Pay close attention to the recipe that you are making with zucchini as the level of moisture they provide is important. For instance, in this recipe, the zucchini is the main source of moisture and shouldn't be drained.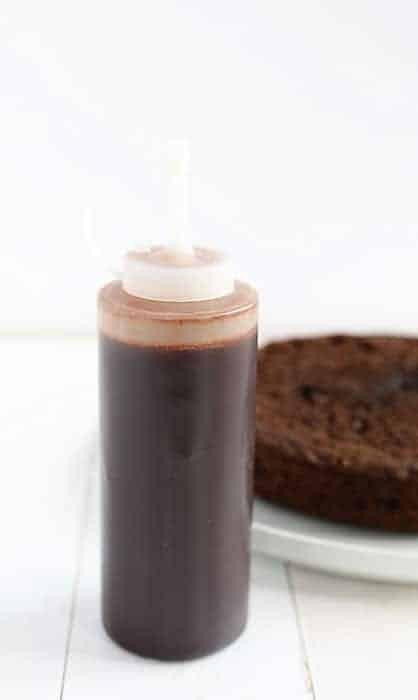 Chocolate Simple Syrup
I do something a little special when I make this chocolate zucchini cake recipe. It is my little secret weapon – chocolate simple syrup. I bake all of the time, so I keep some of this on hand, all of the time. It holds for up to two weeks. But, if you don't bake all the time, you can whip some of this stuff up in under 10 minutes. It's easy and it is WORTH IT! Simple Syrup keeps the cake moist throughout every stage of assembly and decoration; plus, it adds a slight sweetness which is always good!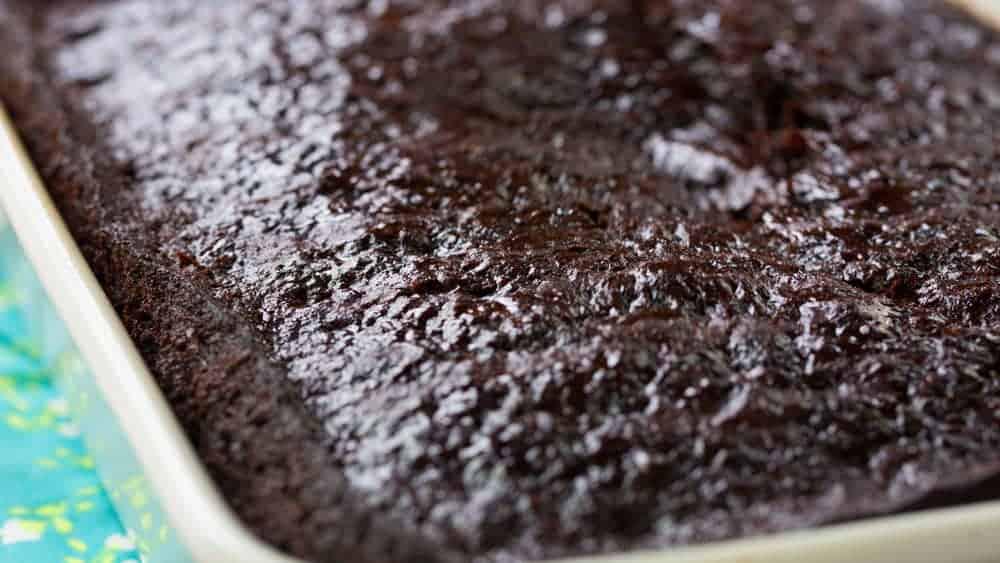 How to Make Chocolate Zucchini Cake
This cake is so easy to make, you will not believe how soft, tender, and moist the end result is. And, as I mentioned, the added simple syrup adds even more sweetness to the cake, as well as a shiny crust to the top. So, preheat the oven to 350°F and get mixing!
To make the cake, stir together the sugar, eggs, vanilla, and vegetable oil. Next, add the dry ingredients and mix well. Gently fold in the all-important zucchini (not drained) and mix everything well. Pour the batter into a 9×13-inch baking pan that has been sprayed with a nonstick spray. Bake for 40-50 minutes, or until a clean toothpick comes out with crumbs on it, but no wet batter.
After the cake has baked, pierce it with a fork. Drizzle about 1/2 cup of the chocolate simple syrup on the cake, letting it get soaked up by the cake. Allow the cake to set before serving. Chocolate Zucchini Cake is good on its own, but if you are looking for a decadent frosting for the top, I recommend Cream Cheese Frosting.
Do I Have to Add Simple Syrup?
You can absolutely serve this cake without simple syrup; it is still amazingly delicious. However, I wouldn't change the amounts of the ingredients. I made this cake with half the oil and it was not as good. I made it with less sugar and it was inferior. I made it with cinnamon and it was kinda weird tasting. I made every which way you could think and THIS recipe for Chocolate Zucchini Cake is perfect as is! ?
Can I Use Frozen Zucchini?
Yes, you can! First, bring the frozen zucchini to room temperature. Since frozen zucchini collects extra moisture, you WILL have to drain it before adding it to the recipe. If your batter looks too thick, you may need to add a little extra oil in the mix, starting with a teaspoon at a time.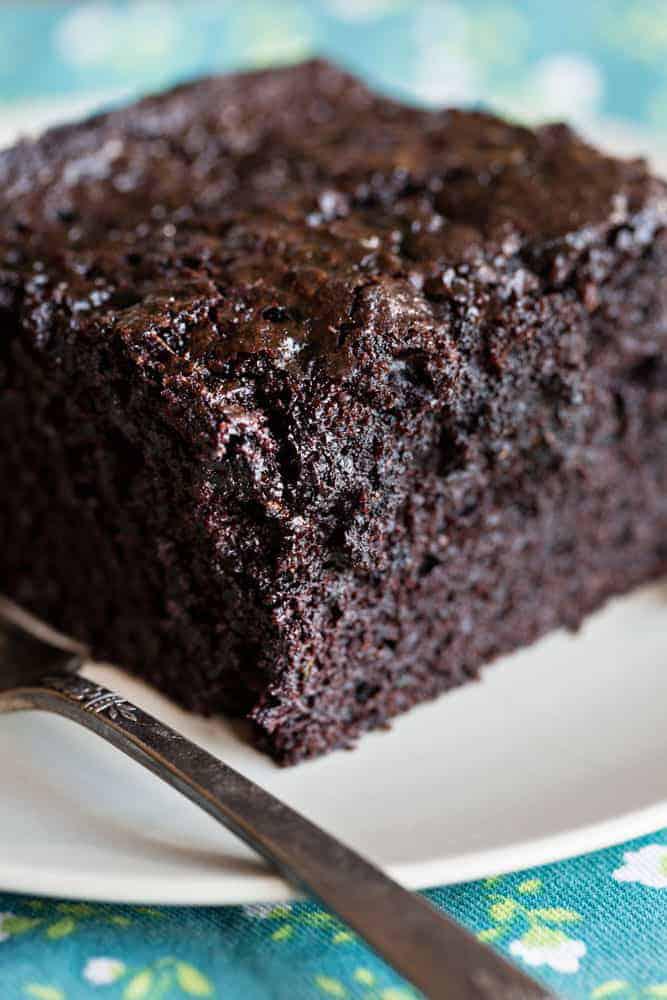 Ingredients
2 cups (400g) granulated sugar
4 large eggs, room temperature
1 teaspoon vanilla
1 1/2 cups (335g) vegetable oil
2 cups (250g) all-purpose flour
3/4 cup (95g) unsweetened cocoa powder
2 teaspoons (14g) baking soda
1 teaspoon (4g) baking powder
3 cups (450g) zucchini, grated and NOT drained
1/2 cup (350g) chocolate simple syrup
Instructions
Preheat oven to 350°F.
In a medium bowl, stir together the sugar, eggs, vanilla, and vegetable oil.
Add in flour, cocoa powder, baking soda, and baking powder. Mix well.
Fold in the zucchini until it is evenly distributed.
Pour mixture into a prepared 9×13-inch pan.
Bake 40-50 minutes (or until a clean toothpick comes out with a few crumbs, but not wet batter).
Remove the cake from the oven, pierce with a fork, and drizzle about 1/2 cup of chocolate simple syrup over the top.
Allow cake time to set before serving.