Apple Pie Cupcakes
Tis' the season for apples! And when you don't feel like having an apple pie then these Apple Pie Cupcakes are just the best alternative that you can get. Perfectly spiced cupcakes paired with from-scratch apple goodness… you really can't go wrong with these delicious cupcakes!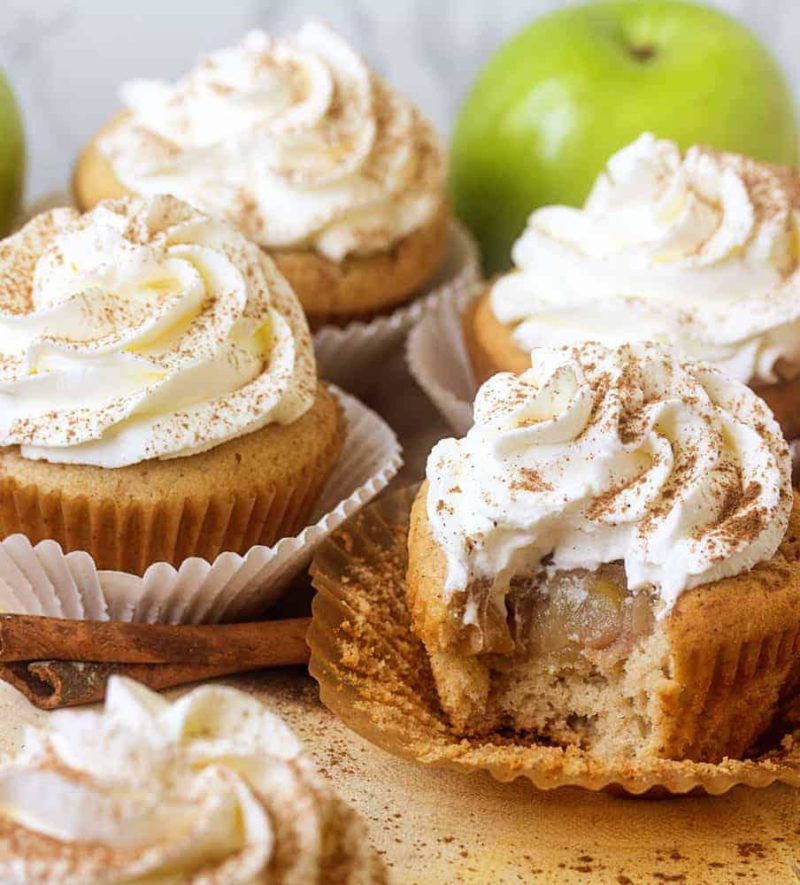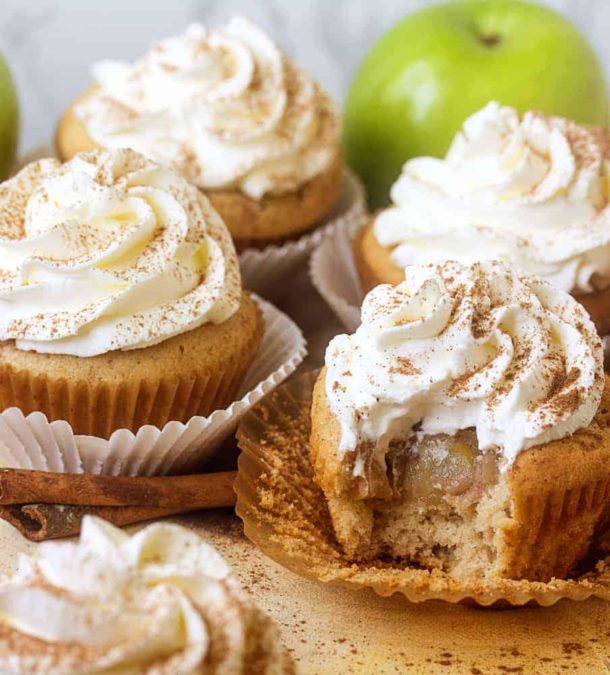 What Kind of Apples Are Best for Baking?
I prefer to use Granny Smith apples in this recipe as they hold up beautifully when baked or fried. We did try Honeycrisp apples and liked it, but when we tried Red Delicious apples, it wasn't our favorite. The texture of the apples was almost the same as the cupcake and there wasn't as strong of an apple flavor. When possible, opt for a Granny Smith!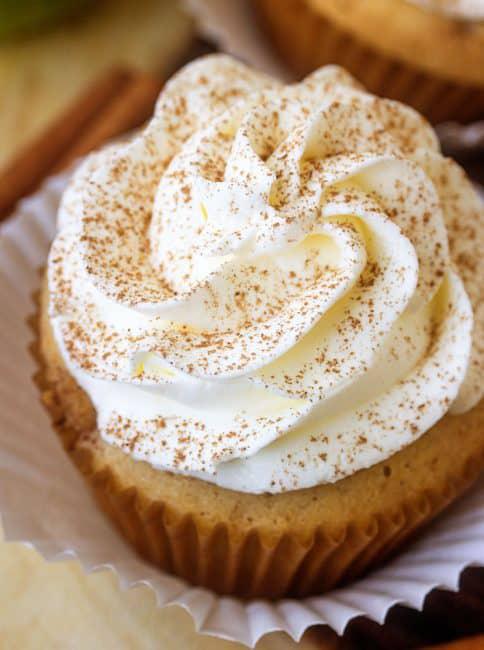 I love when I can turn traditional desserts into something else and these Apple Pie Cupcakes are one of my favorite yet.
This light and fluffy cupcake is stuffed with a sweet apple pie filling and topped off with a dreamy whipped cream frosting. Finish it all off with a sprinkle of cinnamon and you are ready to go.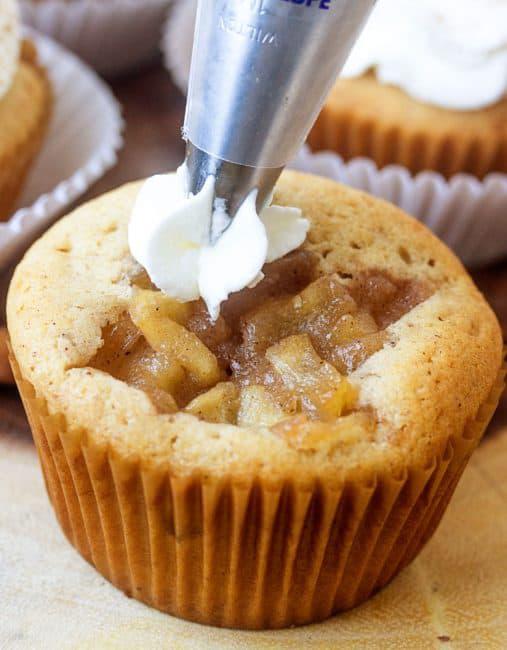 Tips and Tricks for the Best Apple Cupcakes
Be sure you know your oven. You want the cupcake to be baked fully, but not burnt, so keep an eye on it at the 20-minute mark.
Want a shortcut? Use canned apple pie filling! You can refrigerate remaining filling and make another batch of cupcakes the second these are gone.
Try store-bought whipped cream for another time-saving trick. You can also use a spice cake mix to make these REALLY semi-homemade.
Want to be the star of your Thanksgiving celebrations? You can make this cupcake BAKERY worthy by adding a caramel drizzle or heath chips on top.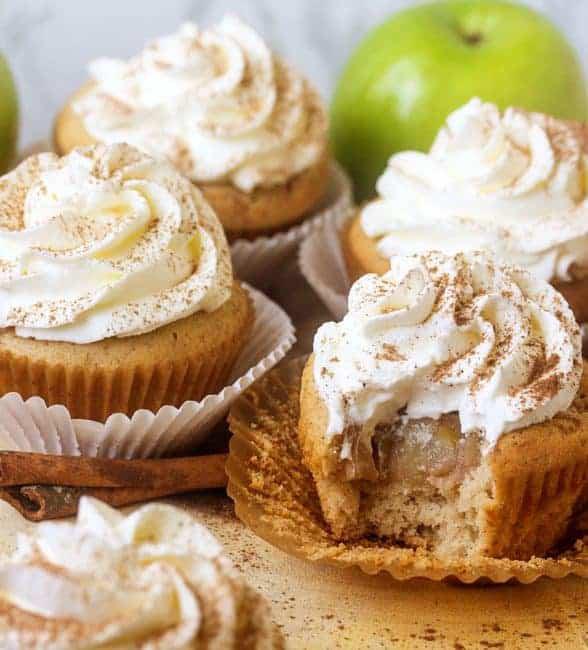 INGREDIENTS
APPLE FILLING
3 tablespoons granulated sugar
3 medium apples, cored, peeled and diced small
1 tablespoon fresh lemon juice
½ teaspoon ground cinnamon
¼ teaspoon salt
2 tablespoons unsalted butter
2 teaspoons all-purpose flour
CUPCAKE
1½ cups (187.5g) all-purpose flour
1½ teaspoons baking powder
1 teaspoon ground cinnamon
¼ teaspoon ground nutmeg
¼ teaspoon salt
¾ cup (150g) granulated sugar
2 large eggs
¾ cup (170g) butter, melted 170g butter, melted
2 teaspoons vanilla extract
½ cup (122.5g) whole milk
CREAM FROSTING
¾ cup (178.5g) heavy cream
2 tablespoons confectioners' sugar
1 tablespoon sour cream
cinnamon, for sprinkling
INSTRUCTIONS
APPLE FILLING
Mix the apples, granulated sugar, lemon juice, cinnamon, and salt together in a medium bowl.
Melt the butter in a medium pan over medium heat and add the apples mixture and cook, stirring frequently, until the apples are tender and liquid is bubbling, about 6 minutes.
Add the flour, and stir until the liquid thickens.
Remove from heat and let the filling cool completely.
CUPCAKES
Preheat oven to 350°F.
Line a 12-cup muffin tin with paper liners.
Whisk together the flour, baking powder, cinnamon, nutmeg and salt in a medium bowl.
In another bowl beat the sugar and eggs until light and creamy.
While continuing to beat, gradually pour in the butter, then the vanilla. Next add half your flour mixture, then your milk, then remaining flour making sure to beat well after each addition.
Divide the batter evenly among the cups of the prepared muffin tin. Top each with a mound of apple filling.
Bake for about 20-25 minutes or until an inserted toothpick (around the edge) comes out clean.
Let the cupcakes cool in the tin for a few minutes, then transfer to a rack to cool completely.
CREAM FROSTING
Beat the heavy cream, powdered sugar, and sour cream in a medium bowl until the mixture forms stiff peaks.
Transfer to a piping bag fitted with your favorite tip and pipe a swirl of frosting onto each cupcake.
Sprinkle with cinnamon.