Got 20 minutes? This Skillet Monterey Chicken is just what you want to make for dinner tonight…trust me! Chicken, barbecue sauce, bacon, and glorious cheese come together in this delightful yet simple dish. Sure to become a regular request at your home!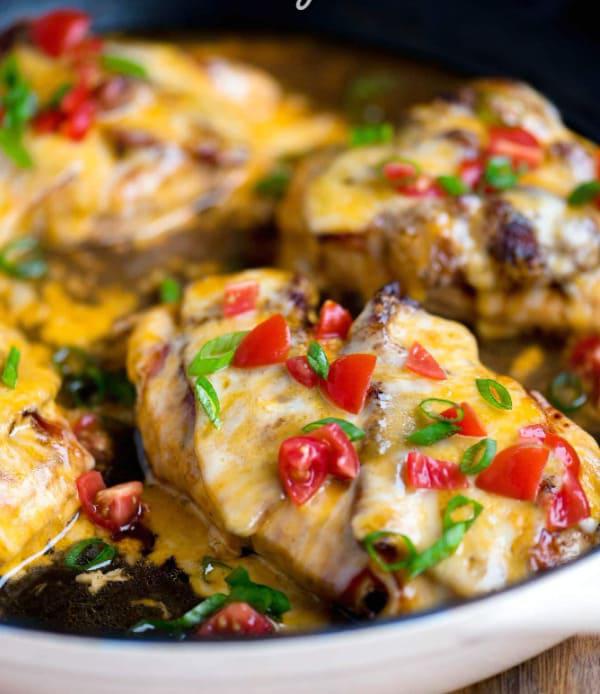 Monterey Chicken
A few weeks back we took the kids out to dinner and a movie. We all agreed to go to Chili's, one of our favorite restaurants. We got there and I already knew what I was going to order: Monterey Chicken. It's my favorite there. A juicy chicken breast topped with barbecue sauce, bacon, and cheese – it's all my favorites in one dish!
As I was scanning the menu, my heart slowly began to sink – I couldn't find the Monterey Chicken on the menu, anywhere. I calmed myself down, surely they would make it to order, right? No and no. Sadly, very sadly, no.
Quick and Easy Dinner Recipe
I consoled myself with fajitas and vowed to make some Monterey Chicken that very week. I did and I've made it twice since then. Seriously, the EASIEST recipe and I can get dinner on the table in just about 20 minutes. I usually have all the ingredients needed right in my pantry and fridge so it's super accessible. Bonus – my family also LOVES this dish!
I made it for my Dad and brother a few weeks ago before they all left for the King's game. (It cuts back on the amount of nachos consumed…) They immediately asked for the recipe.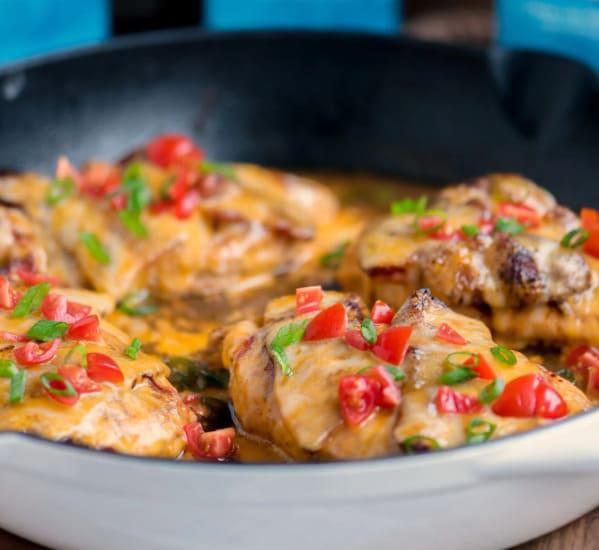 What You'll Need
So let's talk about how few ingredients you need for this Monterey Chicken recipe..seven. And that includes the tomatoes and green onions that are used as garnish. Seven.
chicken breasts
bacon
barbecue sauce
Colby Jack cheese
chicken stock
tomatoes
green onions
The tomatoes and green onions might be considered a garnish generally speaking, but they are a must for this recipe. This tomatoes and green onion really brighten up the flavors immensely. I also have used chives in place of the green onions and that is super delicious as well.
I am a big fan of a quick skillet dinner. Or any quick and easy dinner for that matter. Chicken is definitely one of our go-to proteins and we make chicken recipes at least twice a week.
This skillet Monterey Chicken definitely checks all the boxes and happens to be a family favorite as well. It's so simple to make.
After frying up the bacon, I brown the chicken quickly in the bacon grease. The stock is then added to the skillet and the chicken simmers for several minutes, just until cooked through. The result? Super juicy and flavorful chicken breasts that no one can resist!
This dish is truly the perfect easy, weeknight dinner recipe that the whole family will love! And you're going to love how quick clean up is.
Ingredients
4 boneless skinless chicken breasts
4 slices bacon
½ cup chicken stock
4 tablespoons barbecue sauce use your favorite!
4 ounces Colby jack cheese shredded
1 tomato diced
2 green onions sliced
salt and pepper optional
Instructions
Fry bacon in a large skillet until crispy.
While bacon is frying, pound chicken breasts to desired thickness. The thinner they are the less cooking time required. Season with salt and pepper if desired.
Remove bacon from skillet with a slotted spoon and drain on a paper-towel lined plate.
Turn heat to medium high and brown chicken on both sides (2 to 3 minutes per side.)
Pour chicken broth over the chicken breasts and cover skillet with a lid. Cook until chicken is done, about 4 to 5 minutes depending on the thickness of the chicken.
Turn off heat and spread barbecue sauce on top of each chicken breast.
Top with two slices of bacon.
Divide cheese evenly among the chicken.
Place under the broiler for 30 seconds to 1 minute – just until cheese is fully melted.
Top with tomato and green onions.
Serve immediately.