Philly Cheesesteak Soup is great for a crowd or your hungry fam. This recipe has all the flavors that everyone loves: steak, bell peppers, and mushrooms, all cooked in a rich, creamy cheesy broth.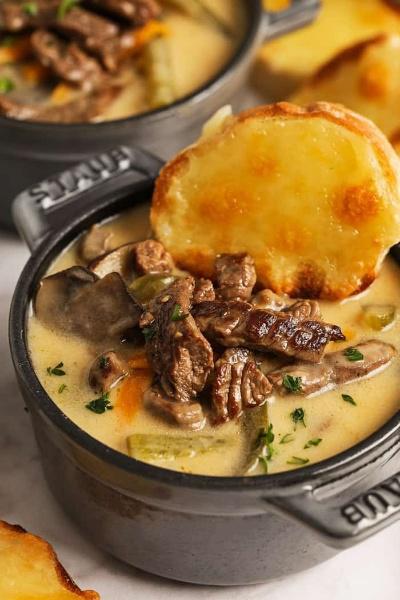 What is Philly Cheesesteak Soup?
If you love Philly cheesesteaks, then you will love this Philly cheesesteak soup! All the amazing components of a traditional Philly cheesesteak in an easy to serve, filling, and tasty soup!
It's a great way to use up leftover beef, even leftover ground beef or turkey, and leftover veggies, too!
The Best Cheese to Use
For the best Philly cheesesteak soup, look for super flavorful, super melty, cheeses like provolone and cheddar.
These cheeses melt easily and impart a mild, buttery flavor to the soup for that iconic Philly-style flavor!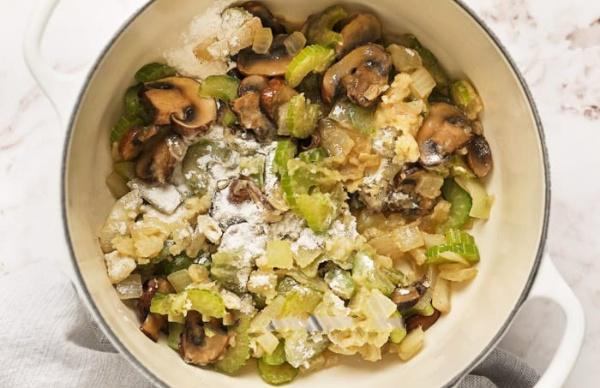 How to Make Philly Cheesesteak Soup
This easy cheesy soup is simple to prepare!
Thin slice and saute steak.
Saute veggies (except peppers) in butter and add flour.
Stir in beef broth and add in remaining ingredients and simmer.
Remove from heat and stir in cheeses until melted.
Place a few pieces of beef in the bottom of each bowl. Ladle in soup and top with cheese baguettes.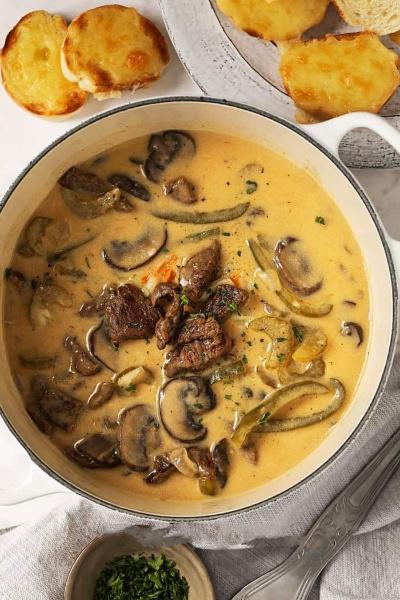 What to Do With Leftovers
This soup makes for great leftovers the next day or the day after!
To Reheat: Pop in the microwave or back in a pot until heated through. Season with a little salt and pepper and top with cheese bread.
To Freeze: Place it in an airtight container or a zippered bag, label with the date, and pop into the freezer for up to about 2 months.
Ingredients
8 slices baguette
⅓ cup butter
1 large onion diced
3 ribs celery sliced
1 ½ cups mushrooms sliced
1 green pepper sliced
⅓ cup flour
1 ½ tablespoons Worcestershire sauce
4 dashes hot sauce such as tabasco
4 cups beef broth
1 cup light cream
8 ounces provolone cheese shredded, divided
6 ounces cheddar cheese shredded
1 pound top round steak thinly sliced (see note below)
Instructions
Place steak in the freezer (for about 15 minutes before slicing).
Top each baguette slice with about 1 tablespoon of provolone cheese. Broil until bubbly and set aside.
Cook onion, celery and mushrooms in butter until tender. Add flour and cook 1 to 2 minutes
Stir in beef broth a little at a time stirring until smooth after each addition. Add Worcestershire sauce, hot sauce and green peppers. Simmer until vegetables are soft, about 10 minutes.
Add cream and simmer an additional 5 minutes. Remove from heat and stir in cheeses until melted.
Meanwhile, thinly slice steak. Heat 1 tablespoon of olive oil over medium-high heat. Add beef and cook until browned.
Place beef in the bottom of each bowl and top with hot soup. Serve with cheese toasts.
Recipe Notes
To use leftover roast beef, cut into cubes and add with green peppers to heat through.
Ground beef can be used in place of steak.
Place your steak in the freezer for 15 minutes before cutting. A partially frozen steak is much easier to slice thinly.
Soup can be placed into bowls, topped with cheese and broiled similar to a French Onion Soup.