This Deep Dish Ham and Asparagus Quiche with caramelized onions is the perfect addition to your holiday brunch menu! Make it the day before and serve cold or room temperature – both ways are delicious! Also makes a hearty dinner!
I love dinner as much as the next girl but my favorite meal of the day has always been breakfast…or brunch. There is so much variety – sweet, savory, and everything in between – it's impossible to get bored!
Quiche has always been a favorite of mine. Incredibly versatile and the perfect recipe to make ahead of time. Quiche can be served hot from the oven (after setting up for a bit), cold from the fridge, or at room temperature which makes it a busy mom's dream come true.
It's also perfect for holidays and special occasions like Easter, Christmas and Mother's Day because it can be made ahead of time, easing your workload on a busy day. Love that!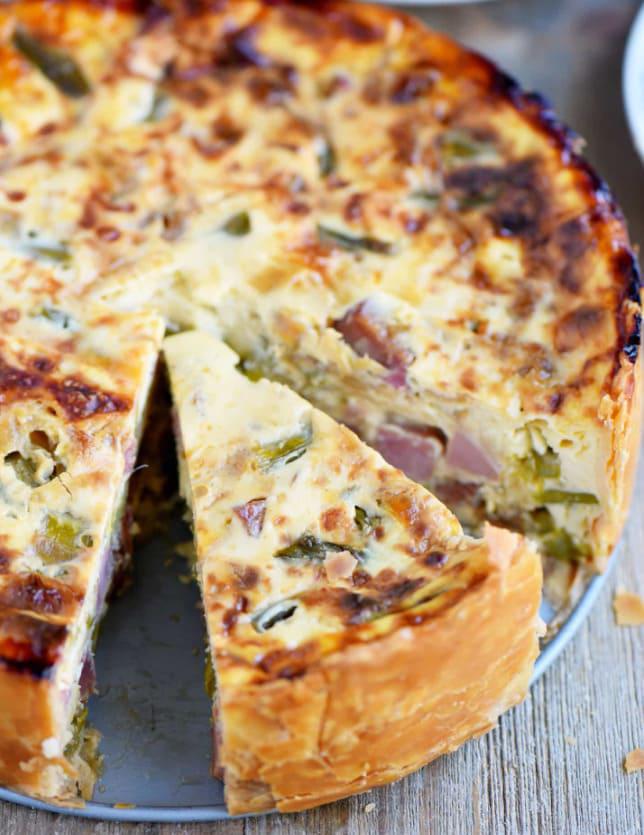 oday's quiche features ham (the perfect way to use up leftovers!), asparagus, and a slew of caramelized onions. Don't make me pick my favorite part. I used Swiss cheese in this recipe but Monterey Jack or even pepper jack or white cheddar would be amazing.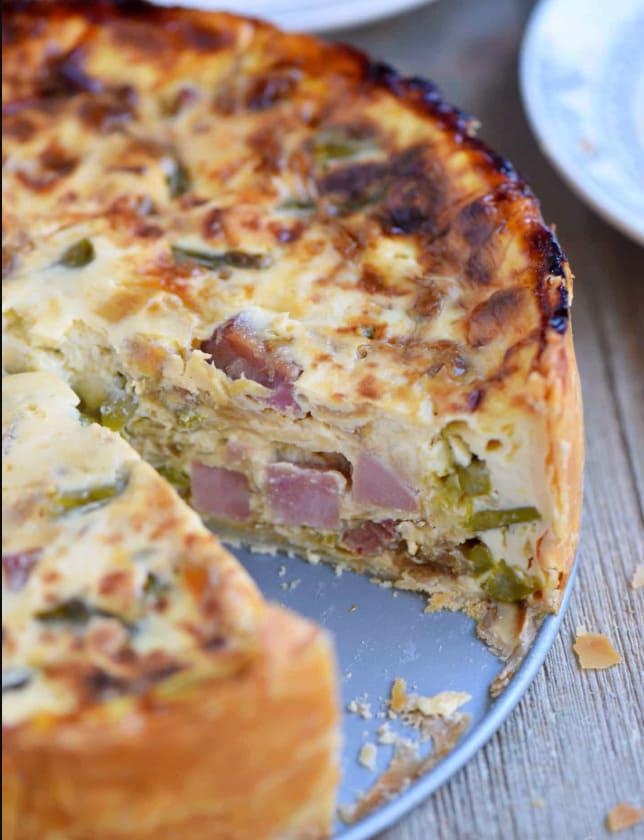 Not only does this quiche make a killer addition to your next breakfast or brunch, but it's hearty enough for dinner as well. And leftovers… man! They're fantastic!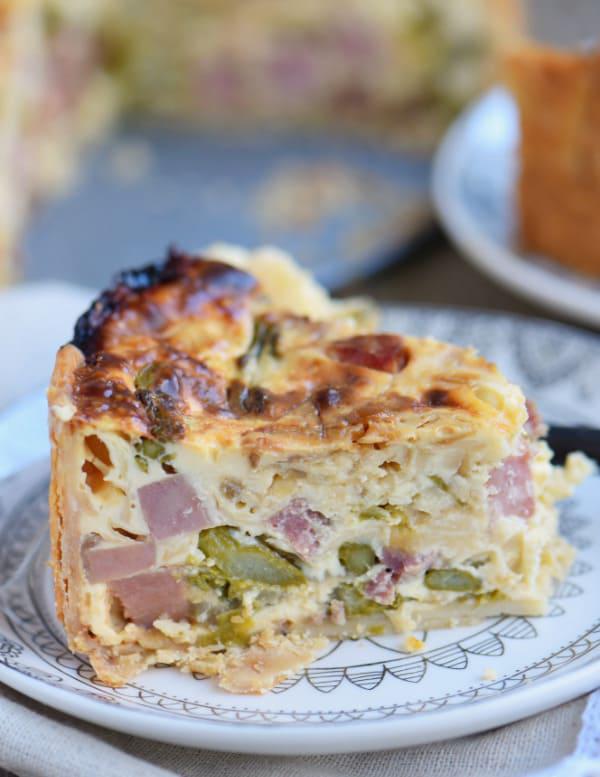 Ingredients
3 tbsp extra virgin olive oil
2 large onions yellow, Vidalia, sweet, etc., thinly sliced
2 tbsp water
12 oz cooked ham, cubed
1 small bunch asparagus, trimmed and cut into small pieces
6 oz shredded cheese, Swiss or Monterey Jack
7 eggs
3 cups heavy cream
salt and pepper to taste
1 store-bought refrigerated pie crust or make your own
Instructions
Press the pie crust into a 9-inch springform pan and up the sides. Place foil around the bottom of the pan and up the sides to prevent any leaks. Place the springform pan on a baking sheet and refrigerate until needed.
Coat a large skillet with olive oil and add onions and water. Cook over medium-low heat, stirring occasionally, until onions caramelize, about 30 minutes.
Add the ham and cook, stirring occasionally for about 5 minutes.
Add the asparagus and cook another 5 minutes stirring occasionally. Remove from heat and set aside.
Preheat oven to 375 degrees.
In a large bowl combine the eggs, heavy cream, salt and pepper. Whisk to combine.
Place about two-thirds of the ham mixture on the crust. Top with two-thirds of the cheese.
Pour about two-thirds of the egg mixture on top.
Repeat with the remaining ham mixture, cheese, and egg mixture. Filling should be about 1/2″ from the top of the pie crust. If you have extra ingredients, save for scrambled eggs the next day.
Cover the quiche loosely with foil and bake for about 90 minutes. Remove the foil and bake for another 20 to 30 minutes or until the quiche is set but jiggles just slightly.
Remove from oven and let cool on a rack for about 30 to 45 minutes before serving.
Can be served room temperature, cold, or warm.
Notes
If making the day ahead, let cool to room temperature on a cooling rack, cover and refrigerate. Remove from fridge about 45 minutes before you plan on serving.