Also called "Cowboy Soup," this beefy macaroni soup is fully loaded with flavor!
This hearty soup can be made with leftover or fresh ground beef, cooked with tender veggies, canned tomatoes, elbow macaroni and a handful of Italian herbs and spices.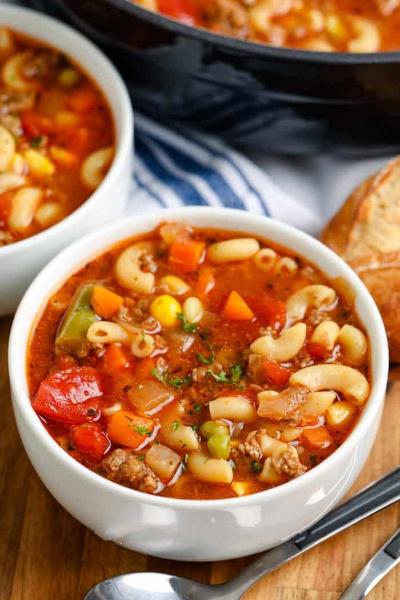 Why We Love This Recipe
It's crowd pleasin' – kids and adults both love this tomato-based pasta filled Macaroni Soup
It's the perfect way to use up leftover ground beef (even leftover taco meat works in this recipe)!
The ingredients are simple and you probably have most of them in the pantry already meaning this easy soup can be made at a moments notice!
Best of all, the prep is quick. While the beef is browning, measure the remaining ingredients and it comes together in no time!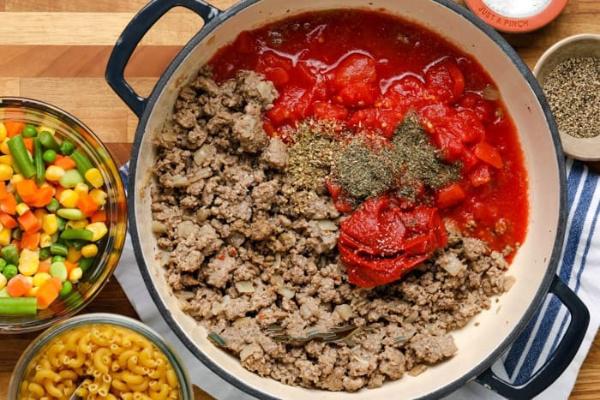 Ingredients
Some people refer to this recipe as an American goulash but in our house a goulash is much thicker and doesn't contain veggies.
GROUND BEEF This soup is perfect for leftover ground beef but can easily be substituted for ground chicken, pork, or even Italian sausage for a little spice. Whatever you have on hand!
PASTA Macaroni is a great addition to this soup but can be substituted for any short pasta you have on hand. Other great kinds of pasta to use are fusilli, shells, or even fun shapes for the kids!
BROTH Made with a handful of savory spices this broth is full of flavor. You can spice it up by adding in some red chili flakes, or complete change the flavor with taco seasoning or chili powder.
VEGGIES Fresh or frozen veggies make a great addition to this soup. To keep it simple I used a frozen mixed vegetable blend but you could add in whatever veggies you have on hand!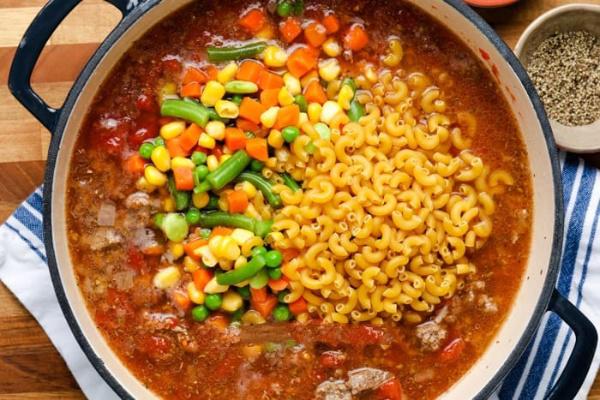 How to Make Macaroni Soup
This easy homemade comfort soup is the perfect ending to a busy day, a chilly day, or any day!
Brown ground beef and onion, drain fat.
Add tomatoes, broth, and seasonings. Bring to a boil and then simmer.
Add remaining ingredients and cook until the macaroni is tender.
Serve hot with a sprinkling parmesan cheese, a side of cheesy garlic breadsticks, and a classic wedge salad.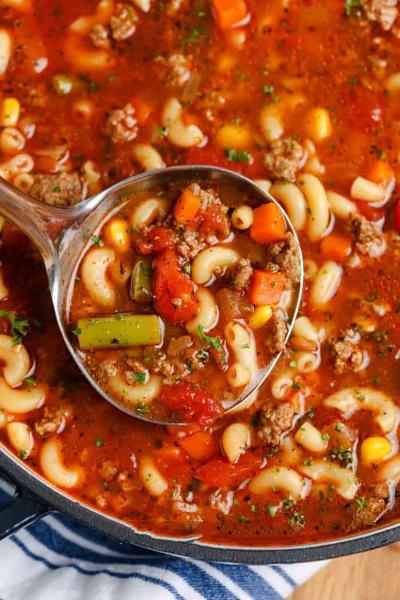 Delicious Additions
There are lots of additions and toppings that can add flavor to this hearty soup. Really, almost anything goes!
Veggies: Corn, peas, carrots, potatoes
Beans: black beans, northern beans, or kidney beans
Flavorful: black olives, jalapenos, green chiles
Toppings: diced avocados, shredded cheddar cheese, sour cream, sliced green onions
Tried & True Tips
This hearty soup is easy to prepare. But for the best results every time I have a few simple tips!
If adding in fresh potatoes or carrots be sure to parboil them first. Or add before the pasta so they have time to cook as they take longer than frozen veggies.
When adding additional spices, be sure to start small and add more if necessary. Remember that the flavors will become more potent as the soup simmers.
If making this soup to freeze, cook the pasta on the side or leave it out. This will prevent it from going soft when thawing and reheating.
Leftovers
Beef and macaroni soup makes for great leftovers if there's any left!
To refrigerate, allow to cool, then cover and keep in the refrigerator. Simply reheat on the stove and add a bit of salt and pepper to brighten up the flavors.
To freeze, ladle it into zippered bags, write the date on the outside and place flat in the freezer. Once frozen, store the bags upright to save freezer space. Macaroni soup will keep in the freezer for about 3 months. The pasta may be a little soft after it's thawed, but that's easily solved by adding fresh pasta!
Ingredients
1 pound lean ground beef
½ cup onion diced
6 cups beef broth
14 ounces diced tomatoes
2 tablespoons tomato paste
1 teaspoon Worcestershire sauce
½ teaspoon oregano
½ teaspoon dried basil
1 ½ cups elbow macaroni uncooked
1 ½ cups frozen mixed vegetables
Instructions
In a large soup pot brown beef and onion until no pink remains. Drain any fat.
Add broth, tomatoes, tomato paste, Worcestershire sauce, and seasonings. Bring to a boil. Simmer 5 minutes.
Stir in macaroni noodles and vegetables, simmer an additional 8 minutes or until macaroni is tender. Season with salt & pepper to taste.
Serve with shredded cheese if desired.
Recipe Notes
If adding fresh vegetables add before the pasta so they have time to soften.
If you are not going to be eating this all at one sitting, cook the pasta separately and add it to each bowl. If the macaroni is left in the soup overnight, it will soak up the broth and become mushy.
Change the flavor of this soup with seasonings and toppings. Try taco seasoning, with avocados, sliced jalapenos, and a dollop of sour cream on top for a taco soup.
For a meatless option, swap out the ground beef for black beans, pinto beans, or black eyed peas.
For best results when freezing, leave the pasta out and add when reheating.